Ready to Build? Let's Talk!
We'd love to hear about your project! Every Geobarn we build begins with a conversation about what you would like to build and why. We approach each and every project as an intimate partnership with our clients, and we're going to ask a lot of questions. We want to understand why, because a building is much more that an assembly of floorplans and materials. It is the expression of a vision shared between builder and client. Helping us with answers to the questions on our Project Questionnaire is the first step to understanding why , and we hope it is the beginning of a relationship of friendship, trust, and a love for the mutual journey to project completion.
---
Where We Build
Geobarns have been built in 20 U.S. states and two Canadian provinces. We have experienced project managers and crews available in our Primary Locations and the ability to deliver projects in our Other Locations. We also have a travel team able to build your project anywhere in the continental U.S. and Canada.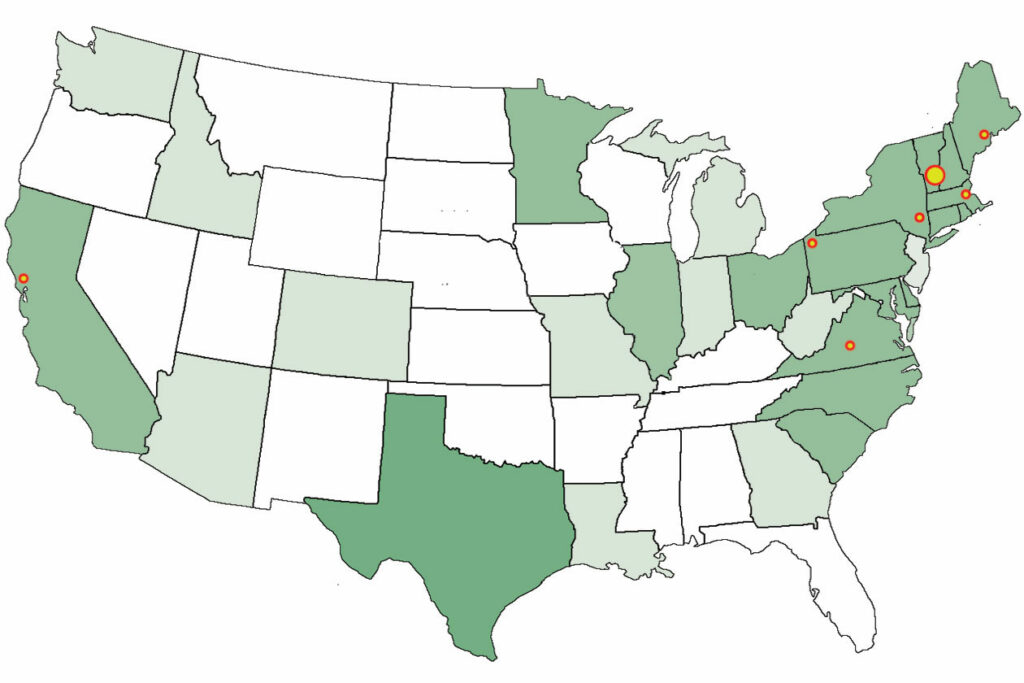 Primary Locations:
New England
New York
Virginia
Maryland
Delaware
North Carolina
South Carolina
Ohio
Pennsylvania
Texas
California
Other Locations:
New Jersey
West Virginia
Georgia
Indiana
Michigan
Missouri
Louisiana
Colorado
Arizona
Idaho
Washington
Canada: Nova Scotia, Quebec
---
Our Vermont Office
704 King's Hwy
White River Jct, VT 05001
Mail:
P.O. Box 1258
White River Jct, VT 05001
Our Virginia Office
600 Hightop Drive
North Garden, VA 22959
Mail:
600 Hightop Drive
North Garden, VA 22959
We're a small company, which means we don't have a dedicated staff to answer phones (you'll find most of us on a job site). If you have a non-project related question, it's best to send us an e-mail to info@geobarns.com.