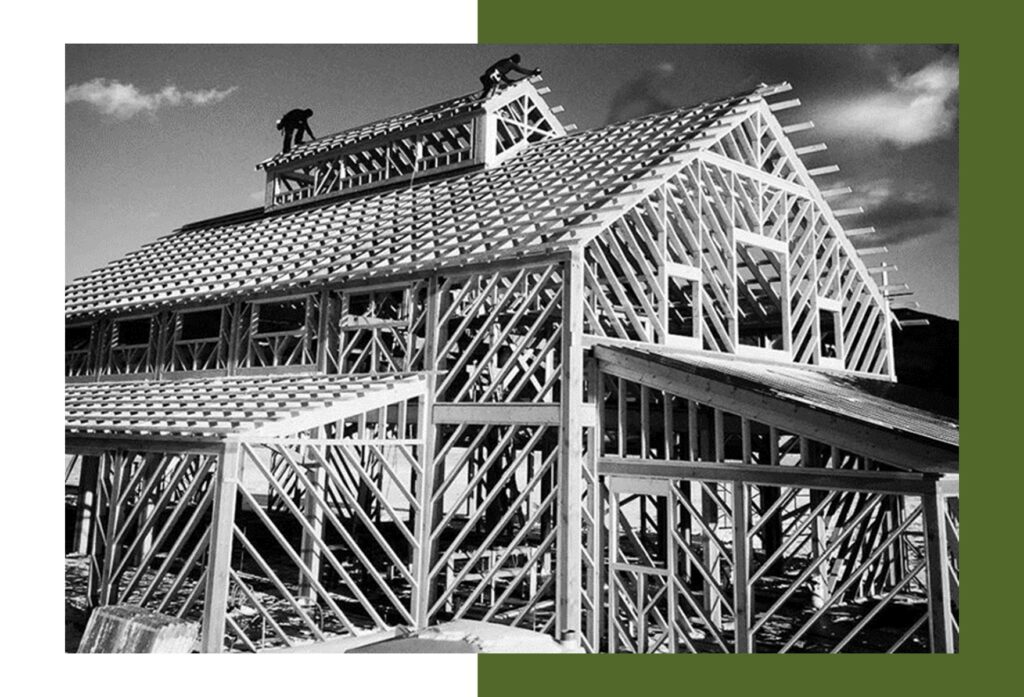 "Why Diagonal Framing?"
That's the first question everyone asks when seeing a Geobarn under construction for the first time. Diagonal framing is not only the idea which launched Geobarns, it is the foundation of the system of building innovations we have created ever since. Diagonal framing is strong. It is efficient. Diagonal framing, combined with our other innovations, enables us to create homes and business structures with soaring, open interiors beautifully framed in natural, sustainable timber. The Geobarns system offers versatile design and meets building codes from New England coastal hurricanes to California seismic events.
But we do more than simply build beautiful, durable structures. Every Geobarns project encompasses not only the design and engineering of the Geobarn, but also careful consideration of the building site, how people will use and move through the Geobarn, and takes advantage of technologies that maximize energy efficiency. Ultimately, a custom home or business structure becomes the centerpiece of our clients' lives. And we keep that simple goal foremost in our minds.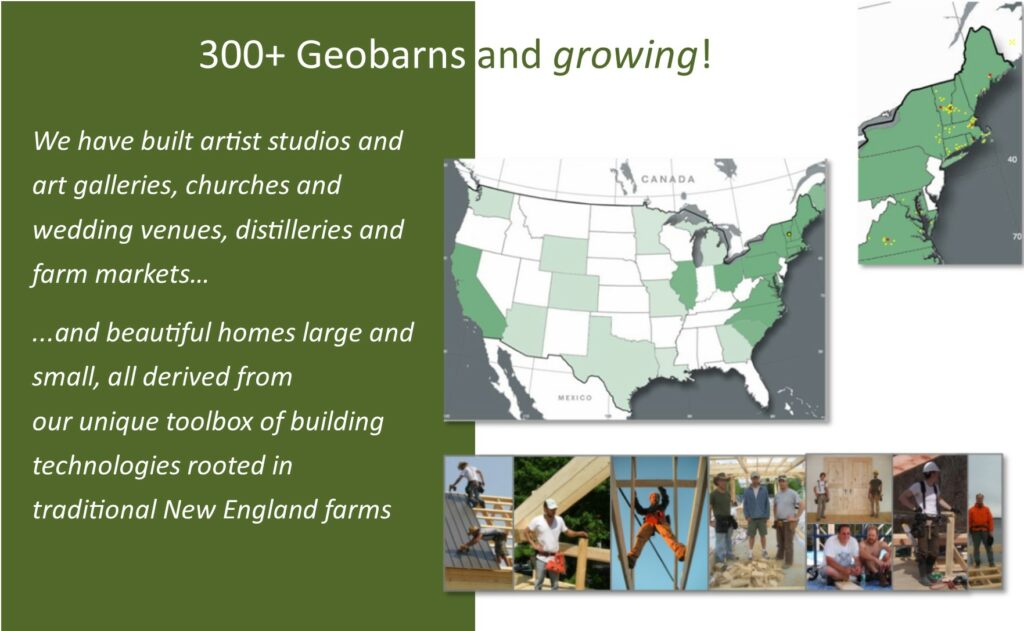 Our Simple Goal
Our goal is simple: To design and build beautiful structures that enhance our clients' quality of life. We strive to make the experience of building with us both enjoyable and successful. As time goes by, we want our clients to look back on the Geobarns building experience as one of the best decisions of their lives. We are very passionate about Geobarns and our design and construction process. Every Geobarn has a big place in our hearts, not only for the joy of building together, but also for the lasting friendships thereafter.
Why we build is a dedication to enhancing our clients' lives. Helping our clients enjoy a rewarding building experience is fundamental to everything we do.
What we build are unique structures with decades of refinement. Our careful design shines in the framing, in the truss systems, and in the finish packages of every Geobarn. We take care to minimize waste by efficient engineering and use of natural and renewable materials.
How we build is through relationship and teamwork. We uphold the classical design and build tradition: A partnership between builder and client from initial ideas to finished structure. The end result is a well-built, long-lasting, efficient Geobarn that is a unique creation of the collaboration between client and builder… it's something lovely built through trust and friendship.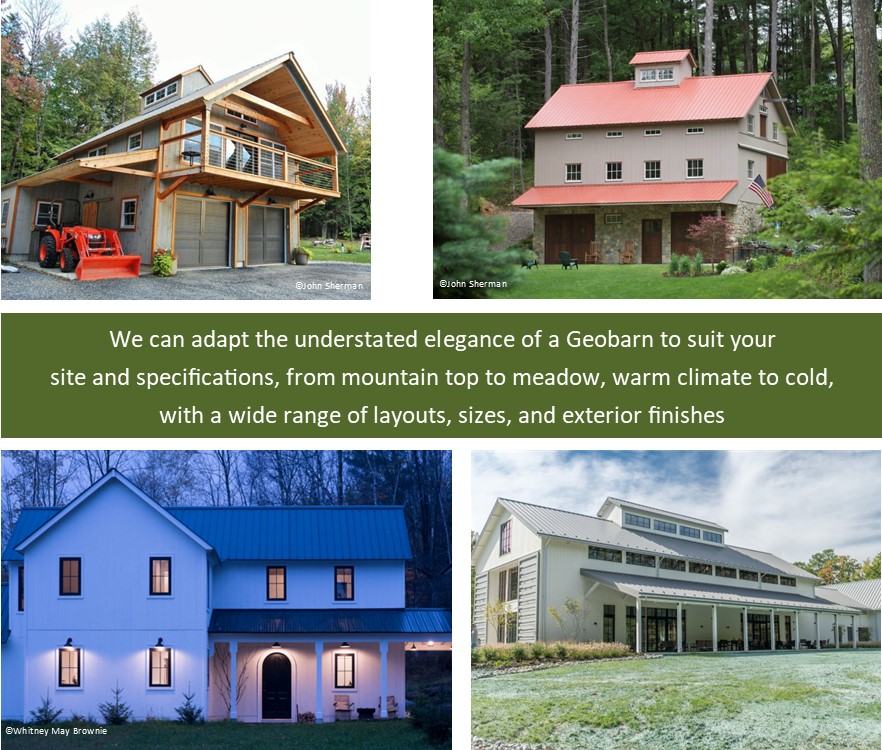 It Begins with a Conversation
Every Geobarn begins with a conversation with our founder, George Abetti. It's not a conversation about floorplans and budget… it's deeper than that. It's a conversation to discover the heart and soul of your Geobarn. How will you use your Geobarn? How will people move through the building? How should your Geobarn be situated on the building site for best advantage? How can your Geobarn accommodate your future needs and life changes? This conversation helps us understand our clients on a personal level, including lifestyle, hopes and dreams, and future options.
We believe asking deep questions will help us both think about the best way to design and build your Geobarn. We value this dialectic approach because good design begins with good conversation between client and builder. Ideas lead to ideas. The better we understand you – your needs, your ideas – then the better will be the ideas and advice we can provide. And your finished Geobarn will fit your lifestyle like a glove.
Let's Build Together

We believe that collaborative building goes beyond choosing floorplan and style. We believe our clients should be deeply involved with every phase of design and construction. The process should be transparent. By building together, you will understand how and why we do things a certain way. Moreover, building together ensures that the finished Geobarn benefits from continual conversation at every stage.

We'll help you plan, provide you with advice from decades of experience, and then turn those ideas into building plans, engineering calculations, permit approvals, and continual management of the project from first shovel to final nail.
Idea Library: We have more than 1,800 images of Geobarns structures, floor plans, finishes, and details to help choose the perfect look.
Teamwork: Our management team brings decades of building experience to the table with professional backgrounds in architecture, engineering, interior design, and ecological sustainability.
Site Analysis: Every Geobarn plan begins with a Site Analysis. This covers building placement, drainage, utilities access, and local building ordinance requirements.
Project Management: Geobarns handles the myriad details of construction, from permits to site supervision, and keeps you fully informed on progress.
Finishing Touches: Whether you want your Geobarn to be rustic, modern, eclectic, or something in between, we'll help you choose every detail right down to lighting, appliances, and finish colors.
Our collaborative approach means much more than just listening to what you want. In our experience, we've found that families and business owners need a building partner who shares their passion for bringing an idea to life. We absolutely love what we do: building homes and business venues that our clients say are exactly what they had in mind. We build as if we will own it ourselves.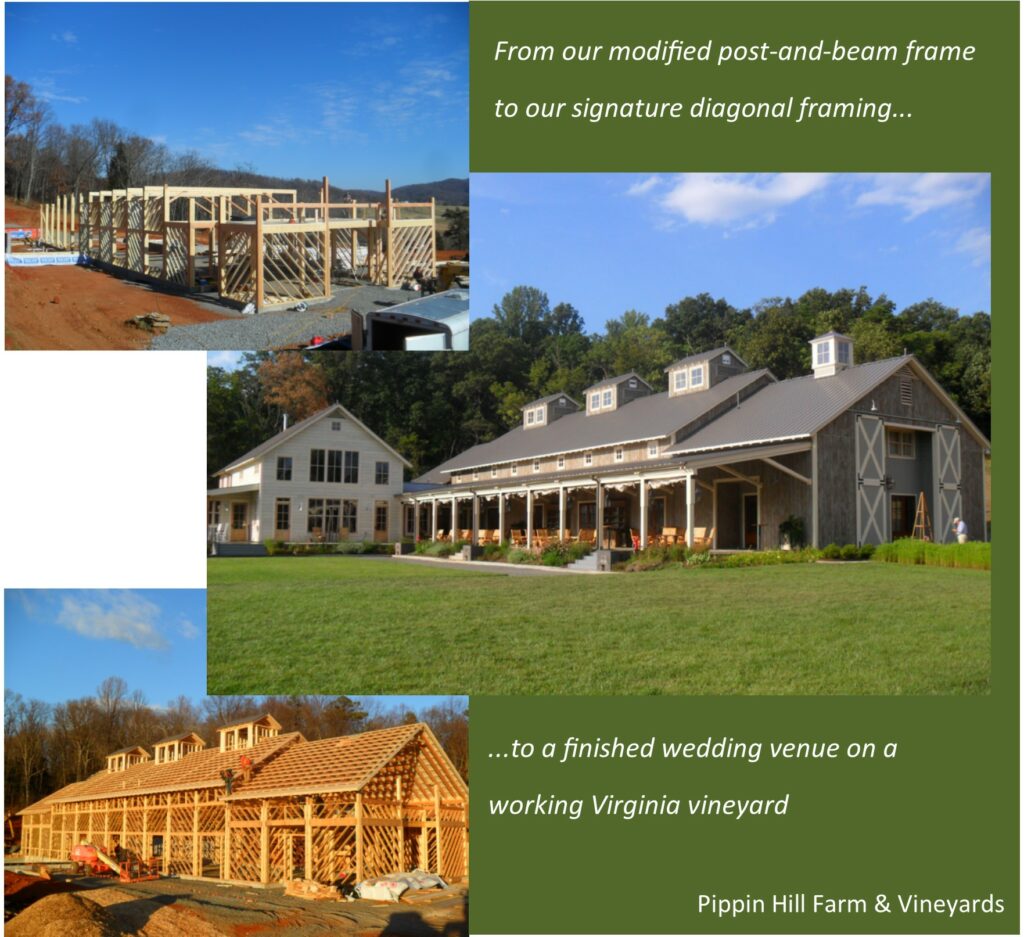 The Geobarns System
Timber framing is stronger than ordinary stick framing. Our diagonal framing innovation makes timber framing even stronger and more efficient, although it requires greater carpentry skill to build. And that enables Geobarns to build custom truss systems that can carry heavy loads over wide spans, like a bridge.

The strength of a Geobarn rests in our frame, which means a Geobarn doesn't need interior load-bearing walls. Our clients are free to arrange the interior as they wish. That makes a Geobarn more adaptable and versatile than any other builder. We can create dramatic interiors that admit voluminous natural light. And our thick, sturdy exterior walls means Geobarns are highly energy efficient. We combine the benefits of historical barn building with new technologies that make a Geobarn superior to stick built in every way.
Diagonal Framing: Derived from historical New England farms, our system embraces that heritage in appearance and style. Moreover, our innovations meet or exceed modern building standards.
Open Interiors: Since our system requires no internal load-bearing walls, our clients are free to design the floorplan as they wish. And we believe the abundant natural light in an airy interior space is good for the soul.
Versatile Engineering: Our modified timber framing and truss systems are scalable. We've built flooring systems with capacities as high as 272,000 pounds. Additionally, the Geobarns system is adaptable to a variety of climates and building codes from California to Maine.
Efficient Construction: The Geobarns system provides incredible strength and efficiency while minimizing carbon footprint. Our system minimizes waste.
Art and Carpentry: In many ways, a Geobarn is a celebration of the carpenter's art from an age when everything was hand-crafted. We continue that tradition with buildings that connect us to that artisan past.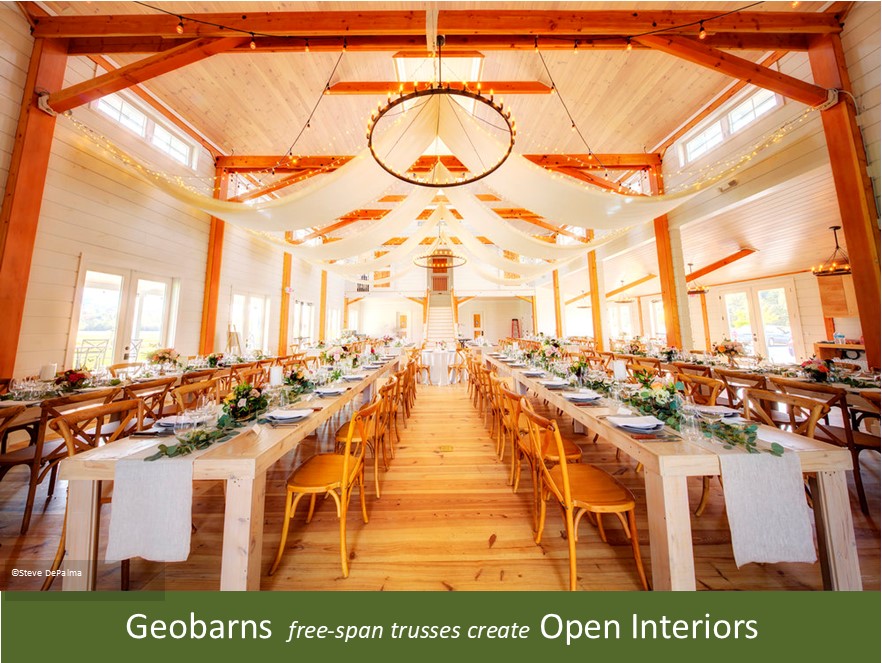 Geobarns Custom Homes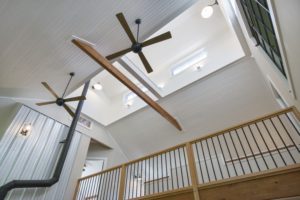 The Geobarns system is especially suitable for home builders seeking a farm-style home with minimalist design. Our signature diagonal framing creates strong homes with open interiors, which creates endlessly versatile design possibilities.
Every Geobarn home is designed for high thermal efficiency and high comfort. We carefully select materials that are sustainable, and we minimize VOCs and other unhealthy building products. That's the care and expertise any homeowner should expect and demand from a builder. That's Geobarns.
It's not enough to build a home well… we build homes for long-lasting, healthy living. We build to support home life that is joyful and happy. We make the design and construction process enjoyable and rewarding.
With our roots in New England agricultural farms, a Geobarns home delivers modern living with an authentic farmhouse experience.
Geobarns' open interiors and lofty ceilings create dramatic, light-filled spaces, especially with our signature cupola.
Our exposed timber framing of beautiful, rich-grained woods enhances interior spaces.
Our decades of experience will help you navigate the myriad decisions of custom home building. We believe building a custom home should be something to be enjoyed.
We protect your resources through our ironclad commitment to low waste and careful stewardship of client assets and building materials.
Bringing Your Dream Home to Life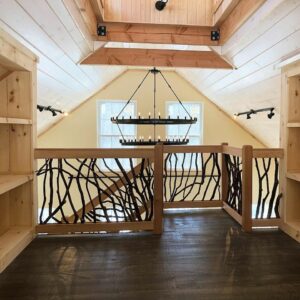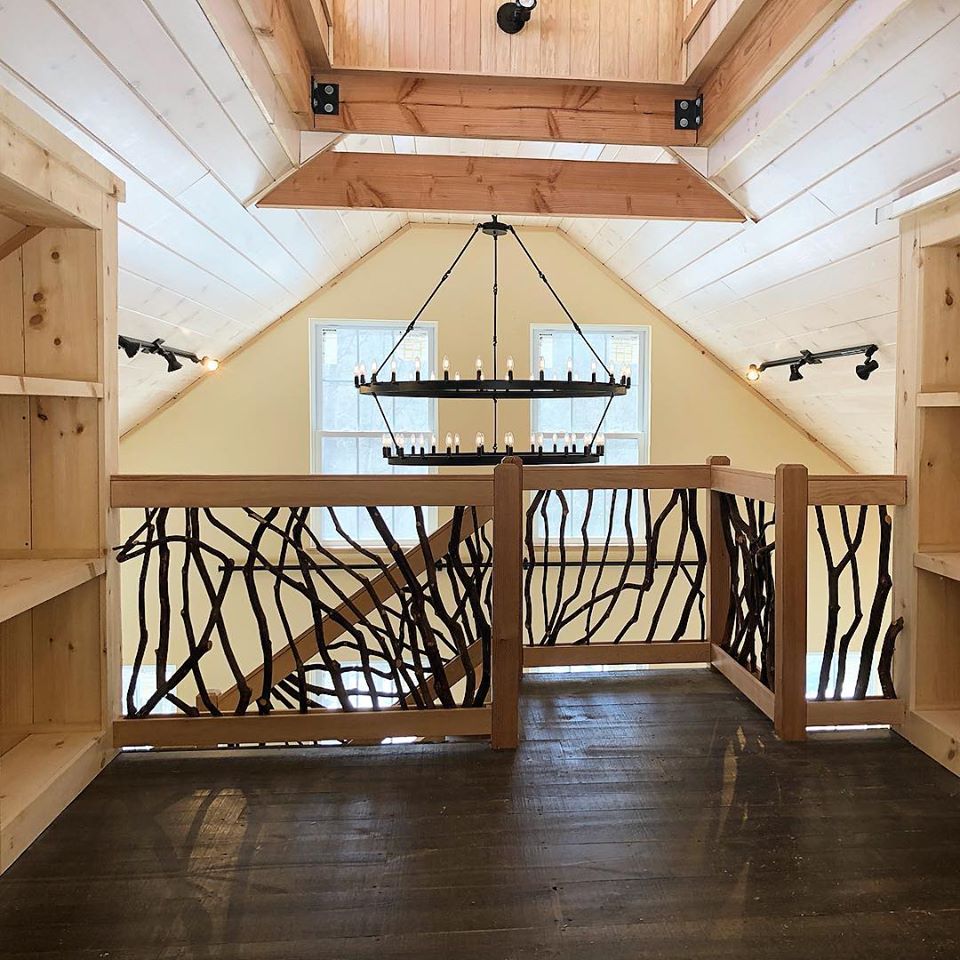 Building your dream home should be the best experience of a lifetime. It's a major investment that should be treated with respect. It's the opportunity to have an expert builder's advice to make the right decisions. Lastly, and perhaps most importantly, it's a product of teamwork.
With Geobarns as your partner, your experience will be all those things, because trust and transparency are natural to us. Nothing is as rewarding to us as the friendships we form with our clients… friendships forged in trust.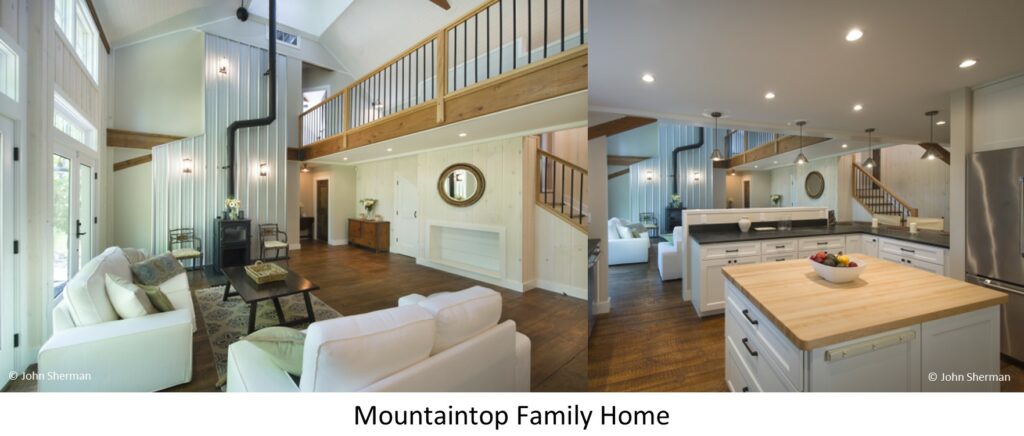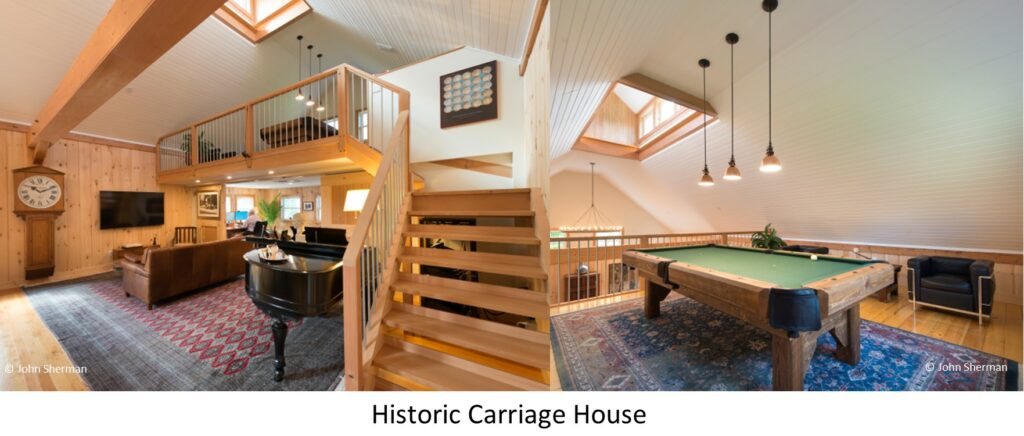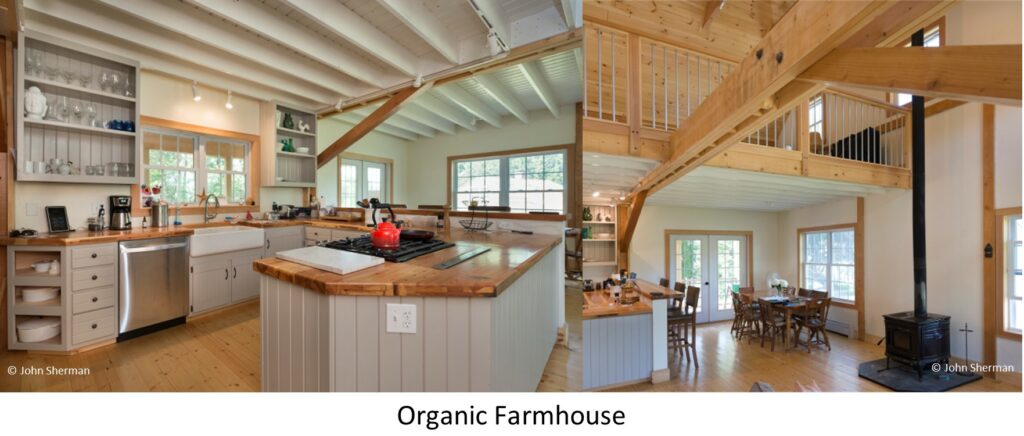 Commercial Venues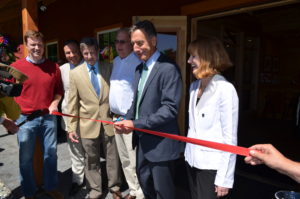 The Geobarns system is eminently suitable for commercial buildings of all shapes and sizes. Commercial Geobarns are not only versatile but also beautiful inside and out. If your business is in artisan crafts, creative arts, or anything agrarian… a Geobarn might be just right for you.
Our signature diagonal framing and strong truss systems make robust buildings that can carry heavy loads. Spacious interiors are perfect for craft breweries and art galleries. Wedding barns and worship halls benefit from open spaces free from internal supports. And we do this in beautiful structures rooted in Geobarns' agricultural heritage.
A commercial Geobarn isn't just beautiful to the eye, it is good for the bottom line. High energy efficiency means a higher percentage of revenues stays in the bank. High strength and care in construction means longer service lifetimes. And minimizing carbon footprint with sustainable materials means a light footprint on the Earth.
Our modified post-and-beam architecture sets the stage for an authentic artisan experience.
Create a captivating experience for your customers with a business venue that celebrates agrarian heritage.
Complete design and project management services from concept to grand opening.
The Geobarns approach provides a high-quality building which can be customized and built efficiently on time and on budget.
Our diagonal framing system meets or exceeds building codes and engineering standards in communities across the country.
But more than that, we believe a beautifully designed business venue should return more than monetary value on the investment. It should nurture the happiness of owners, employees, and customers alike. It should enhance the community. And for this, we believe that a lovingly built commercial Geobarn will nurture the soul of the business.
Captivate Your Customers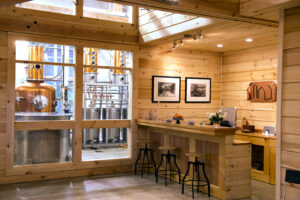 A Geobarns commercial building is perfect for business owners who wish to create an intimate customer experience. From artisan crafters to artists, wedding barns to community centers, Geobarns delivers a stage for great performances. Our timber frame interiors, rich natural finishes, and abundant natural light combine in a business setting that customers love and enjoy. We will help you create a unique business venue that you will be proud to own and that will be an asset to the community.




Every Geobarn is Unique
Geobarns building techniques are firmly rooted in the Vermont tradition and updated to modern engineering standards. Geobarns homes and commercial structures don't just look authentic… they belong with a deep sense of place. Our founder George Abetti is adamant that the highest compliment we receive as a company is that "the building looks like it has always been there." A Geobarn is harmonious with the landscape.
We've built more than 300 Geobarns in many shapes and for many purposes, yet every one was unique. Every Geobarn is unique because each is a product of trust between client and builder. When we build a Geobarn, we build it for you. We build for your needs, for your style, and for your happiness. And we do it together.
Ultimately, no matter the purpose of your Geobarn, and no matter the design and style you choose, one thing remains clear above all: your Geobarn, lovingly crafted by master artisans, will be more than a simple building or home. It will be the result of the conversation that created the design, nurtured the working relationship, and forged a strong bond between client and builder. It will be a celebration of trust between friends.