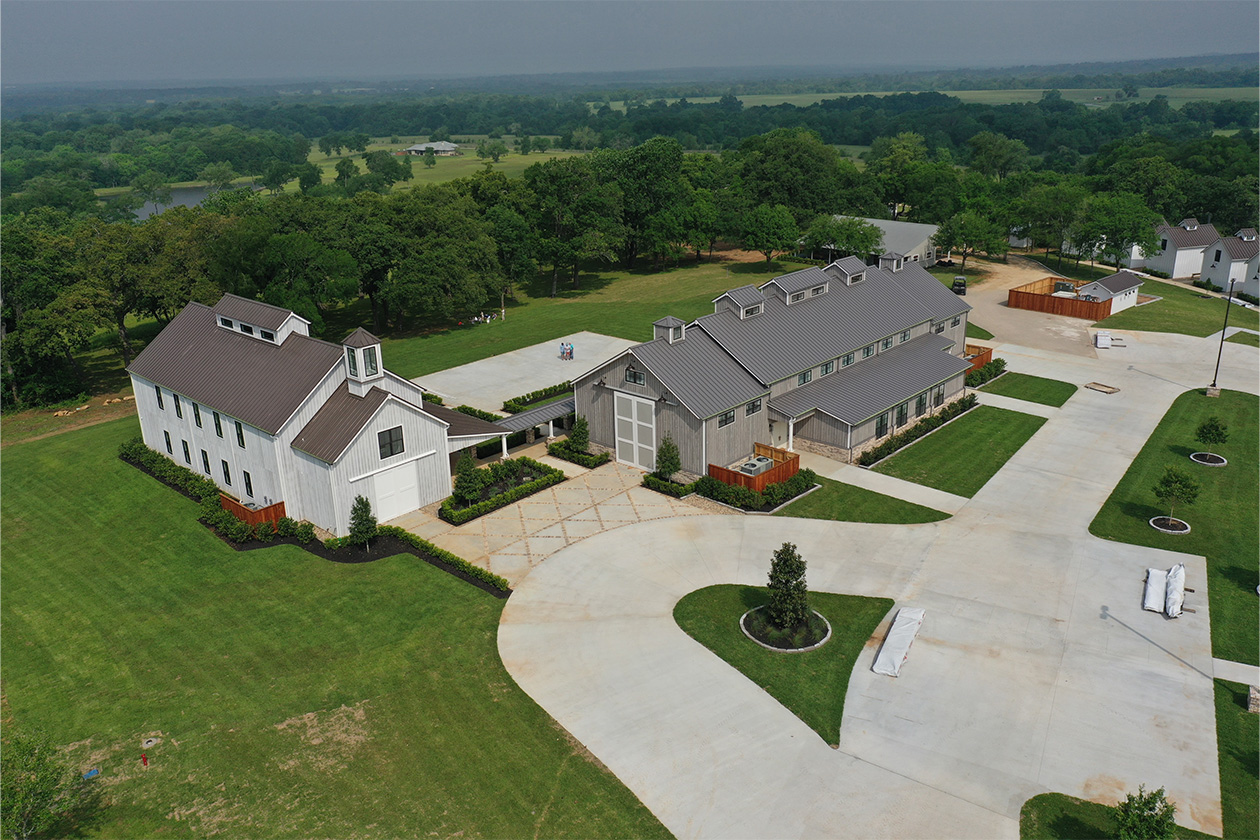 Arrowhead Hill
An idyllic ranch near Houston becomes a world class event venue
After raising children to adulthood and building a successful business, many people are ready for a rest. Instead, these clients purchased a ranch near Lake Conroe and transformed it into one of the top wedding and event venues in the Houston area.
Arrowhead Hill sits atop a knoll with Texas-sized views and a glade of large, shady oaks. Visitors approaching the knoll are greeted with an entry and drop-off pavilion, embraced by two Geobarns: a chapel and a venue barn. Each is framed with a pair of doors welcoming guests and announcing the importance of ritual and gathering. In the chapel, guests pass under a bell-tower into a timeless interior, where white-washed space soars up to an innovative timber scissor-truss and cupola. The space is flooded with light from windows between the rhythmic columns, like a rural cathedral, focusing all attention forward. The chapel and venue are linked with a covered walk, and this L-shaped walk works with a line of old oaks to define a beautifully landscaped outdoor event space, which seems to flow in and out of each of the buildings.
In the primary venues, which host 600 guests, a completely flexible plan utilizing Geobarns' clear-span girders allows orientation of large and small events in many configurations. Above, sumptuous private suites welcome the wedding party for preparations, including multiple cosmetics stations. A sweeping staircase provides a dramatic entrance into the crowd, for a bride and groom or whoever is the center of attention. A commercial kitchen and service spaces are concentrated at the rear of the property, and also serve overnight guests at the ranch.
Ten simple cottages, with more to come, allow up to 60 guests to stay overnight on the property, within walking distance to the action, but with lovely wooded views down to a second pond on the site. As with the venue and chapel, the apparently rustic and modest buildings offer clean and modern space and comfort. This project is a testament to the hard-working family that conceived it. Helping them realize their dream has been one of our most rewarding experiences.
Learn more at Arrowhead Hill