Art Studios & Artisan Workshops
In its simplest form, an art studio or artisan workshop should be a well-lit, comfortable place to work. We've taken the heritage of New England barn building – frugal, durable, and strong – and developed our own system of innovations in construction techniques that make a Geobarn eminently suitable for custom art and workshop studios. We combine the best of both worlds: the efficiency of timber frame construction with the flexibility of true custom design.
We collaborate closely with our clients to deliver a dream studio that exceeds expectations. Our clients tell us that building with us was a joyful and rewarding experience, and many become lifelong friends.
Why Geobarns Studios Are Better
The Geobarns system is especially suitable for creators seeking flexible workspaces with minimalist design. Our signature diagonal framing creates strong studios with open interiors, which creates endlessly versatile design possibilities.
Every Geobarn studio is designed for high thermal efficiency and high comfort. We carefully select materials that are sustainable, and we minimize VOCs and other unhealthy building products. That's the care and expertise any client should expect and demand from a builder. That's Geobarns.
It's not enough to build a studio well… we build studios to nurture your creative muse. We build to the needs of the artist, not the other way around. We make the design and construction process enjoyable and rewarding.
With our roots in New England agricultural farms, a Geobarns studio evokes an artisan heritage and connection to the land and nature.
Geobarns' open interiors and lofty ceilings create dramatic, light-filled spaces, especially with our signature cupola.
Our exposed timber framing of beautiful, rich-grained woods enhances interior spaces.
Our decades of experience will help you navigate the myriad decisions of custom studio building. We believe building a custom studio should be something to be enjoyed.
We protect your resources through our ironclad commitment to low waste and careful stewardship of client assets and building materials.
Bring Your Dream Studio to Life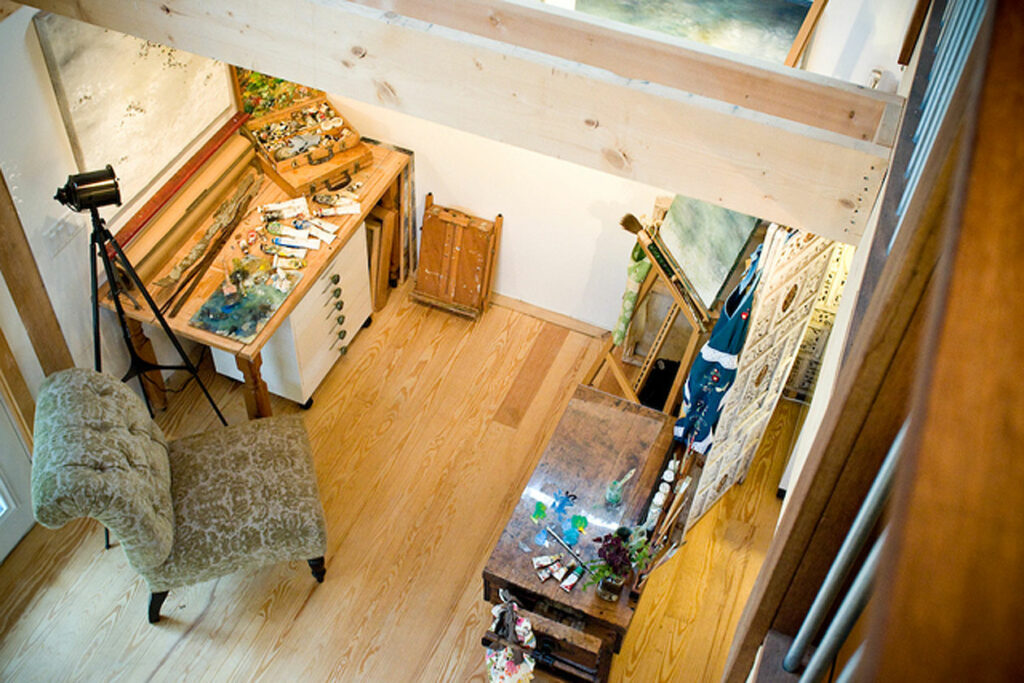 Building your dream studio should be the best experience of a lifetime. It's a major investment that should be treated with respect. It's the opportunity to have an expert builder's advice to make the right decisions. Lastly, and perhaps most importantly, it's a product of teamwork.
With Geobarns as your partner, your experience will be all those things, because trust and transparency are natural to us. Nothing is as rewarding to us as the friendships we form with our clients… friendships forged in trust.
Words cannot begin to express the gratitude and appreciation I feel towards the amazing experience I had building my Geobarn. I never thought the dream of building my very own art studio would become a reality, let alone it be as beautiful as it is, until the day I met Mr. George Abetti. The entire process of working with Geobarns, from start to finish, was absolutely wonderful.
Look no further than Geobarn. Experience what it feels like to have someone appreciate your hard earned money and work even harder in an effort to give you back much more than you paid for!
How rare is that?