Equipment Barns & Utility Buildings
Geobarns are especially suitable for clients seeking a versatile structure that can comfortably house all manner of vehicles and storage needs, in an architectural style that evokes a deep connection to the natural landscape. We've built custom utility buildings for car collectors, equestrians, farmers, RV Owners, and others across the country. Our modified post-and-beam frame combines the look and feel of historic timber framing in an incredibly strong building that will provide decades of service.
We collaborate closely with our clients to deliver an equipment building that exceeds expectations. Our clients tell us that building with us was a joyful and rewarding experience, and many become lifelong friends.
Why Geobarns Are Better
If you're looking for a versatile equipment building that harmonizes with the land, then Geobarns is for you. Our signature diagonal framing creates strong barns with open interiors, which is perfect for livestock, vehicles, large equipment, and more. Want to park vehicles on the 2nd floor of a bank barn? We've built that.
Every Geobarn utility building is designed for durability and efficiency. We carefully select materials that are sustainable, and we minimize VOCs and other unhealthy building products. That's the care and expertise any client should expect and demand from a builder. That's Geobarns.
It's not enough to build well… we build for maximum budget efficiency. We design to accommodate unusual needs. We make the design and construction process enjoyable and rewarding.
Our roots in New England agricultural farms means your Geobarn utility building will look it belongs to the historic landscape.
The Geobarns framing shell creates voluminous open interiors free from load-bearing walls and internal supports.
Our proprietary floor trusses can carry incredible loads, enough to support vehicles or heavy equipment.
Our decades of experience will help you navigate the myriad decisions of custom building. We believe building a custom barn should be something to be enjoyed.
We protect your resources through our ironclad commitment to low waste and careful stewardship of client assets and building materials.
Bring Your Dream to Life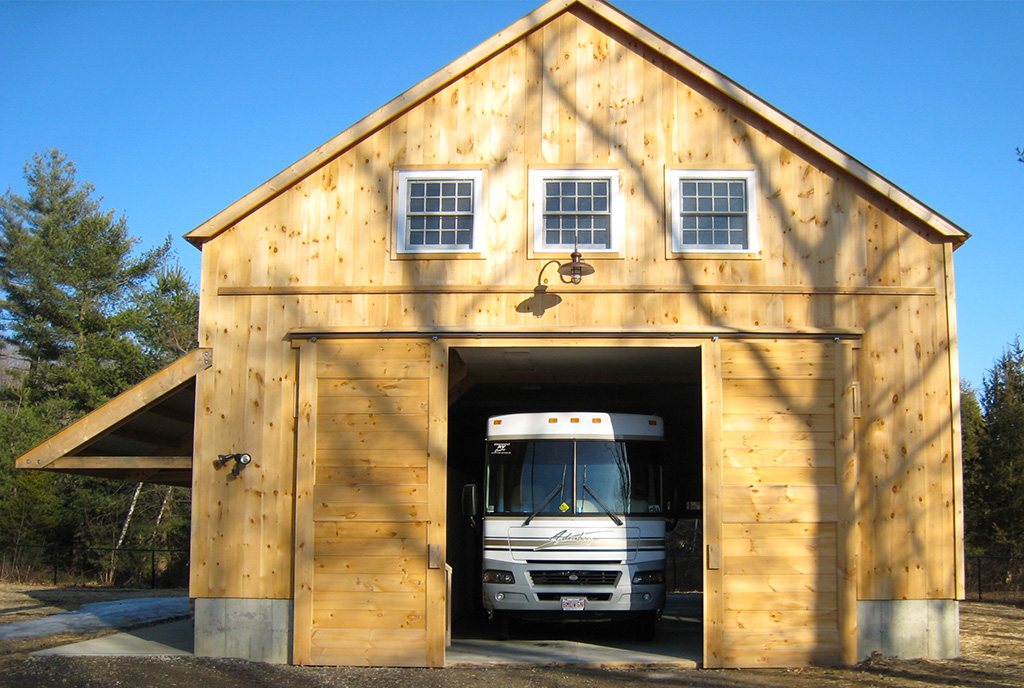 Building a good equipment barn means being wise with your money. It's an opportunity to get an expert builder's advice on how to get the most versatility for the footprint. Lastly, and perhaps most importantly, it's a product of teamwork, trust, and transparency.
With Geobarns as your partner, your experience will be all those things, because trust and transparency are natural to us. Nothing is as rewarding to us than the friendships we form with our clients… friendships forged in trust.
What can we say but WOW! Thank you so much for such a beautiful barn. From the first time you sat in our kitchen and discussed your business strategy until your final visit to install the windows, you were fully engaged in our project, despite having to juggle a hectic work schedule. Your honesty, workmanship, knowledgeable crew and dedication to your craft were inspiring.
Your honesty in all your dealings, and your hands-on, hard-working style is something rare to find these days. And because it's so rare, it's so greatly appreciated! I would not hesitate in the least to recommend your services to anyone.