Wedding Barns & Event Venues
Geobarns are an ideal solution for event venues requiring large internal volumes with uninterrupted sight lines in an architectural style that evokes an agrarian heritage. Since our modified post-and-beam shell does not require internal supports or partition walls, there is endless flexibility for hosting events, large and small. Our soaring interiors add drama with abundant natural light from cupolas and clerestory windows. A Geobarns event venue is very much like a stage for grand celebrations.
Geobarns wedding venues consistently win high scores for our clients with The Knot and reviewer websites. We know we got it right for our clients when professional photographers say a Geobarns venue is "a photographer's dream".
Why Geobarns Venues Are Better
If you're looking for a building that combines the look and feel of an historic barn with modern amenities and efficiency, then Geobarns is for you. Our signature diagonal framing creates an incredibly strong post-and-beam shell with huge, open interiors… just perfect for hosting events and delighting your guests.
Every Geobarns venue is designed for high thermal efficiency and maximum flexibility. We carefully select materials that are sustainable, and we minimize VOCs and other unhealthy building products. That's the care and expertise any business owner should expect and demand from a builder. That's Geobarns.
It's not enough to build a venue well… we design for appeal and features that will help you win clients. We design to make business operations more efficient. We make the design and construction process enjoyable and rewarding.
With our roots in New England agricultural farms, a Geobarns venue delivers modern comfort with an authentic agrarian experience.
Geobarns' open interiors and lofty ceilings create dramatic, light-filled spaces, especially with our signature cupola.
Our exposed timber framing of beautiful, rich-grained woods enhances interior spaces.
Delivering a spectacular event venue requires close collaboration and expert advice. Our design process is intimately tied to your brand and operations plan.
We protect your resources through our ironclad commitment to low waste and careful stewardship of client assets and building materials.
Bring Your Dream Venue to Life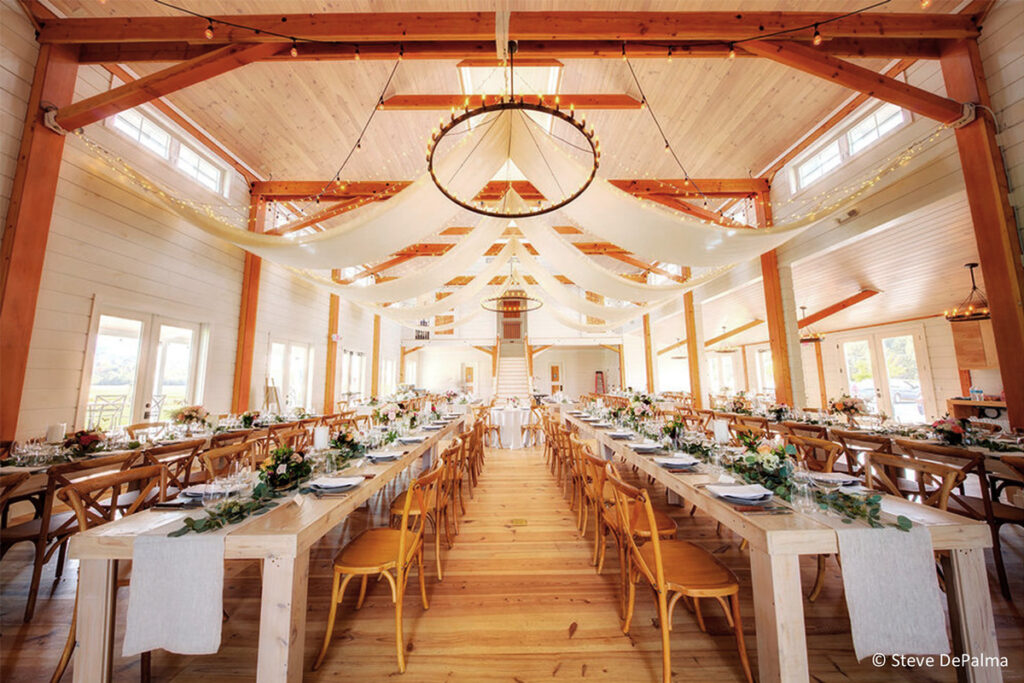 Building an event venue is a major investment that requires careful planning. It requires a design team than understands how to design as if every event is a performance, because that's the essence of hosting celebrations. Lastly, and perhaps most importantly, it's a product of teamwork, trust, and transparency.
With Geobarns as your partner, your experience will be all those things, because trust and transparency are natural to us. Nothing is as rewarding to us than the friendships we form with our clients… friendships forged in trust.
Simply put, we would not have been able to accomplish the development of Pippin Hill without you and your indefatigable focus and skills. We wholeheartedly endorse both the GeoBarns system and your ability to execute it.
With our very best wishes,
A community and a culture needs a place to gather.  Geobarns helped us to solve a difficult problem: this building had to be central and welcoming, and to accommodate all manner of management activities and public events, but it also had to be modest, and we hoped for a building that looked like part of the landscape.