"Why Diagonal Framing?"
That's the first question everyone asks when seeing a Geobarn under construction for the first time. Diagonal framing is not only the idea which launched Geobarns, it is the foundation of the system of building innovations we have created ever since. The strength of a Geobarn rests in our shell, which means a Geobarn doesn't need interior load-bearing walls. Our clients are free to arrange the interior as they wish. That makes a Geobarn more adaptable and versatile than any other builder. We can create dramatic interiors that admit voluminous natural light. And our thick, sturdy, exterior walls means Geobarns are highly energy efficient.
Strong. Beautiful. Efficient. The better way to build custom post-and-beam buildings

Diagonal framing is strong. It is efficient. Diagonal framing, combined with our other innovations, enables us to create homes and business structures with soaring, open interiors beautifully framed in natural, sustainable timber. The Geobarns system offers versatile design and meets building codes from New England coastal hurricanes to California seismic events. We combine the benefits of historical barn building with new technologies that make a Geobarn superior to stick built in every way.
The Geobarns System
Geobarns framing is stronger than ordinary stick framing. Our diagonal framing innovation transfers shearing forces safely to the foundation, which means your Geobarn will retain its strength and rigidity for a far longer period of time than stick built. Our custom truss systems can carry heavy loads over wide spans, like a bridge. Building a Geobarn requires greater carpentry skill, which is why our crews and trade partners are some of the best in the business… and considering the investment, you should expect nothing less.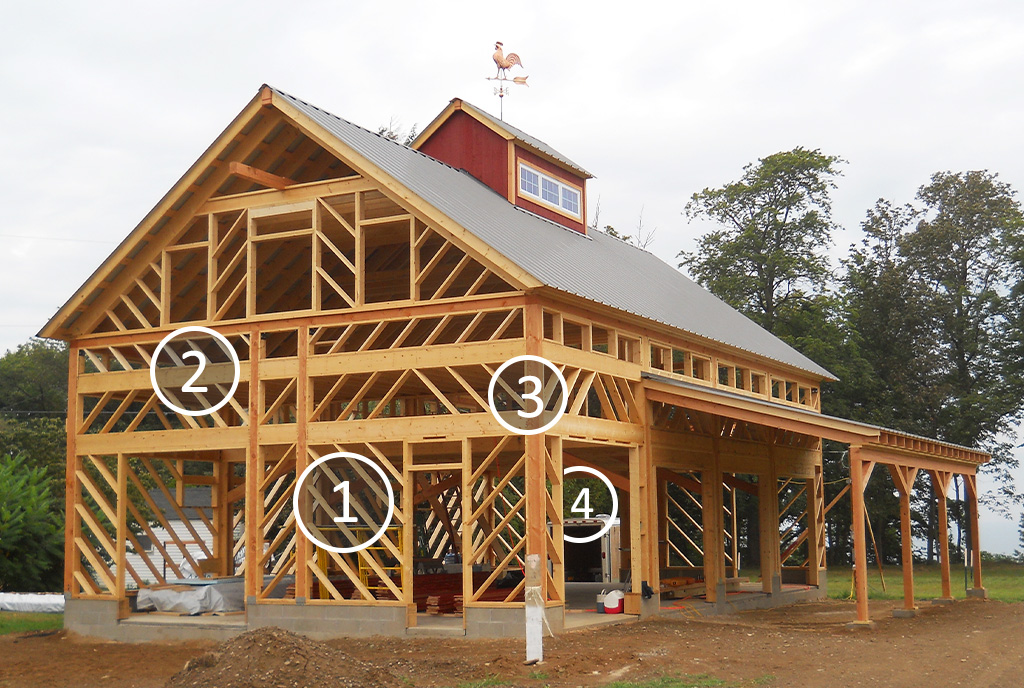 Geobarns Framing System
Why Geobarns is Better
Diagonal Framing: Derived from historical New England farms, our system embraces that heritage in appearance and style. Moreover, our innovations meet or exceed modern building standards.
Modified Post-and-Beam: Our proprietary post-and-beam shell, combined with our truss system, eliminates the need for internal load-bearing walls. Our clients are free to design the floorplan as they wish. And we believe the abundant natural light in an airy interior space is good for the soul.
Versatile Engineering: Our system is scalable. We've built flooring systems with capacities as high as 272,000 pounds. Additionally, the Geobarns system is adaptable to a variety of climates and building codes from California to Maine.
Efficient Construction: The Geobarns system provides incredible strength and efficiency while minimizing carbon footprint. Our system minimizes waste.
Art and Carpentry: In many ways, a Geobarn is a celebration of the carpenter's art from an age when everything was hand-crafted. We continue that tradition with buildings that connect us to that artisan past.
Our Simple Goal
Our goal is simple: To design and build beautiful structures that enhance our clients' quality of life. We strive to make the experience of building with us both enjoyable and successful. As time goes by, we want our clients to look back on the Geobarns building experience as one of the best decisions of their lives. We are very passionate about Geobarns and our design and construction process. Every Geobarn has a big place in our hearts, not only for the joy of building together, but also for the lasting friendships thereafter.
Simple, beautiful and sustainable: Open-concept, light-filled living and work spaces for the way you want to live today — and always.
George has developed a winning combination of design, quality materials and craftsmanship that result in highly functional, classic buildings that will be inspiring future generations of builders and homeowners alike. Add us to the long list of satisfied GeoBarn customers!