Our Story
Geobarns started out building barns and utility buildings in the early 1990s. We've taken the heritage of New England barn building – frugal, durable, and strong – and developed our own system of innovations in construction techniques that make a Geobarn eminently suitable for a wide range of structures, from homes to business venues. We combine the best of both worlds: the beauty and efficiency of post-and-beam construction with the flexibility of true custom design.
The Idea that launched a Movement
"Back in the early 1990s, I was at a turning point in my career, and looking for something to do, I built a small cape garage for my brother in Connecticut. A year later, his neighbor across the street asked me to build a horse barn, but the neighbor had a really tight budget.

I was wracking my brain late at night in bed, trying to make the design fit the budget, without lowering the quality of the structure… and in what can only be described as an epiphany, I realized that if I were to diagonally frame the building inside the post and beam bays, I could eliminate sheathing and strapping it and nail the vertical siding directly onto the framing. The resulting structure was not only more efficient, but much stronger… and Geobarns was born."

George Abetti, Geobarns Founder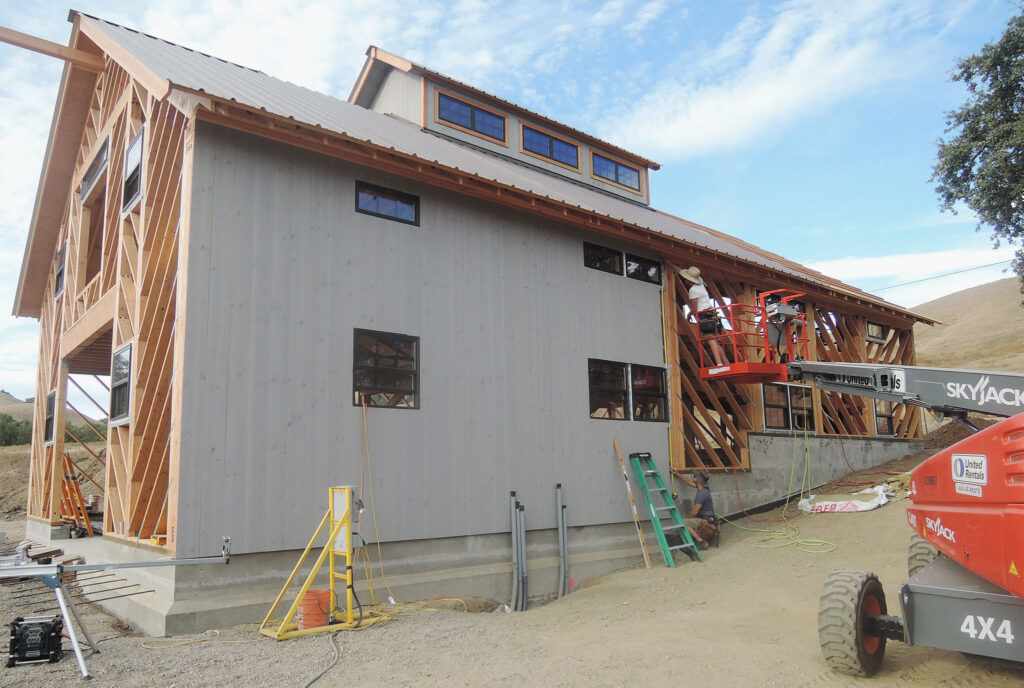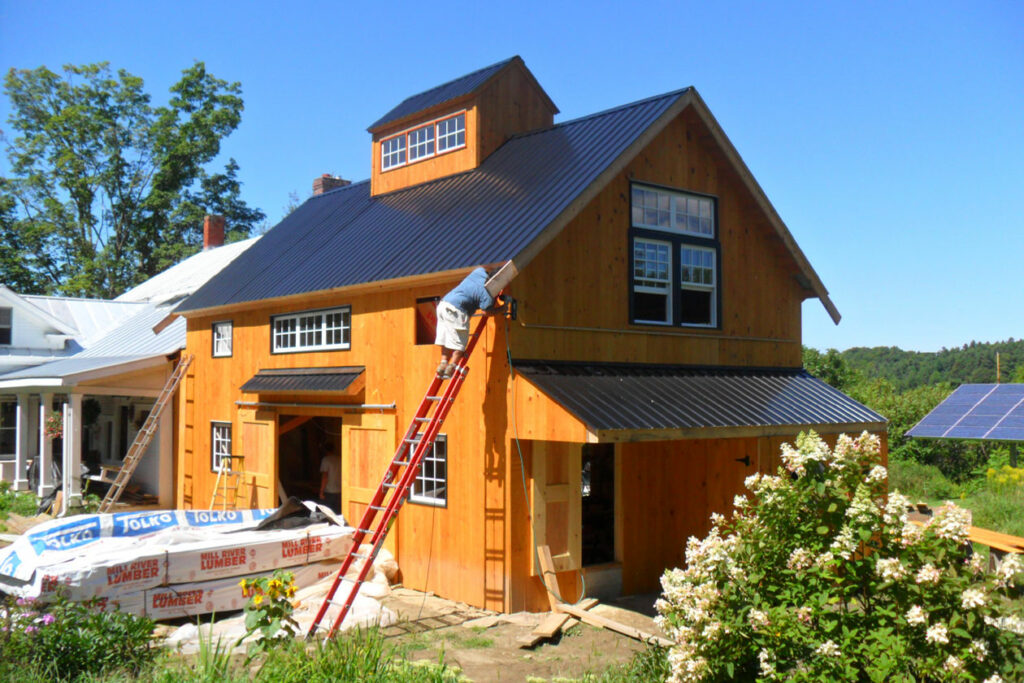 Innovations and Great Ideas
As Geobarns continued to build more challenging buildings, we developed additional technology that allowed us to free-span wide spaces with heavy loads, to minimize waste, to build more efficiently and safely, and to make the structures more and more versatile within our unique building system. We have a passion to learn and to continually perfect what we do…. and to make Geobarns available to anyone who wants a modestly priced building that includes the innovation and beauty and versatility inherent in New England barns.
Versatile, Flexible, Durable
We've built schools, we've built homes, we've built art studios and wineries and wedding barns and more. Our Geobarns system is firmly rooted in the hand-crafted Vermont tradition and updated to modern engineering standards. Our distinctive diagonal framing is strong, efficient, and a celebration of the carpenter's art. Our post-and-beam architecture is historically inspired, minimizes material without sacrificing strength, and permits a wide variety of internal configurations. And our unique planning method of designing a post-and-beam shell to enclose the internal space makes it possible to build for many purposes and designs yet remain true to the heritage and style of the New England farm. Geobarns homes and commercial structures don't just look authentic… they are authentic, down to the last detail.
Our Mission and Lifelong Friendships
In the three decades since the first Geobarns was erected, it is amazing to look back and see where our Mission to build efficiently, build beautifully, build well has taken us. And it is a Mission. It is a Mission in the sense that we are motivated and guided by a passion to be wise and grateful stewards of our clients' trust and money. It is a Mission in the sense that every day and every year we push the envelope of what can be done with the methods and technologies we have developed. And it is a Mission in the most important sense: that we approach each and every project as an intimate partnership with our clients, as a collaboration in helping them to develop and bring their vision to reality, and that we do so in a relationship of friendship and trust with a love for the mutual journey to project completion.
It is with no small gratitude that we claim that our clients become our friends. Some of those friendships span years and even decades. It is both humbling and rewarding to have earned those friendships, and this is the greatest reward and fruit of that mustard seed of ingenuity so long ago.