Community Centers & Gathering Spaces
Geobarns are especially suitable for congregations, homeowner associations, and other communities seeking ample light and clear multi-story spaces, in a flexible architectural style that evokes a deep connection to the natural landscape. Our modified post-and-beam frame combines the look and feel of historic timber framing in an incredibly strong structure that will deliver decades of comfortable service.
We collaborate closely with our clients to deliver a Geobarn that exceeds expectations. Our clients tell us that building with us was a joyful and rewarding experience, and many become lifelong friends.
Why Geobarns Community Centers Are Better
The Geobarns system is especially suitable for community boards seeking a farm-style gathering space with minimalist design. Our signature diagonal framing creates strong structures with open interiors and abundant natural light, which enables a Geobarn community center to serve multiple purposes efficiently.
Every Geobarn is designed for high thermal and energy efficiency. We carefully select materials that are sustainable, and we minimize VOCs and other unhealthy building products. That's the care and expertise any client should expect and demand from a builder. That's Geobarns.
It's not enough to build well… we design for maximum flexibility in community spaces. We build for energy efficiency and durability. We make the design and construction process enjoyable and rewarding.
With our roots in New England agricultural farms, a Geobarn delivers modern comfort in an agrarian-inspired architecture.
Geobarns' open interiors and lofty ceilings create dramatic, light-filled spaces, especially with our signature cupola.
Our exposed timber framing of beautiful, rich-grained woods enhances interior spaces.
We're accustomed to the outreach funding typical for community spaces and will help you match design and construction stages with your funding cycles.
We protect your resources through our ironclad commitment to low waste and careful stewardship of community assets and building materials.
Give Your Community a Home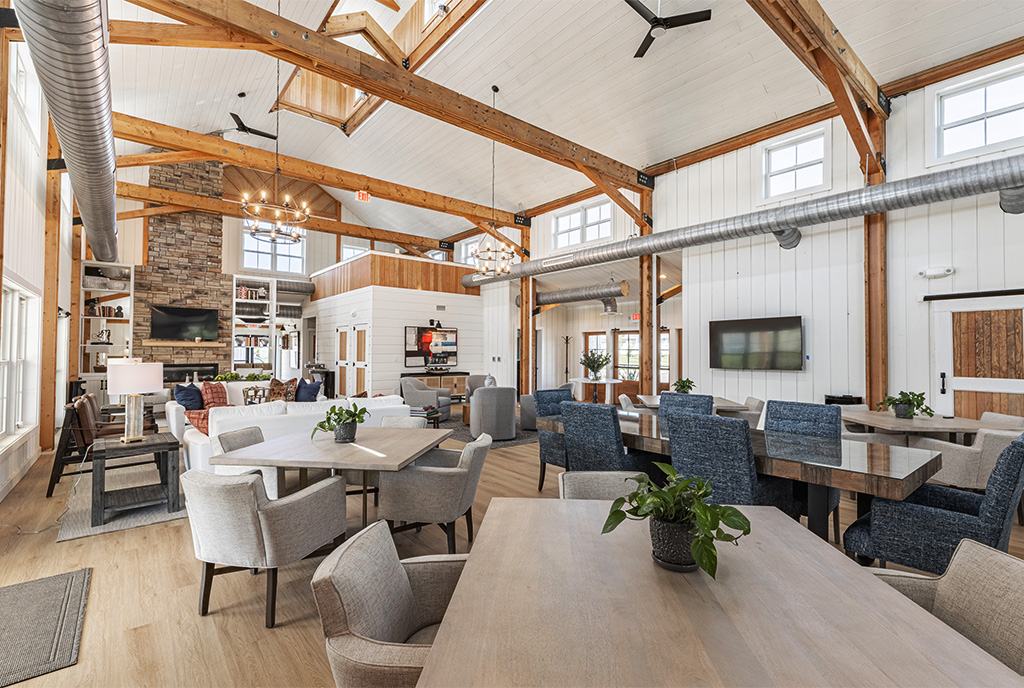 Building a community space requires careful design to accommodate a diverse group. It deserves a design team than understands how to manage diverse needs and points of view. It needs clear budgets and deadlines. Lastly, and perhaps most importantly, it's a product of teamwork, trust, and transparency.
With Geobarns as your partner, your experience will be all those things, because trust and transparency are natural to us. Nothing is as rewarding to us as the friendships we form with our clients… friendships forged in trust.
Our process was truly collaborative, melding our vision for siting, size and design with George's professional perspective on engineering, design, siting, and cost trade-offs. In the end, our barn melded both perspectives into something stronger than either taken alone.
A community and a culture needs a place to gather.  Geobarns helped us to solve a difficult problem: this building had to be central and welcoming, and to accommodate all manner of management activities and public events, but it also had to be modest, and we hoped for a building that looked like part of the landscape.