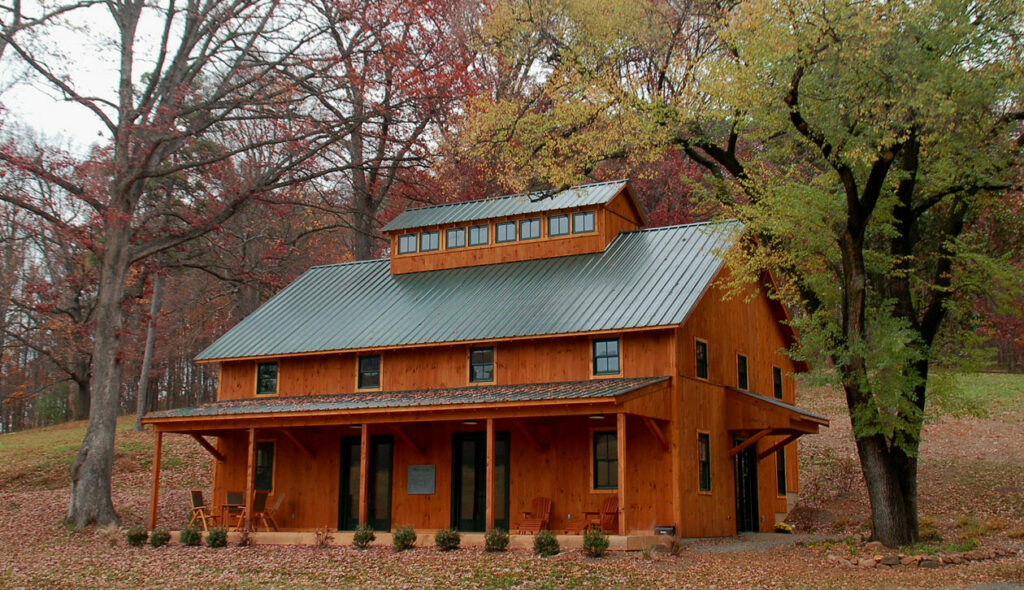 The Baldwin Center
Headquarters for a development focused on preservation
Bundoran Farm was a family farm operated by the Scott family when Fred Scott was approached by Bob Baldwin Sr, a developer from New England, in 2005 to explore the idea of converting the farm into a special kind of residential development. Bob Baldwin's plan – one that had evolved through previous projects – involved preserving the rural land of the farm while providing homesites for families. These homesites would be carefully placed around the farm in order to minimize their impact on farming operations. The farm, its fields and woodlands, would coexist together.
Bob Baldwin called his approach "preservation development." It was designed to preserve rural lands and their farms while allowing families to build and live scattered around the farm. Geobarns was chosen to design and build its centerpiece amenity: a new center for administration, education, and community gatherings.
Homesites, ecological assets, and agricultural production are sensitively designed to allow residents to live, work, hike and otherwise enjoy life among a spectacular working farm. This sensitivity brought the development team to Geobarns for the signature amenity and administrative center of the farm, the Baldwin Center for Preservation Development.
This two story structure is designed to accommodate administrative offices, conference spaces, a catering kitchen and lounge, with an unobstructed upper floor gathering space for community-wide educational and arts programming. Its bank-barn design makes both programs accessible, but operable separately. The Center was built on the site of former farm housing, allowing a completely new structure to be inserted adjacent to irreplaceable mature trees and hedges. The building has become the center of a thriving conservation-oriented rural community, as well as the headquarters for a successful and innovative development firm.
Learn more at Bundoran Farm Community