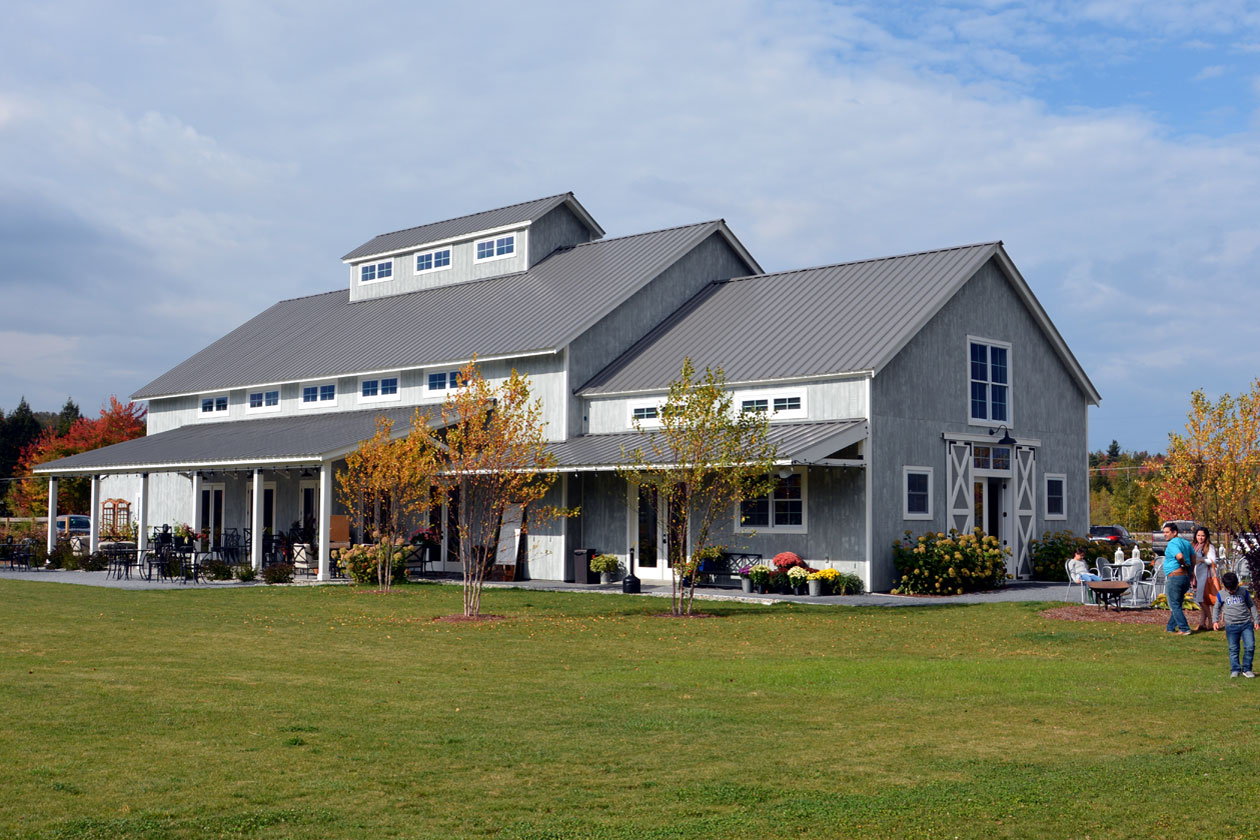 The Barn at Smuggler's Notch
An Enchanting Wedding & Event Venue in Stowe, Vermont
This Vermont facility houses a world-class wine, wedding and event venue in and around the quiet, rustic elegance of a barn.
After operating a successful Agriturismo in Italy, our clients hoped to create a business in Vermont. After finding a spectacular property on the road to an iconic ski area, they brought in Geobarns to help them envision and execute their new enterprise. Following the growing popularity of farm weddings, the team set out to create a new barn specially designed for the purpose. Taking the form of a classic New England agricultural structure, visitors are surprised to find a refined-rustic interior of soaring columns and whitewashed siding, an uninterrupted space to seat between 150 and 250 guests for weddings and events.
The venue can open its 16′ barn doors to the adjacent enoteca, a first-rate wine bar and cafe, centered on a custom-built bar and equipment for serving and storing fine wines. The adjacent spaces may also be closed off, in order to operate simultaneously, or more commonly to maintain an appropriate scale of space for parties of varying sizes. Above the main venue, atop a photogenic grand stair, is a "Bridal Loft," a more intimate space for the wedding party and family, offering room for dressing and makeup, but also accommodating breakout groups from non-wedding events.
Tucked under the loft, and into an adjacent shed addition, are all the back-of-house features that make this barn easy to manage with a small staff. Modern, code compliant toilets and restaurant-grade kitchen facilities, storage and loading areas, all keep the frenetic business of event management out of sight of the guests, allowing clean, elegant event configurations indoors and out.
As construction was completed, the team lamented the idea of filling such a unique space with standard catering furniture, and Geobarns was tasked with building the custom farm tables throughout the building. The instincts of the owners and project team have, so far, been borne out. The barn quickly booked its goal of weddings and events, and is rapidly becoming a premier event venue in this part of Vermont.
Learn more here: The Barn at Smuggler's Notch