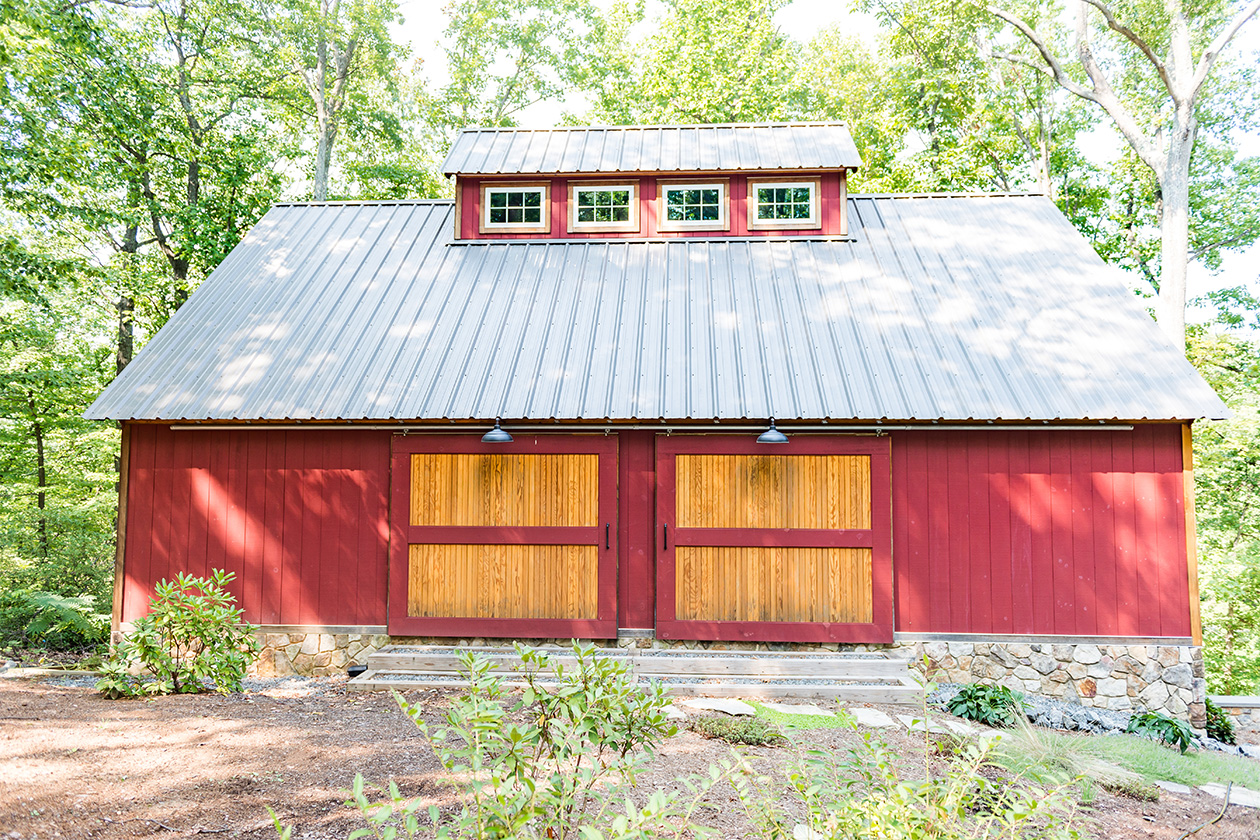 Virginia Car & Shop Barn
Car collection below, workshop above
A business owner in Virginia needed a versatile outbuilding to do double duty as a garage for his car collection and storage for tools, equipment, and materials used in his business. The building site is particularly challenging: a heavily forested property with steep grades falling in two directions, located in a strict conservation community.
The challenge was met by taking advantage of the sloping grade with a bank barn, providing ground level access to both floors of the Geobarn. The Geobarn had to be carefully positioned on the slope to allow access for the owner's car collection, but to also make it easy to back trailers to the Geobarn for minimal hassle when loading/unloading equipment and materials. This requirement significantly influenced the design.
The result is a fairly typical equipment Geobarn cleverly situated in a notch cut into the hillside. The ground floor serves as the garage with a single pair of swing doors and a retaining wall of fitted fieldstone. Despite the thirty foot breadth of the Geobarn, no internal supports are required, providing unhindered space for parking four cars, with space left over for additional storage.
The upper floor is accessed with large rolling doors on the uphill side. As below, no internal supports interrupt the upper floor space. The upper floor is completely open to the ridge line with a long monitor cupola to provide ample natural light. There's plenty of room for storage and to stage materials or equipment as needed.
This Geobarn is finished in barn red stain with a silver metal roof and Douglas fir trim. The owner enhanced the area between the Geobarn and the home by creating a landscape garden of native plants, in keeping with the conservation standards of the community.