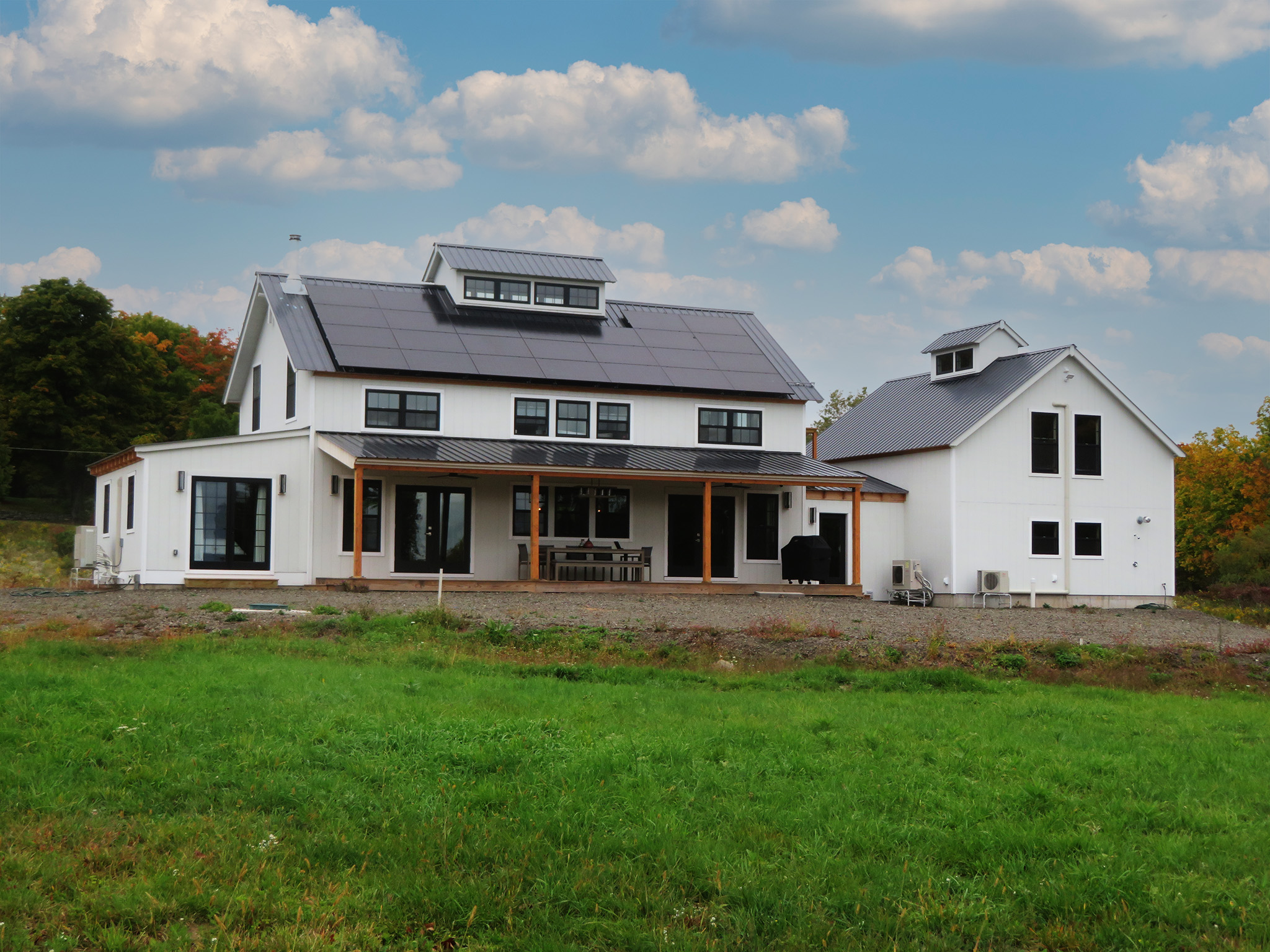 Catskills Modern Farmhouse
A wildflower meadow in the Catskills becomes home for a growing family
In a wildflower meadow in New York's fabled Catskill Mountains, our clients found the perfect location for a family home. This modernist interpretation of the classic New England farmhouse strips the exterior design to the essential elements, creating a crisp, clean look in white, with gray metal roofing, and windows framed in black. Two Geobarns shells, juxtaposed via a connector, follow the tradition of connecting the farmhouse with the barn for convenience in winter, in the days before electric lighting and snowblowers. Here, the interconnection provides generous internal living spaces with ample room for an active, growing family.
Inside, a great room flows naturally into the dining area and kitchen beneath an open mezzanine and cupola far above. A rolling partition door reminiscent of a farmhouse window reveals an intimate lounge that serves as a movie room and library. On the second floor, uniquely styled bedrooms with vaulted beadboard ceilings and reversed batten paneling enhance the rustic farmhouse flavor. The full basement is finished in broad, whitewashed shiplap and slate flooring to provide play and creative space for the children. Above the garage, there is plenty of room for a spacious home office and separate storage room. At the rear of the home, a broad verandah overlooks a pool, with a second Geobarns outbuilding serving as equipment shed and pump house, in the same vernacular as the home.
Outside, Geobarns worked closely with the clients to preserve the natural beauty and original state of the meadow. Disturbance of the wildflowers and meadow grasses was kept to an absolute minimum. Rather than installing high maintenance ornamental landscaping, our clients opted to encourage the wildflower meadow to thrive and grow, healing the intrusion of construction, and restoring the native habitat. The end result is a dream home carefully installed in the landscape they fell in love with.