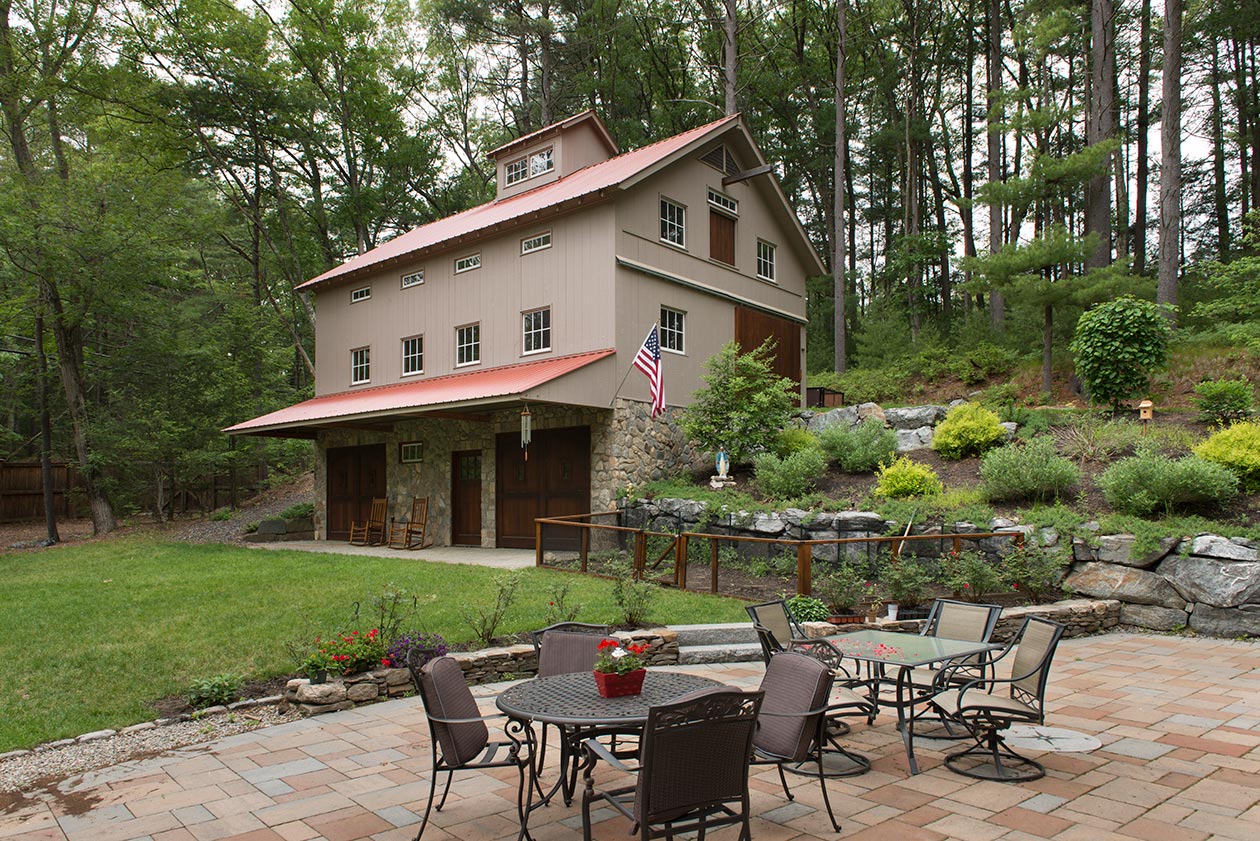 Classic Car & Family Barn
Classic Car Workshop and Recreation Barn in One
This three-story bank barn integrates equipment storage, a classic car workshop with hydraulic lift, and family recreation space while taming a wild slope and creating a backdrop for a young family's lawn.
Located just outside Boston, this three-story structure accommodates disparate uses into a visually appealing building that defines outdoor spaces on both sides. The owners approached Geobarns seeking a building for the restoration and storage of classic cars. More than a simple garage, the lower floor includes a hydraulic lift, the requirements of which spurred creative thinking.
Accessed from two levels, the barn is constructed to support cars and heavy equipment throughout. Just 24' x 36', this small footprint retains the steep hillside, and makes a very tall structure related to the surrounding landscape.
TElegant garage doors framed in a stone base give the workshop a sturdy but formal face to the lawn, while above the display and living areas address the hillside with barn doors. Above the heavy work and display areas, a loft level offers an airy, amply lit play area for a young family.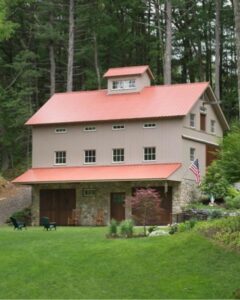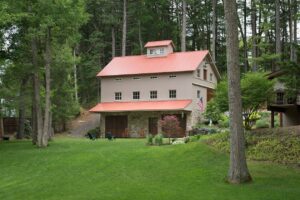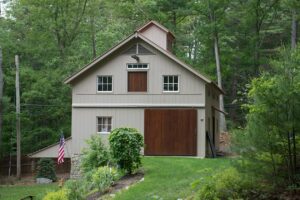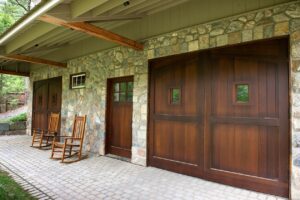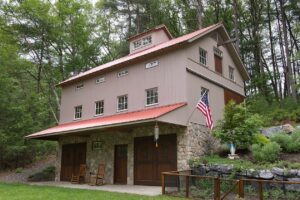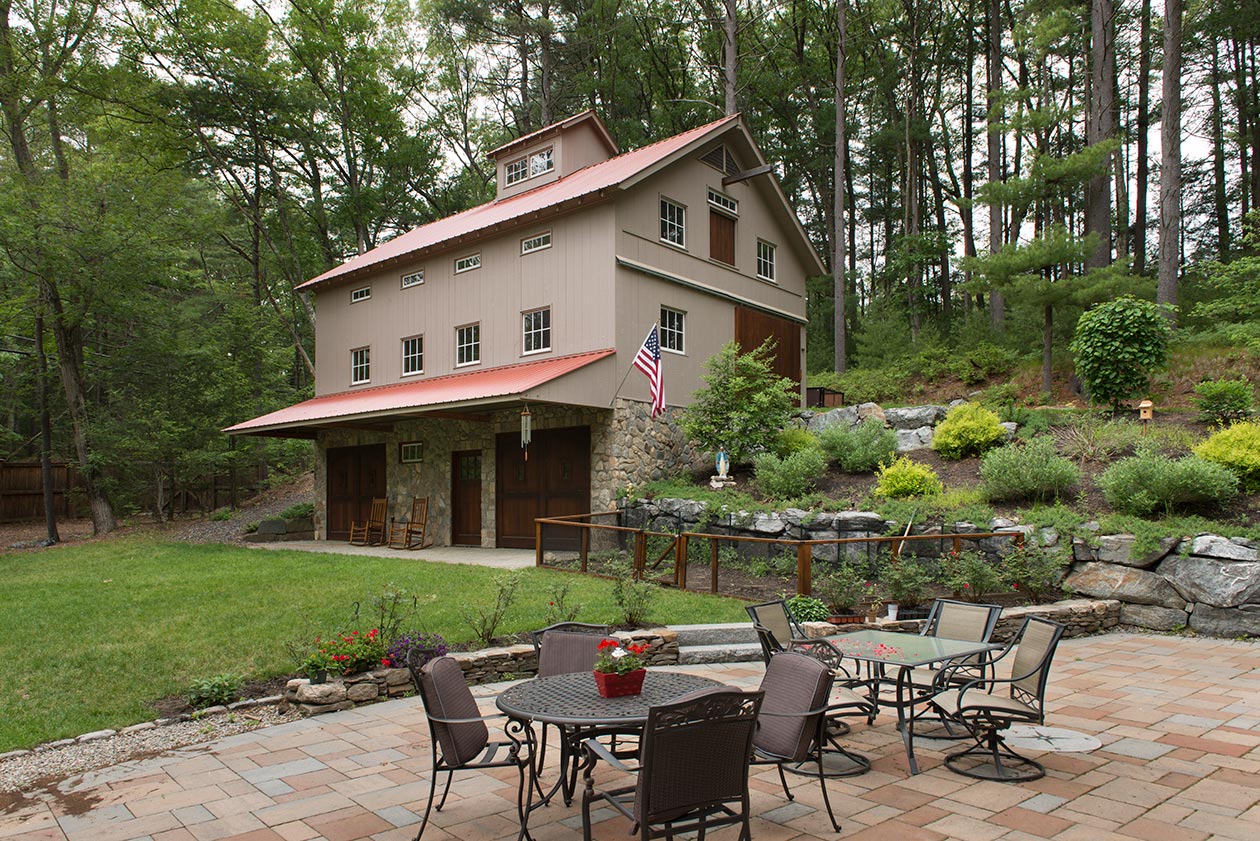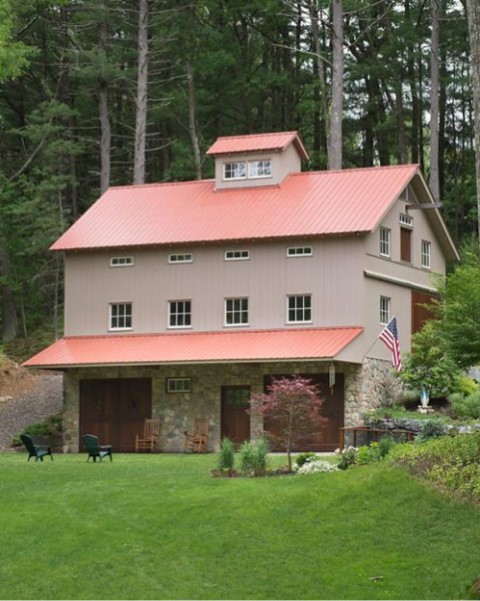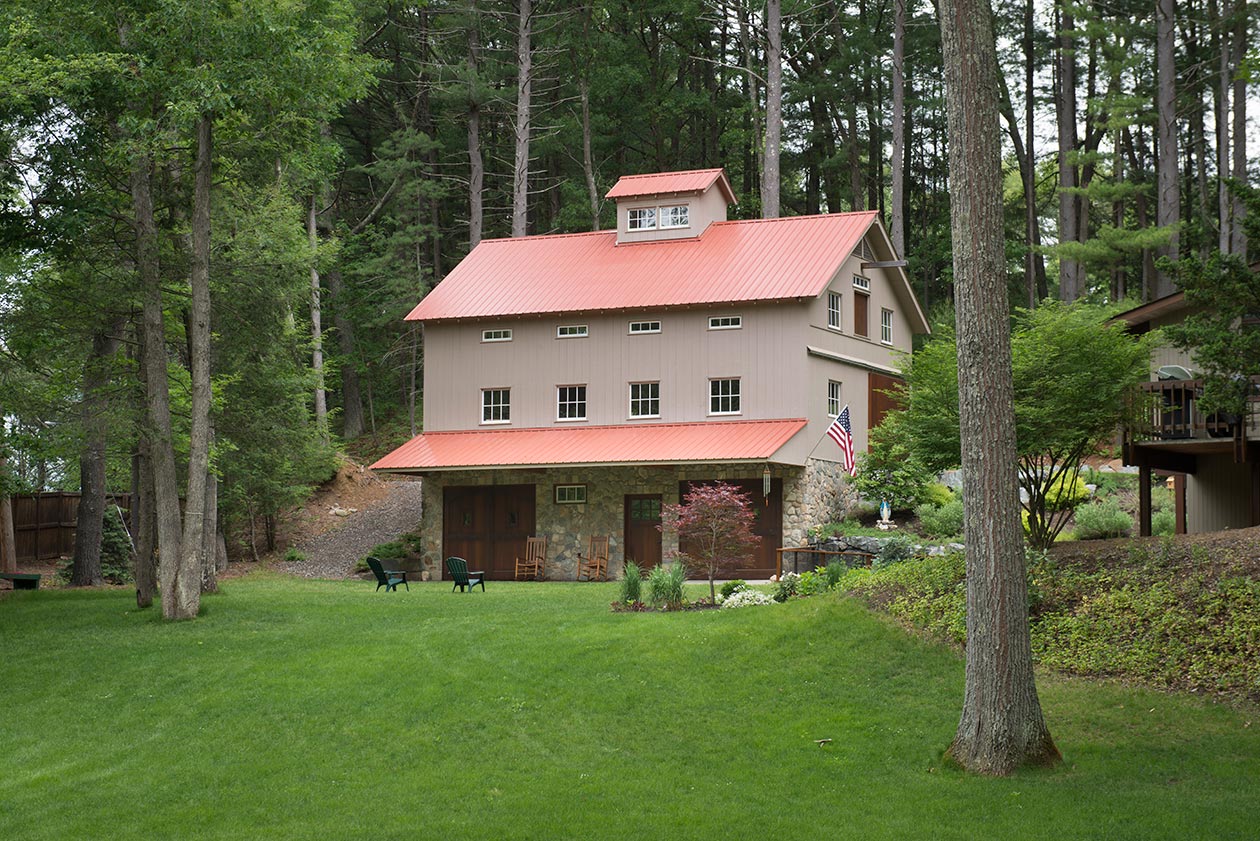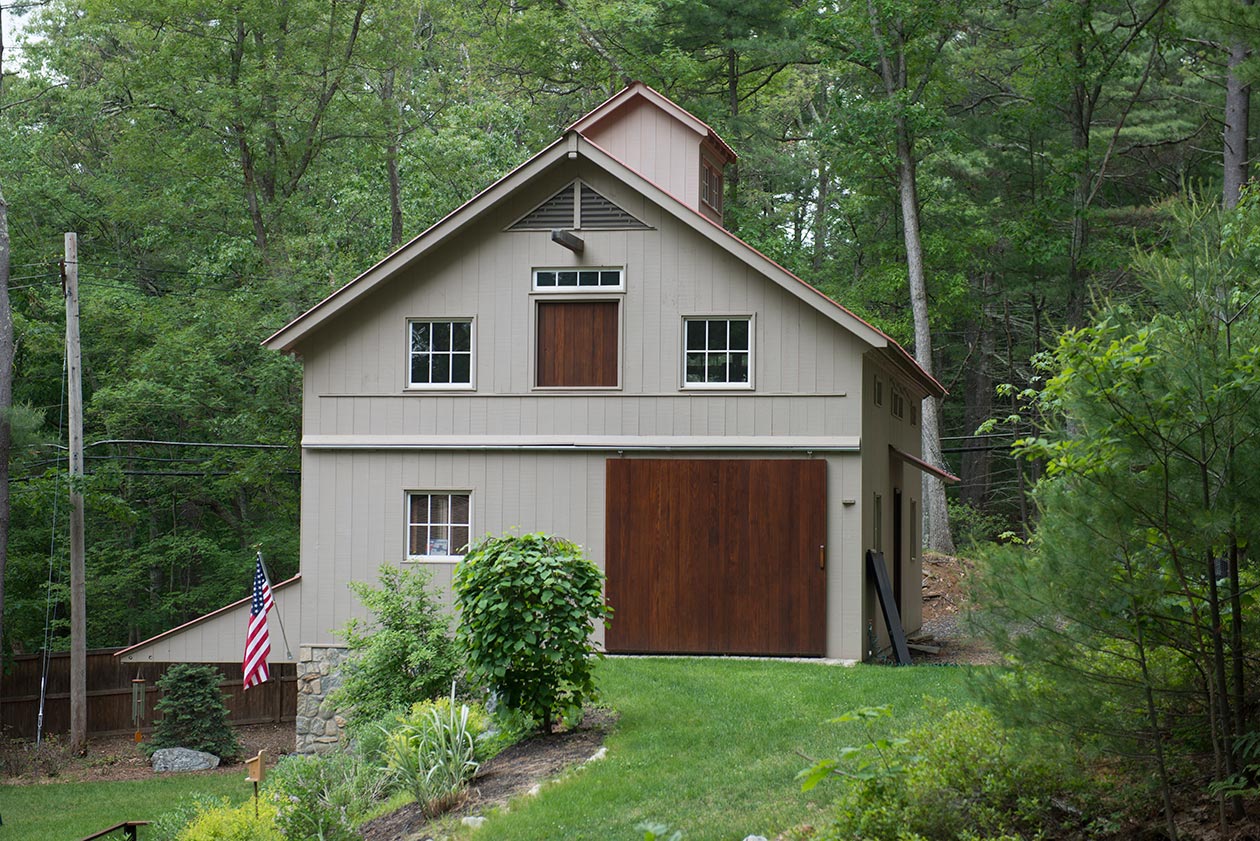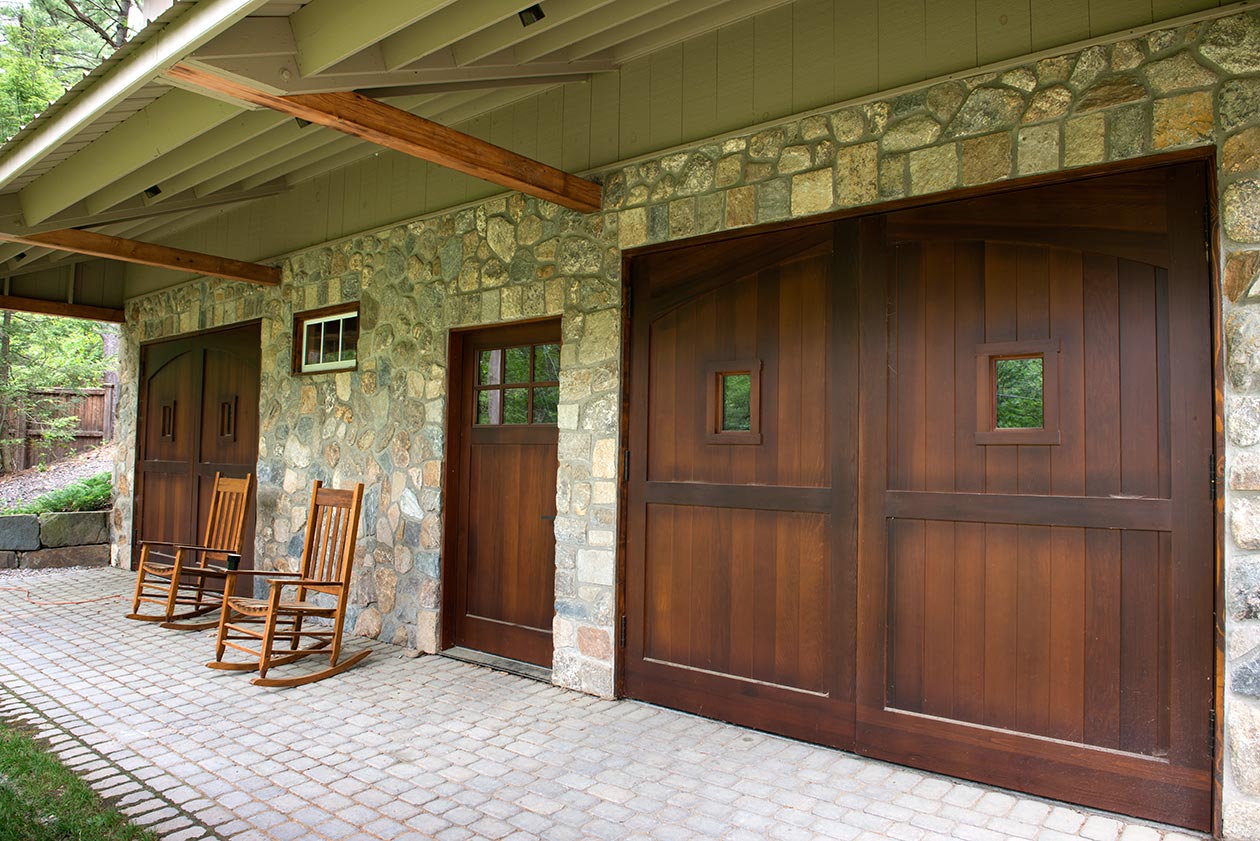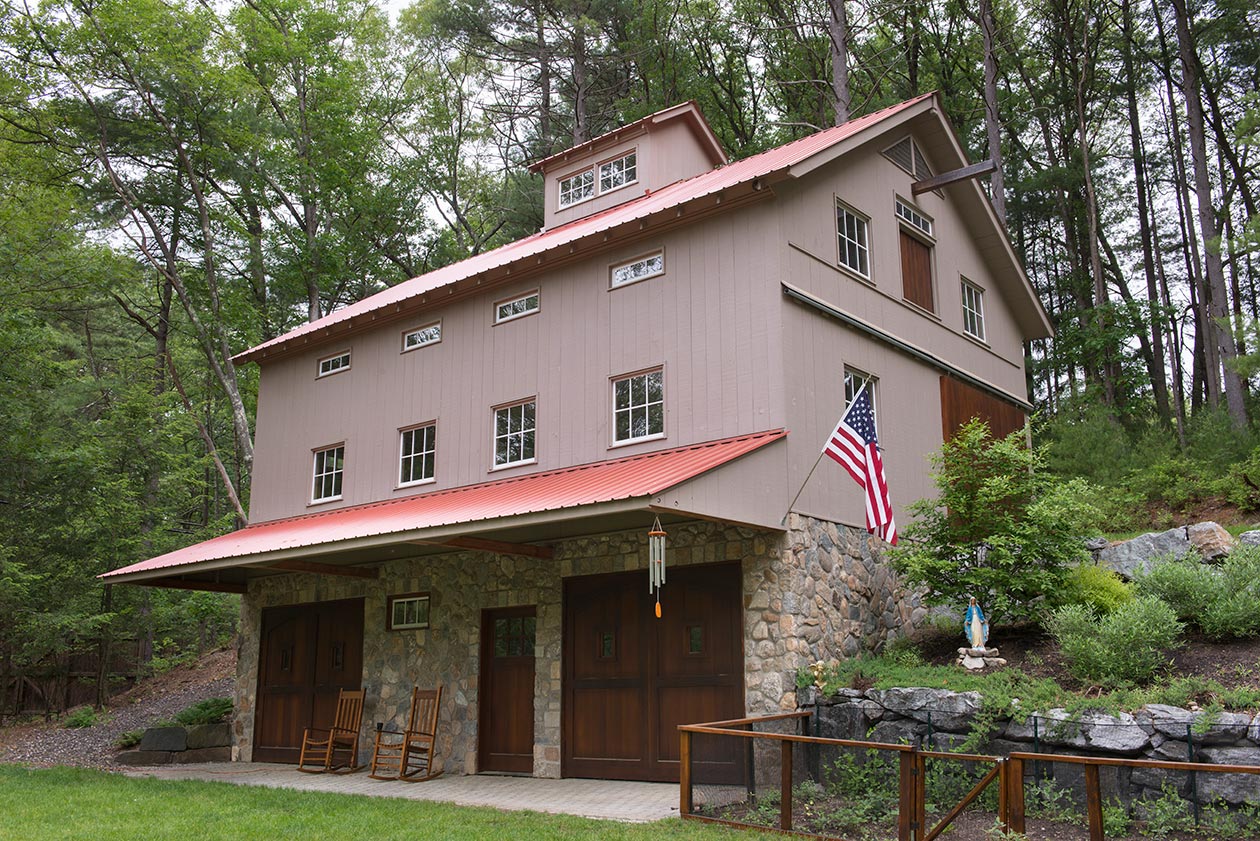 Dear George,
From our initial design discussion until the last nail was driven into the final board, sincere collaboration and true artisan craftsmanship was delivered.
You spent numerous hours in late night discussions with me trying to understand the needs of me and my family so you could craft the perfect barn for us; your endurance and patience was truly amazing. The construction was guided by the incredibly capable Lucas and his right-hand man Morgan with periodic support from John and you. Lucas masterminded the daily activities with surgical precision and delivered the highest quality – as if he was building a barn for himself. Day after day, Lucas kept me in the loop and consulted me when appropriate for decisions. The crew didn't skip a beat while demonstrating extreme professionalism and the occasional playfulness from the random interruptions from my daughters Isabella (5-yrs old) and Emma (3-yrs old).
The most amazing part of this experience was that my wife and I received a lot more than just a magnificent barn; we established deep new friendships with you and the crew. It's hard to imagine the unfathomable truth that we've become very close friends that care deeply for each other. It's hard to describe to the average person reading this letter how it's possible to build such a sincere friendship with your barn builder. To them — I say — you just have to meet George and see for yourself.
Sincerely,
Brian, Luciana and the girls