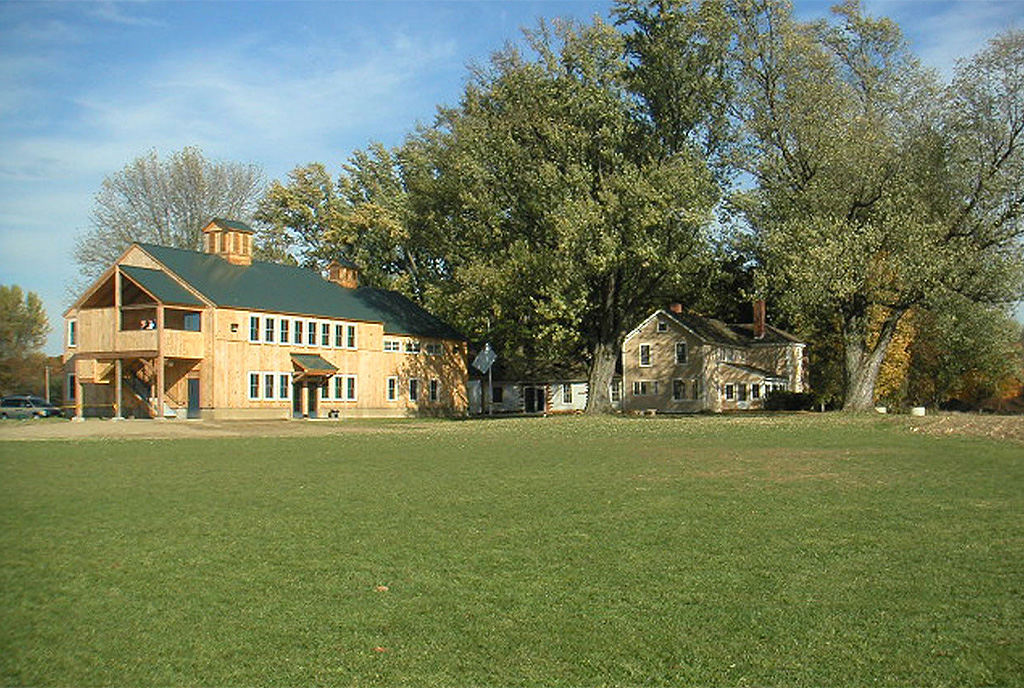 Four Rivers Charter School
A New Classroom Building for a Growing School
This 7,200 sf. structure comprises the middle school facilities of Four Rivers Charter School in Greenfield, Massachusetts. It is located on a magnificent farm site with the original 1700's farmhouse serving as the office building, and nestled among a stand of massive oak trees. The entire project was nothing short of a miracle, with groundbreaking on May 26th and classes starting only 15 weeks later on September 2nd – the day after Labor day! The Geobarn shell went up in under eight weeks, often working in tandem with up to 15 other trades on the same site.
While highlighting all Geobarn structural features, this barn also included the invaluable services of an engineer and an architect who adapted the Geobarn building system to Massachusetts school code requirements and designed the interior to fit the multifaceted needs of an entire school. Because Geobarns are essentially modular free-standing structures, the building was under roof in less than six weeks and the interior could be built at will in conjunction with the numerous required trades: HVAC, sprinklers, elevator, plumbing, telecommunications, etc.
The architect did a magnificent job incorporating Geobarn signatures into the interior, including exposing the upper built-up beams, transom windows in the hallways, and exposing Douglas Fir sistered posts throughout. The heating ducts run through the diagonal fir buttresses, which support the floor beam trusses at a load of 12,000 lbs per connection, for a total upper floor load capacity of well over 100 tons.
The building features five large classrooms with extensively windowed hallways, storage, utility and bathroom areas, active cupolas, exterior porches, elevator, stairways and complete fire protection throughout.
Learn more about Four Rivers Charter School