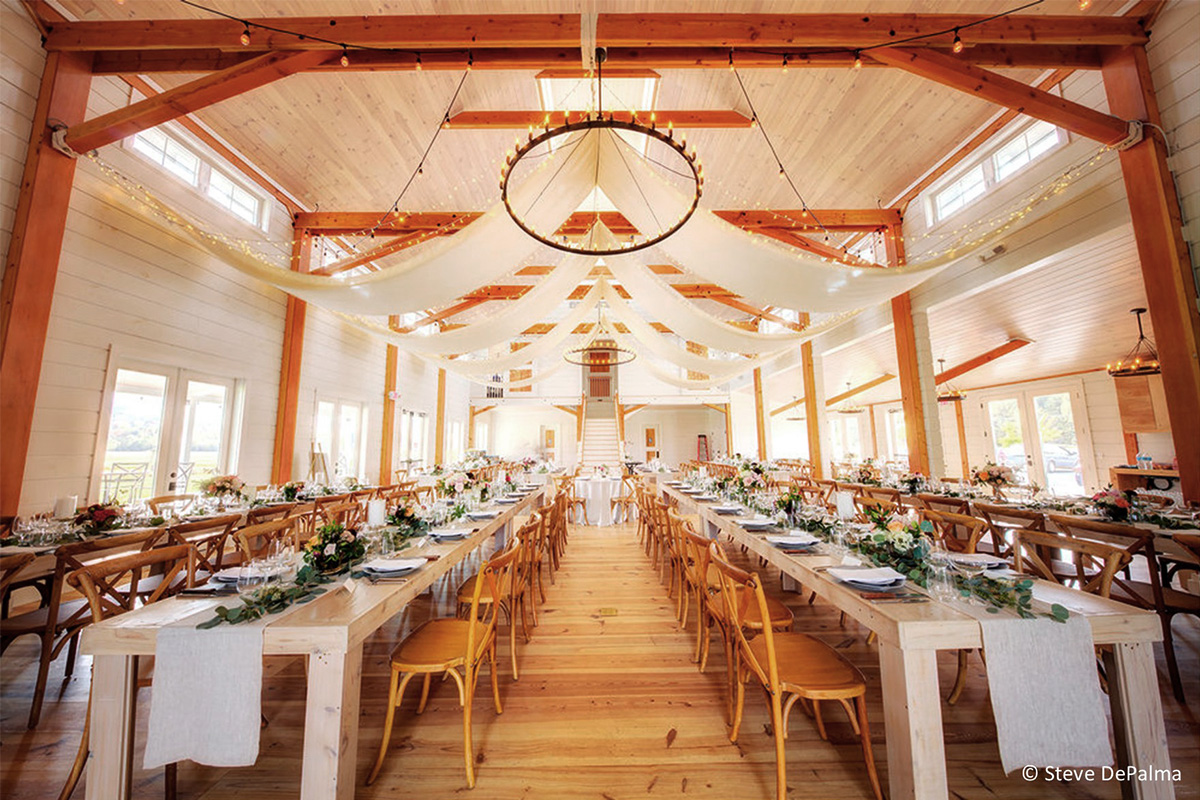 Building a Wedding Barn… in Vermont
Location, Location, Location
Suppose you have dreamed about starting your own Wedding Barn business. And suppose you have a lovely site in mind, one strategically located near a celebrated vacation destination. Now suppose that site is in Vermont… on a farm strewn with wildflowers… with a backdrop of Vermont's highest mountain.
Sounds like an ideal spot for memorable weddings, doesn't it?
That's exactly what Steve and Jenn DePalma thought when they found the perfect site for a Vermont Wedding Barn. It was 77 acres of farmland on the crest of a gentle hill, just minutes from Stowe. A panorama of Vermont's Green Mountains surrounded the site, with Mount Mansfield in the center. It was a blank canvas just begging for the perfect structure. Steve and Jenn fell in love with the farm on first sight, and they knew that their future clients would fall in love with it, too. All they needed to do was design and build a Wedding Barn equal to the natural beauty of the land.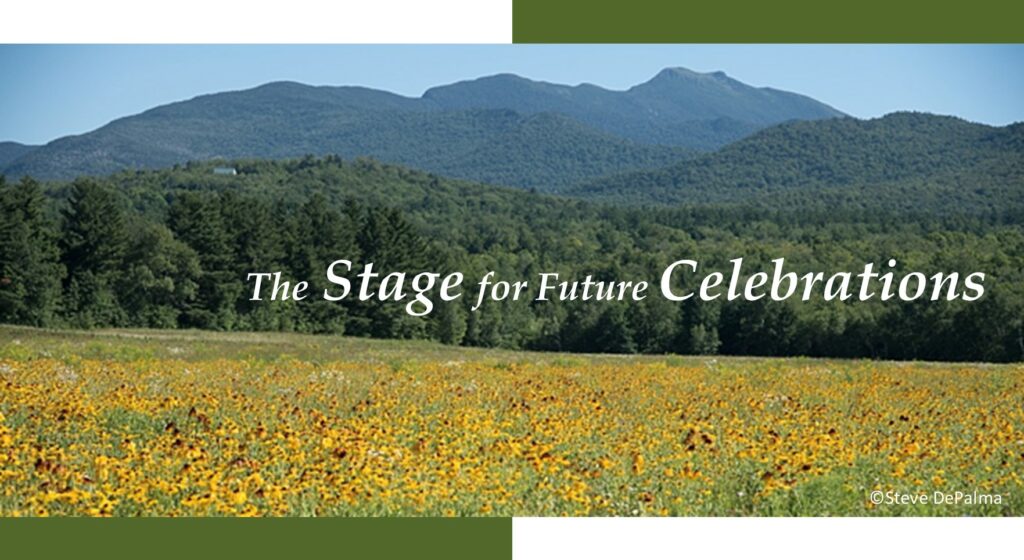 Hands-On Hospitality from Tuscany to Vermont
The DePalmas brought an unusual experience to their new Wedding Barn venture. As newlyweds, Steve and Jenn toured Tuscany in Italy, where they discovered a unique Italian vacation experience: the Agriturismo. Combining the words 'Agriculture' and 'Tourism', an Agriturismo is a 'farm vacation', where vacationers live with an Italian farm family. Agriturismi are famous for teaching Italian farm-to-table cooking, crafting artisan foods, and the rich heritage of Italian hospitality. The experience made a powerful impression on Steve and Jenn. Despite speaking little Italian, they decided to open their own Agriturismo.
Steve and Jenn found a run-down 14th century monastery and set about refurbishing it into an exquisite vacation villa. They did nearly all of the remodeling themselves, learning as they went. And since they wanted to run the hospitality themselves, Jenn attended a traditional Tuscan cooking school, and Steve began training to become a sommelier.
We were nervous. We didn't speak any Italian. When we bought the place, they gave us a big bucket of keys. It took us six months to figure out where they all went…. but we loved every minute of it.

-Steve DePalma
Steve and Jenn earned a reputation for great food, great wine, and comfortable hospitality – even without truly mastering Italian. However, the lesson here isn't how to run an Italian agriturismo. It isn't even that you need a background in hospitality to run a Wedding Barn business. The lesson is that details matter. Passion matters. Creating the stage for memories to last a lifetime matters. And when it was time to return to America, Steve and Jenn brought those lessons with them.

A Simple Vision for a Wedding Barn
Steve and Jenn had a simple vision for the new Wedding Barn in Vermont: Great hospitality. They wanted to combine rustic architecture with upscale elegance in a building that evoked Vermont heritage with modern amenities. To do that, converting an old building wouldn't do. They knew from their monastery remodeling experience that old buildings come with many old problems. Too many barn wedding venues were, as Steve put it, just "ex-dairy barns with lights".
To deliver great hospitality, Steve and Jenn wanted a commercial grade kitchen to prepare great cuisine. They wanted to share their knowledge and love of fine wines, which meant a commercial grade bar. They wanted to provide sumptuous comfort for their guests, which meant modern bathrooms and climate control. And they also knew that support services – catering, photography, music – all required modern electric and communications infrastructure. In short, they knew they needed a new building tailored to their needs.
However, Steve and Jenn didn't want to compromise on the authenticity of a barn wedding. They didn't want a building that just looked like a barn… it had to be built the way barns have always been built. Therefore open spaces, soaring ceilings, exposed rustic timbers, rolling barn doors… all these had to be part of the basic structure. And a cupola would be nice, too. All they needed was a builder who could help turn their vision into a business.
That's Where Geobarns Comes In
While there are many builders who can build barns, what set Geobarns apart was versatility. Rooted in traditional New England barn-building, Geobarns' proprietary building techniques permit a wide array of designs. The ability to freely span wide spaces without intervening supports means no blocked views of a wedding ceremony. The signature Geobarns diagonal framing provides incredible strength and efficiency while minimizing carbon footprint. And complete design and project management means Geobarns helps with every detail, down to paint and fixtures. Geobarns was exactly what Steve and Jenn were looking for: a design and building partner.
That last part – partnership – is where Geobarns shines. Designing and then building a Wedding Barn requires a multitude of details and decisions, and even the most organized business owner can be overwhelmed. Many fine builders will worry about all those details for you – once you have made the decisions. A true builder-partner not only handles the planning and logistics, but also brings ideas to the table and helps you make the right decisions that are best for your business. In other words, choosing the right builder will go a long way to your future success.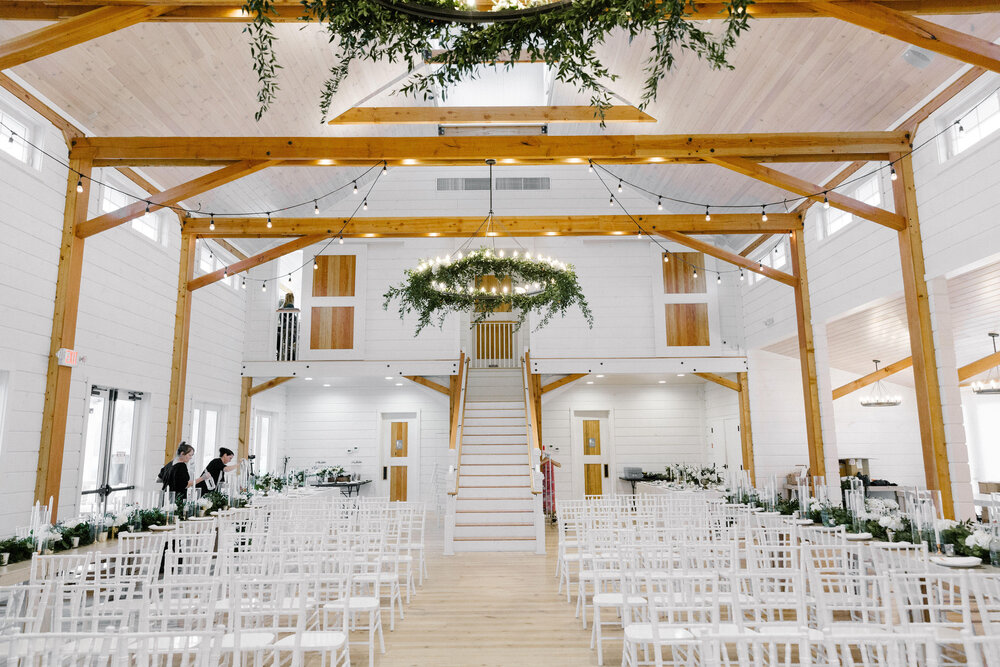 Design for Grand Performances
The design for the DePalma's Geobarn started with the most important question: How will people move through the building? How will ceremonies be performed? How will support services, such as catering, serve guests? Answering these big questions determines the direction the floor plan should go. In a way, designing a Wedding Barn is much like designing a theatre: both are stages for grand performances.
The second most important question is how to position the Geobarn on the site. With a broad farm meadow and dramatic mountains beyond to work with, the Geobarns team took advantage of both. Guests arrive from the main road with the Geobarn staged squarely against the backdrop of Mount Mansfield. The building itself screens the parking area from the Great Lawn on the other side, creating privacy for outdoor celebrations. Carefully planned landscaping makes the venue blend into the natural landscape, preserving the connection with agrarian Vermont.
This site plan permitted two main traffic flows for guests. First, a traditional 'Processional' flow leads guests from a grand entry, through a gathering room, and into a main hall. Second, a 'Picnic' traffic flow leads guests across the main hall via a series of French doors on either side. In this second configuration, the main hall can be staged as a reception room, supporting ceremonies on the Great Lawn outside. And in case weather turns foul, it's easy to move an outdoor ceremony swiftly inside.
Design for Flexibility
Flexibility is important for a healthy business. A flexible Wedding Barn design should accommodate a wide variety of client wishes and traditions, from classic American to Indian Sangeet. The 'Processional' traffic flow is ideal for most wedding ceremonies. But to support a profitable business, a Wedding Barn should accommodate more than weddings. The 'Picnic' traffic flow is ideal for company parties, community dances, and more.
However, support services shouldn't be neglected. For this design, the Geobarns team created a Hospitality Wing at one end of the main hall, opposite the gathering room. With restrooms, commercial kitchen, and storage concentrated in the Hospitality Wing, services are centrally located while remaining discreet. A centrally located Hospitality Wing makes it easy to provide great hospitality with a small staff.

The Main Hall
The centerpiece of this Geobarn is the Main Hall. Following the lines of a classic New England barn, the interior soars two and a half stories, crowned by a long cupola above. Structural supports and tie beams follow an orderly Yankee geometry found in Vermont agriculture. These exposed framing elements are Douglas Fir – strong and beautifully grained. While traditional timber frame barns require interior support posts, Geobarns' modified system keeps the interior free and open. Not only does this eliminate obstructions, it also maximizes floor plan flexibility for banquets and parties.
While actual dairy barns tend to be windowless and dark, this Wedding Barn is a cathedral of light. Sunlight streams through the long cupola above the Main Hall and through a series of clerestory windows lining the Hall. Glass doors line both sides of the hall for flexible traffic flows and to embrace the stunning scenery outside. Light is so important to celebrations (and photography), that it guided the overall design of the Main Hall.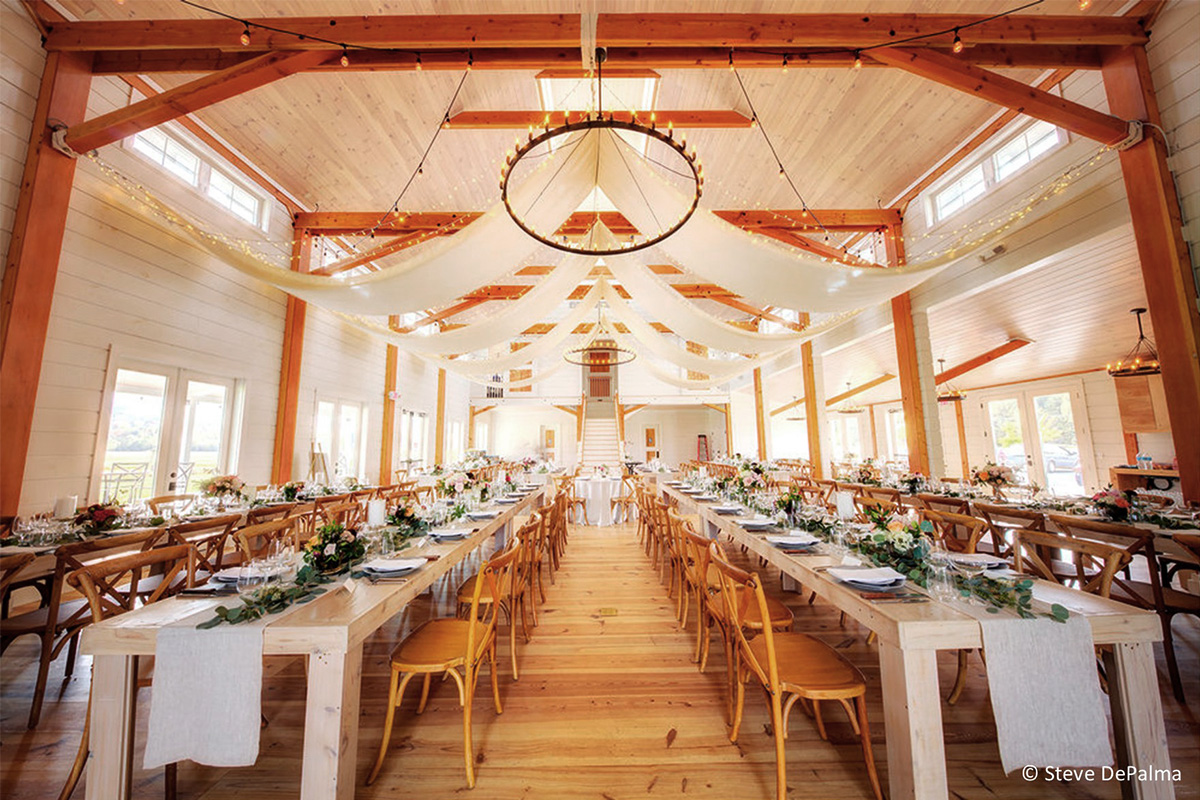 Let the Building be the Canvas
Steve and Jenn wanted a Wedding Barn that was both rustic and elegant at once. The Geobarns design team recommended a classic-but-simple palette of just three colors: whitewash, natural wood, and matte black. Keeping the design palette simple helps accommodate the myriad styles of decorating clients may choose.
Whitewashed pickled pine ceilings and knotty pine floors preserve the rustic feel of a barn and enhance the rich color of the framing timbers. Rather than plain drywall, the Geobarns design team chose whitewashed shiplap for the walls, reminiscent of farmhouse clapboard. Blond natural wood and whitewashed walls scatter light and keep the interior bright, whether day or night. As a finishing touch, framing hardware is 'blacksmith black', evoking the history of hand-crafted hardware in barn building.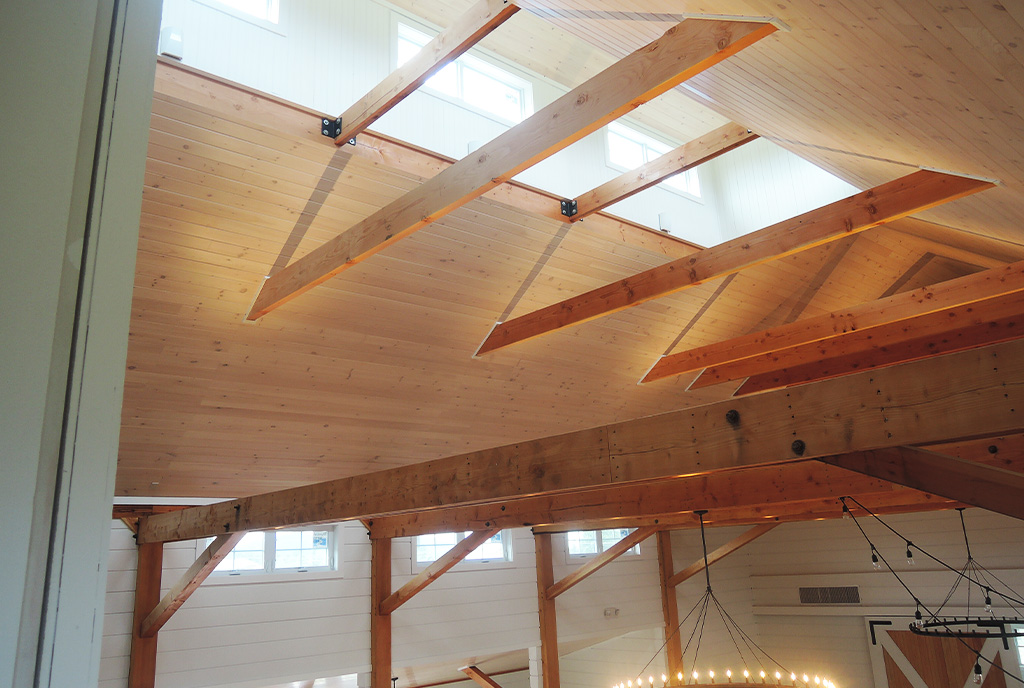 Flexible Spaces
In addition to the Main Hall, the Geobarns team added three spaces to expand the hospitality opportunities. With a backdrop like Mount Mansfield, outdoor ceremonies would certainly be in demand. To support outdoor hospitality, the Geobarns team designed a transition space: a generous veranda large enough for cocktail service. Like a classic front porch, the veranda welcomes guest indoors and out, with ample glass doorways accessing the Main Hall.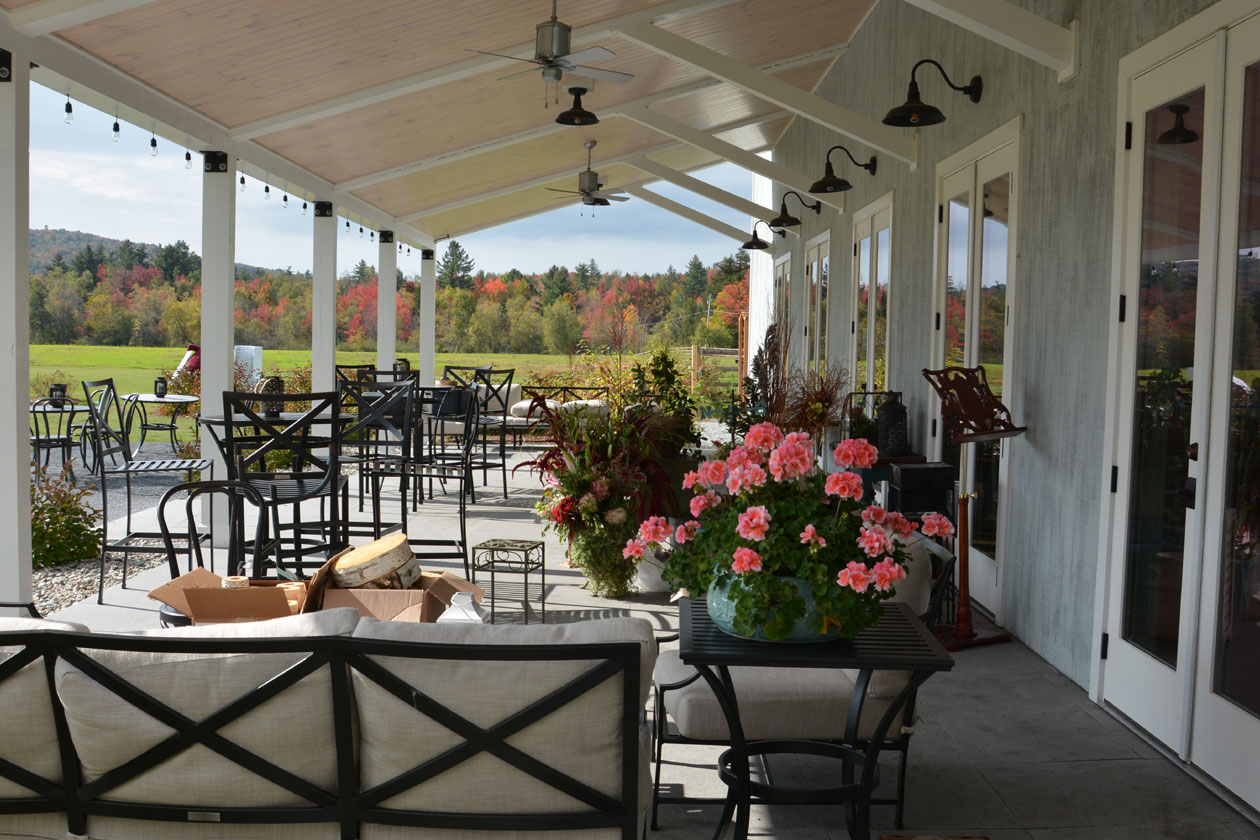 Any good wedding venue should provide dedicated space for beverage service, and this Geobarn is no exception. Rather than building a bar in the main hall, where weddings are performed, the Geobarns team created a wing dedicated to entertainment. This 'Gathering Room' wing is large enough to serve as a dance floor or dining space. On one side, Geobarns built a custom bar styled like a Tuscan enoteca – a wine shop specializing in local vintners. Constructed of the same Douglas Fir and shiplap of the interior finishes, the enoteca is outfitted with commercial grade beverage equipment. Additionally, the enoteca bar is the focal point for Steve's passion as a sommelier and a second profit center: Wine-Tasting parties.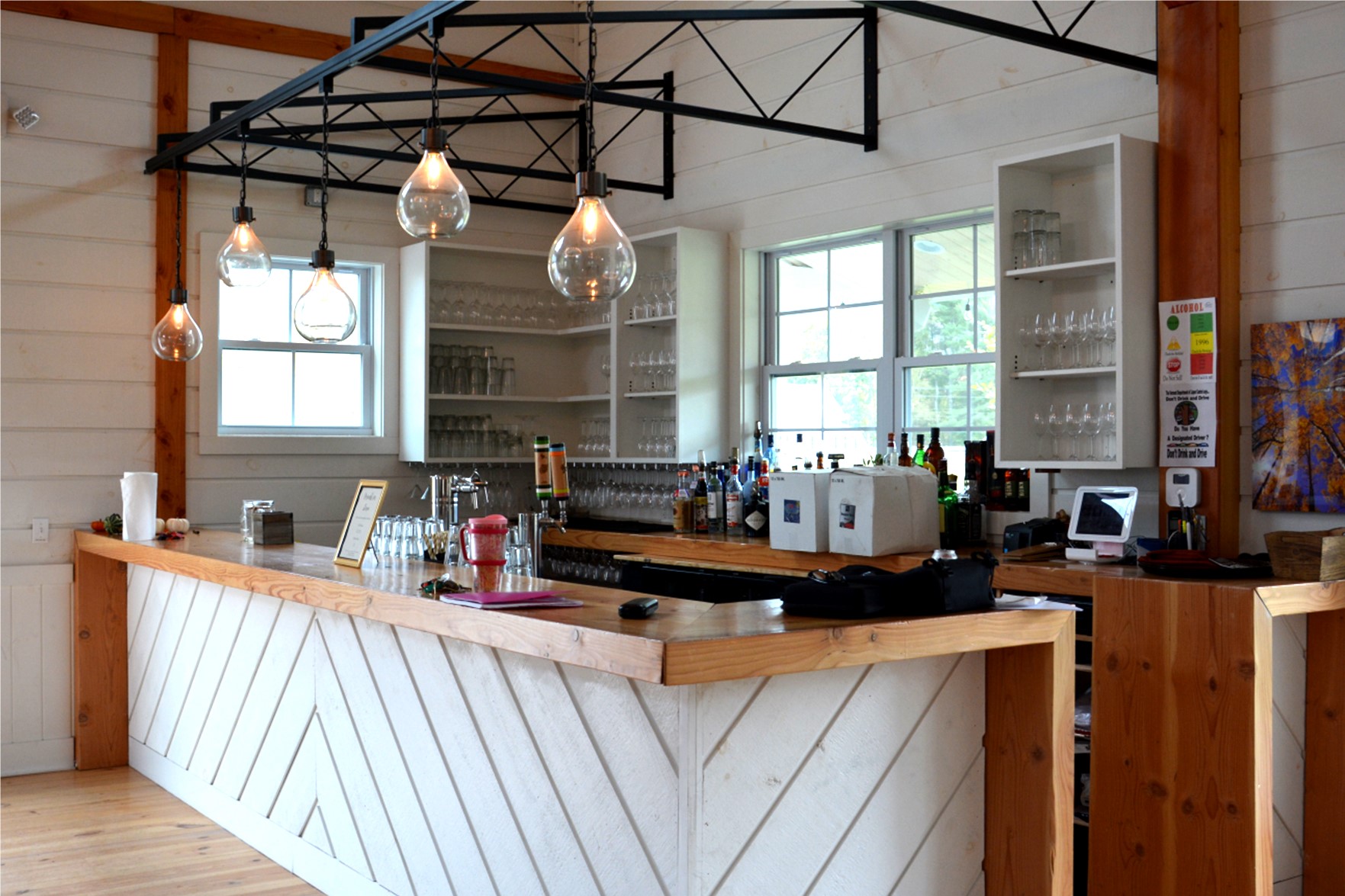 The third flexible space became the crown jewel of this Wedding Barn: The Bridal Loft.
The Bridal Loft
From their experience creating the agriturismo in Tuscany, Steve and Jenn knew the secrets to great hospitality are romance and intimacy. It is the romance of beautiful spaces in beautiful places. It is the intimacy of sharing life's celebrations with friends and family. Few events are as romantic and intimate as the final moments of preparation before a wedding. To ensure that Steve and Jenn could make these moments special and memorable, Geobarns created a romantic suite above the main hall, complete with private bath and shower.
The Bridal Loft, as Steve and Jenn named it, insulates the wedding party from the bustle of activity below, preserving an island of calm. However, the Bridal Loft is not isolated: a pair of Romeo-and-Juliet balconies overlook the main hall. Every detail of the Bridal Loft was carefully designed by Geobarns to evoke intimate rustic romance, down to the selection of furniture and décor.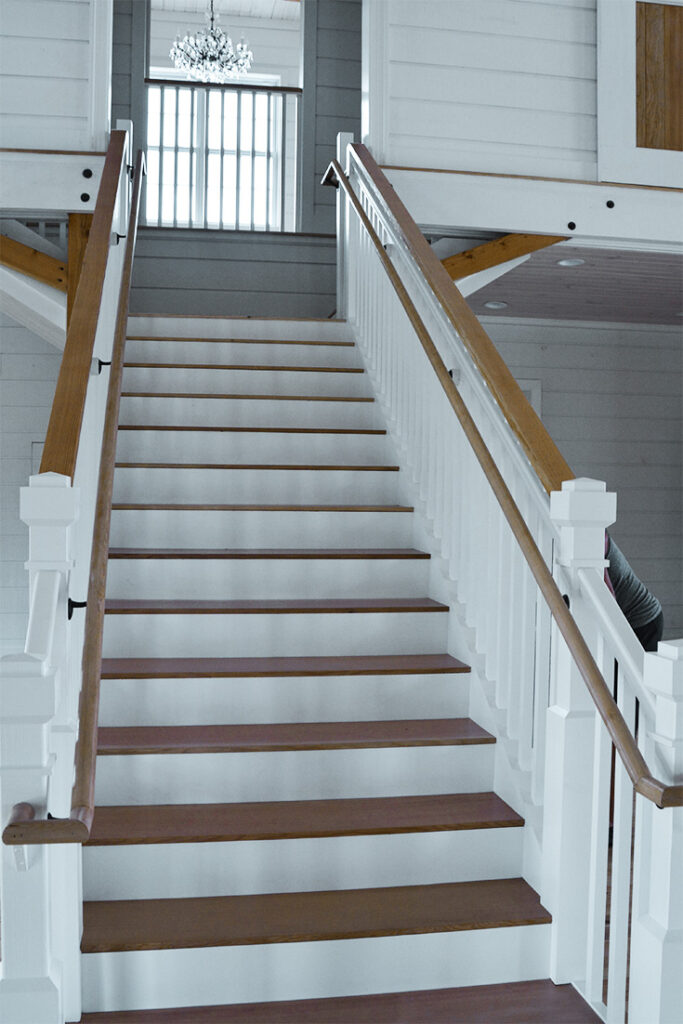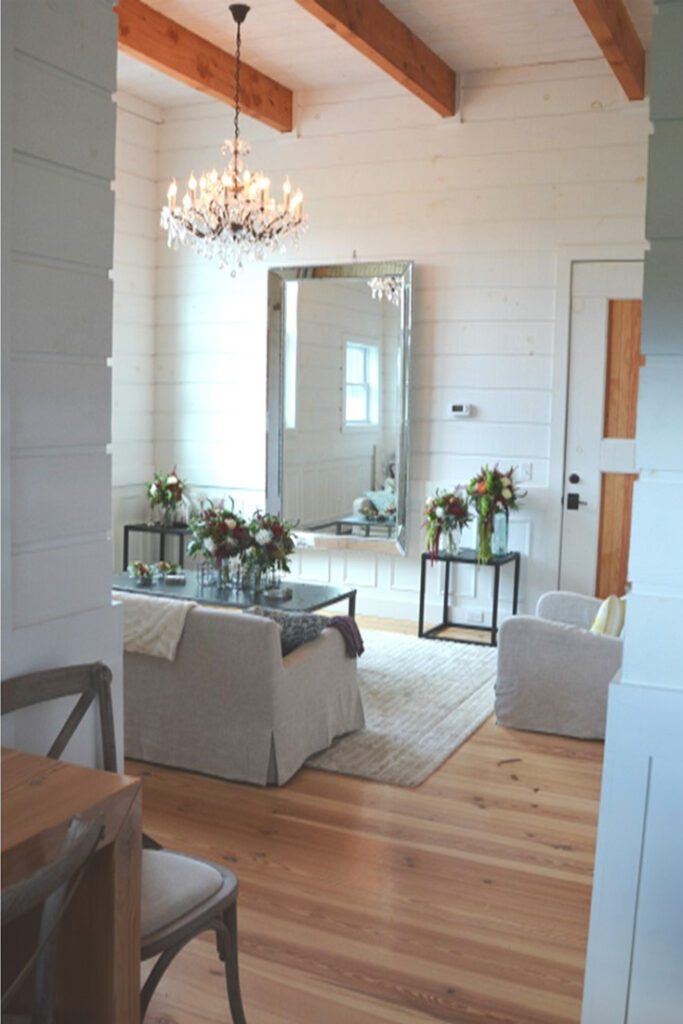 Grand performances call for grand entrances, and the entrance of the bride is a keystone moment in every wedding. To access the Bridal Loft, Geobarns designed a grand staircase leading down into the main hall. Every entrance of the wedding party, descending from the Loft down to the guests below, is the pivotal moment of a grand play. The staircase is the central prop for a fairytale Barn Wedding.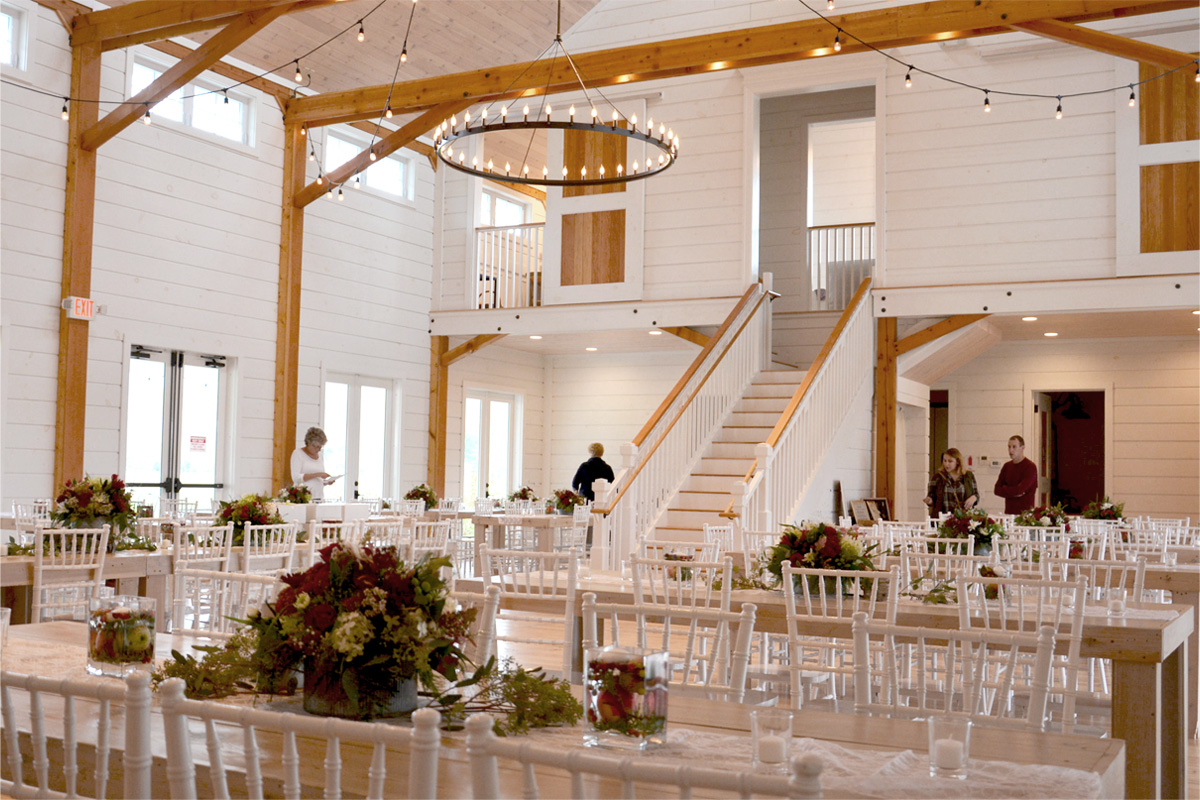 Signature Barn Doors
Geobarns signature rolling barn doors deliver dramatic impacts inside and out, and they evoke the rustic heritage of Vermont. Every barn door is built from scratch to fit the structure. Inside, broad rolling doors in natural wood with whitewash trim separate the Gathering Room from the Main Hall. To create privacy for the Bridal Loft, smaller twins to the Main Hall doors close off the balconies.
Outside, a pair of rolling doors 16 feet tall flank the entry to the Gathering Room, finished to match the weathered gray exterior. Similarly, the French doors leading from the Main Hall to the parking area all have rolling barn door shutters. These permit the parking area to be screened off from the festivities inside or thrown open for entry. And finally, every door that isn't a rolling barn door was built to match.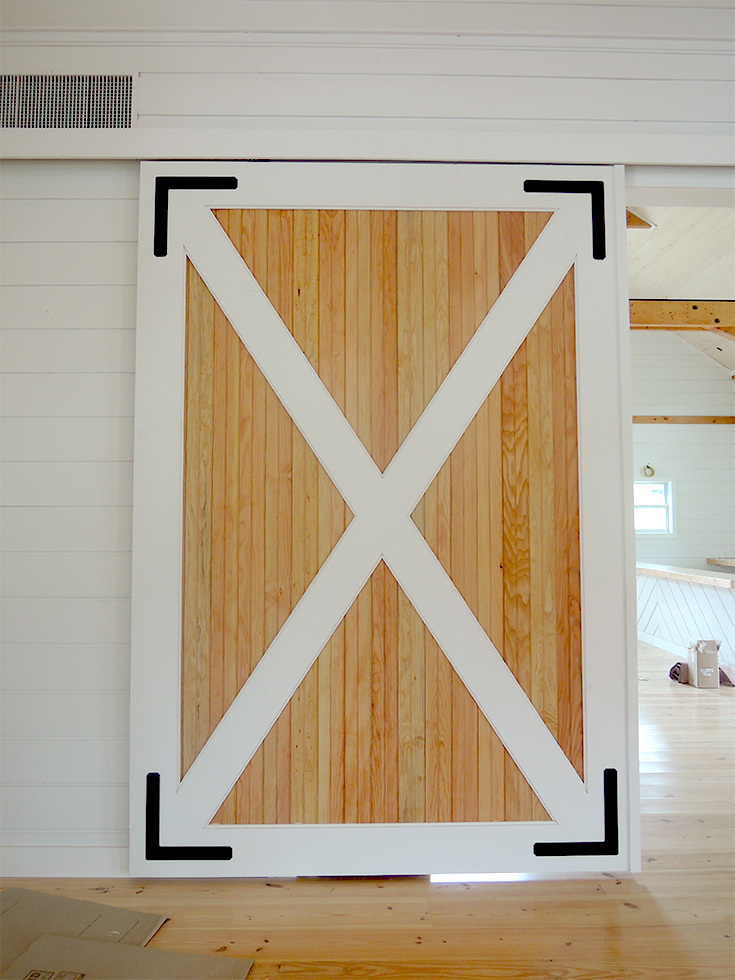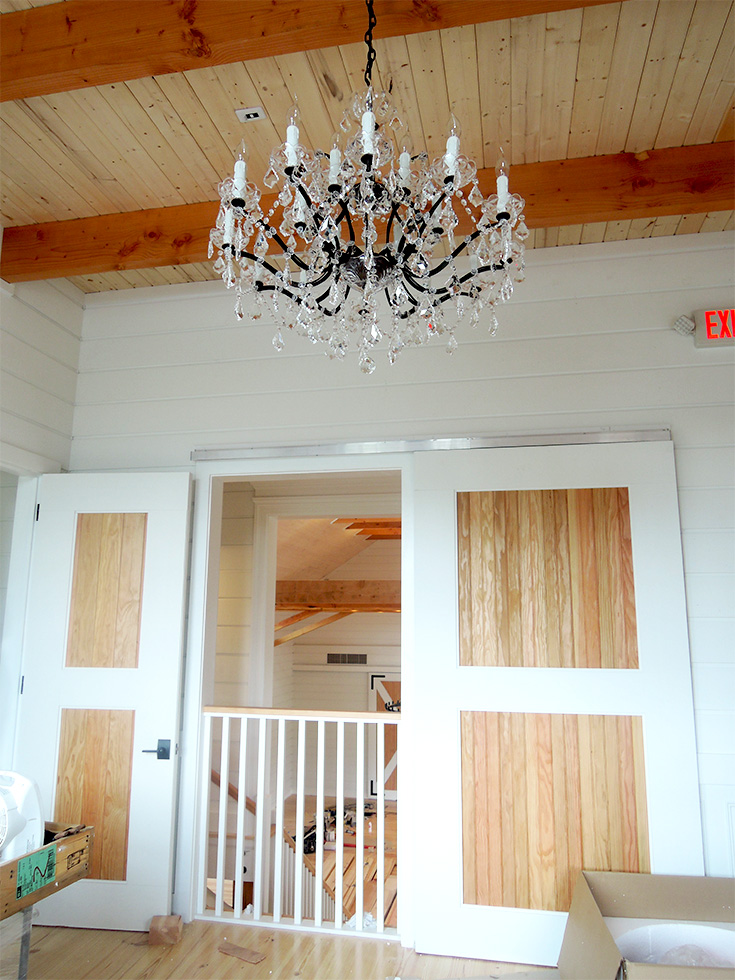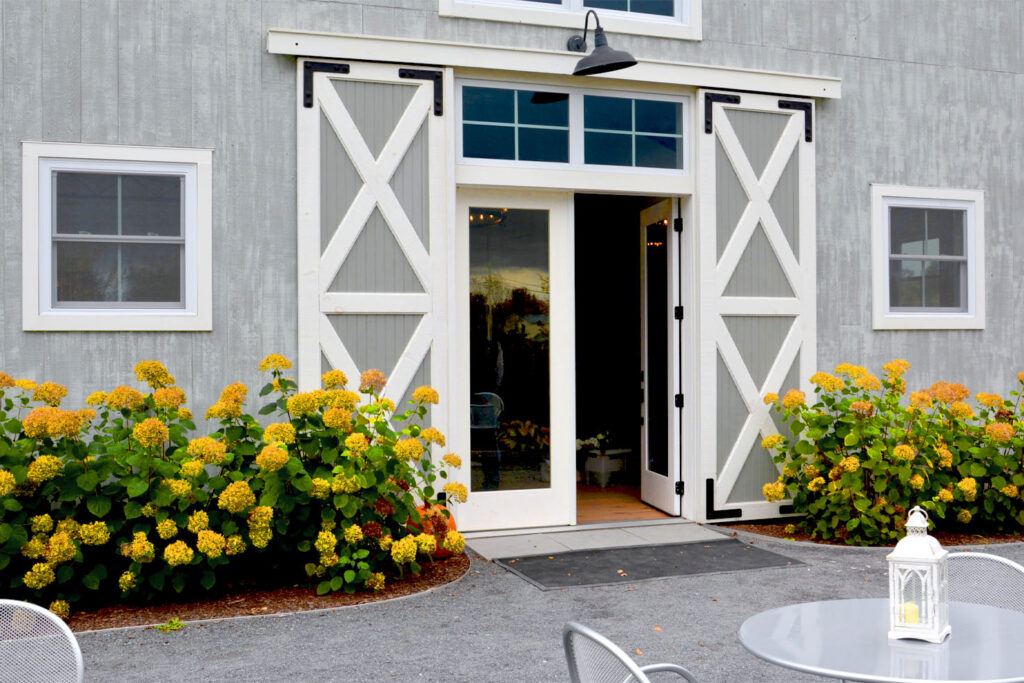 The great doors separating the Main Hall from the Gathering Room work like stage curtains. They are drawn shut when the ceremony begins, and then the Gathering Room can be reset behind the scenes. When reopened, it is like a magical reveal: the Gathering Room transformed to Wedding Reception. In the Bridal Loft, wedding parties have enjoyed their own stage performances, using the balcony barn doors to hide and then reveal glimpses of the wedding preparations. The Bridal Loft becomes a Secret Garden from which hints are shown to the guests below. The barn doors are moveable canvases of the carpenter's art, and they become essential props in the grand performance.
Artisan Details
No Wedding Barn is complete without the rustic details that make a barn a barn. Lighting, restroom fixtures, and entrances all need the right touch to create that rustic ambience sought by clients. For the Main Hall, the Geobarns team found barrel-hoop chandeliers in blacksmith black that are simple yet elegant. Additionally, secondary light fixtures in matte black lend atmosphere with forms that suggest they came form the forge.
Downstairs, Geobarns built custom vanities for the restrooms and installed amazing sinks shaped like cast-iron skillets. Pump-handle faucets in matte black complete the look. The Bridal Loft goes upscale with a marble table vanity and chromed fixtures. The main hall features minimalist "wagon wheel" light fixtures. Over the enoteca bar, Geobarns designed and constructed a matte black awning frame – just like the awnings at wine bars across Italy. Even the door handles and hinges follow the blacksmith black motif.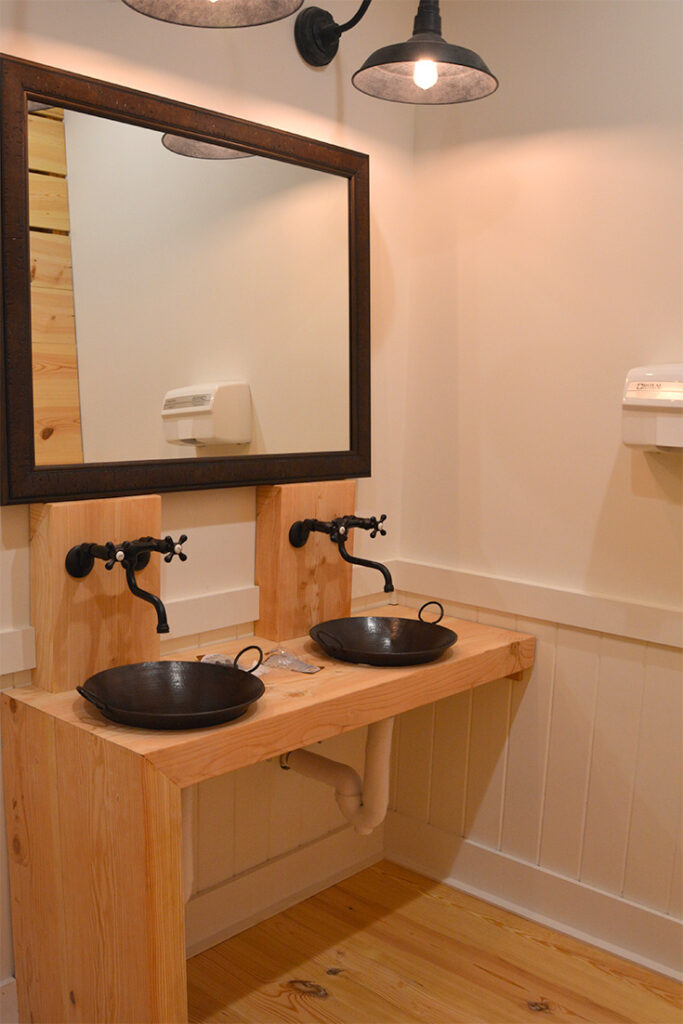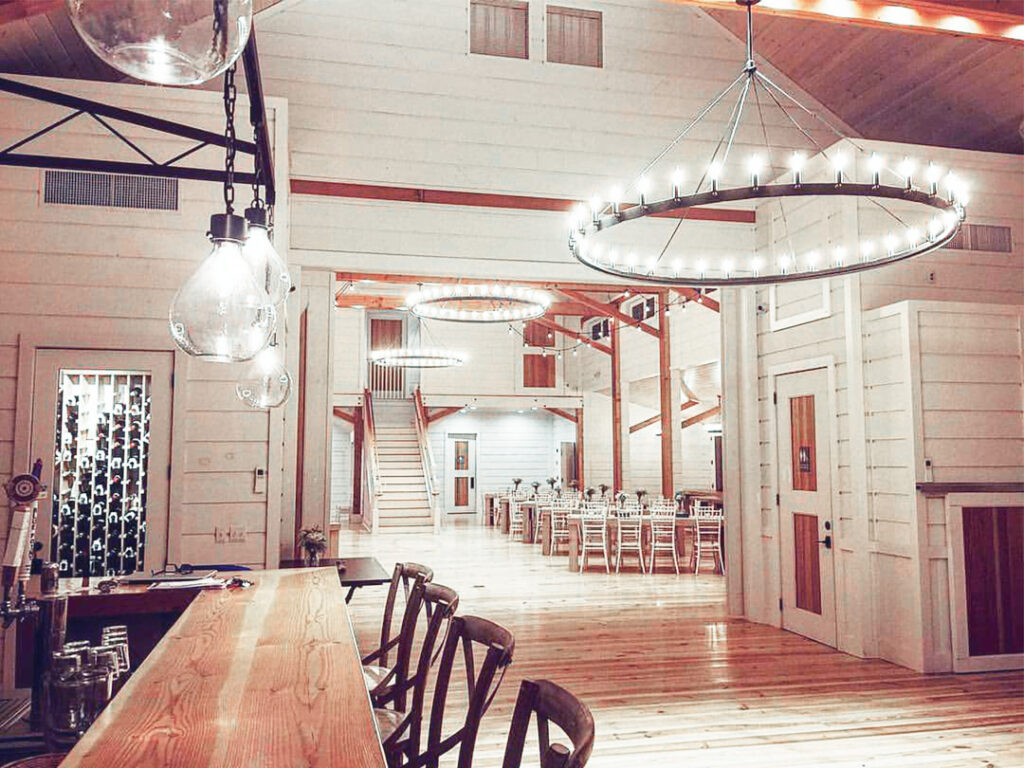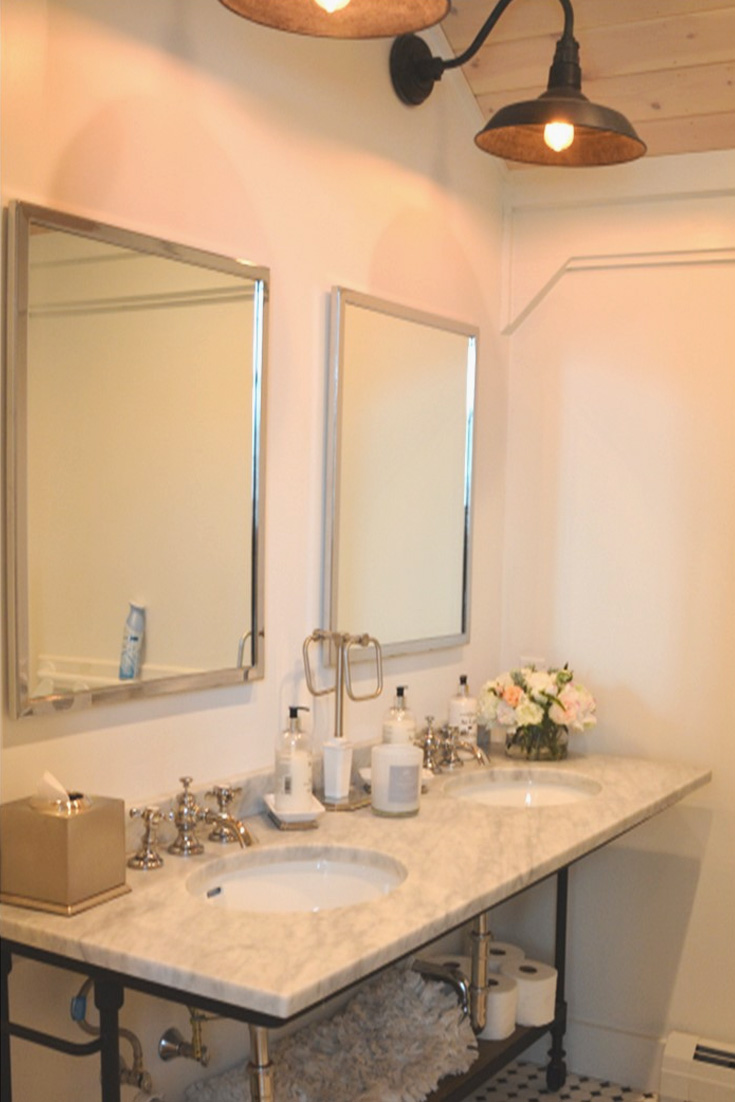 However, the Geobarns design team didn't stop there. Steve and Jenn needed an office to run their new business efficiently, so Geobarns built custom ergonomic desks and furniture. And when the DePalmas couldn't find banquet tables to match the interior, Geobarns' skilled carpenters built them – from scratch. Enough to fill the Main Hall.
Together, these elements strike the right balance between a rustic architecture rooted in farm heritage and the elegant atmosphere Steve and Jenn wished to provide their guests. It became the stage for Steve and Jenn to deliver outstanding grand performances.
Accolades
There is something special about building Wedding Barns… about building something that will become the stage for so many life celebrations. We poured our passion for beautiful, thoughtful design and construction into this project because Steve and Jenn are worth it. We believed their clients would be worth it. However, the true test of any Wedding Barn is public reception. These quotes from just a few of the DePalma's clients speak far more than any words we could write:
"The Barn is stunning, spacious, accommodating, and the perfect place to get married. The bridal suite is gorgeous and cozy for intimate photos with the bridal party."
"All the details of the barn itself, the tables and chairs and the beautiful staircase were what made us fall in love with our venue."
"The space is bright and elegant and not in need of a single additional decoration…"
"From the first time seeing the barn we fell in love with its beauty and elegance on top of the stunning backdrop…"
"This was my first time shooting at this venue and it has quickly become a favorite. It is a photographer's dream."
By the time The Barn at Smuggler's Notch opened in 2017, the DePalmas already had a waiting list of eager clients ready to put the venue, the hospitality, and the expansive outdoor event site to the test. Review after review extolled the virtues of Steve's and Jenn's hospitality and of the Wedding Barn itself. For four years in a row, Steve and Jenn have won the coveted Wedding Wire Couples' Choice Award. We're honored to have been a part of their success.

See Wedding Wire reviews for the Barn at Smuggler's Notch here