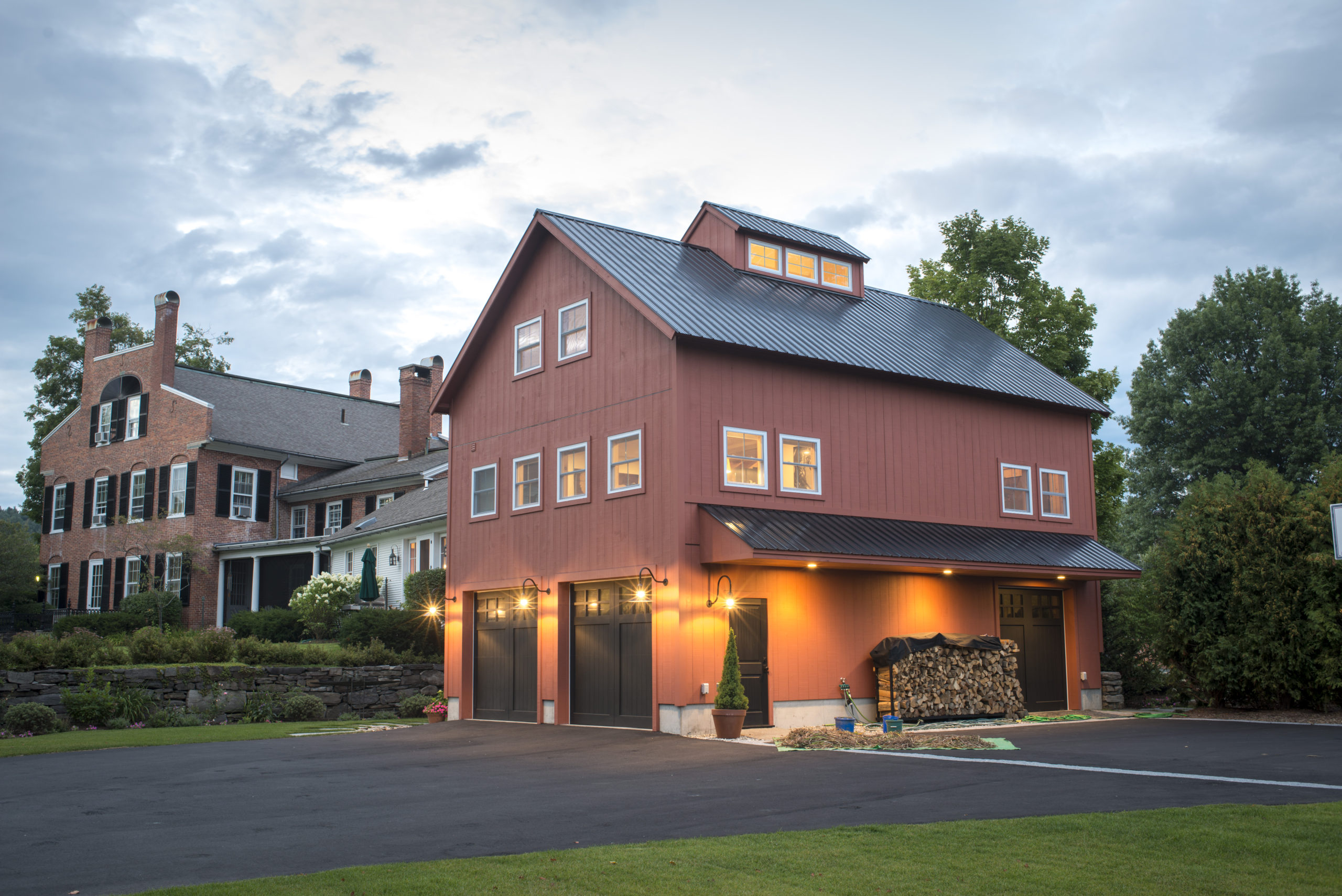 Historic Carriage House
An harmonious addition in a strict historic district
The owners of this prominent historic home in Vermont wanted a substantial addition, adding open, light-filled space for office and recreational use. The challenge was to design and build a structure that would not only serve our client's needs, but also satisfy the local regulations that protect the historic architecture and character of the community. Our client's home is one of the coveted addresses "on the Green" and thus highly visible.
Inspired by the form of carriage barns that once accompanied all the grand homes of this famous Vermont village, Geobarns collaborated with the owners to conceive a project that respects both the architectural value of the existing structure and the surrounding historic district by taking inspiration from humble functional structures of the past. Consulting historic archives, Geobarns found evidence of an earlier livery barn on the property, which served as a precedent for this modern carriage house. This evidence, along with a full range of architectural renderings of the proposed Geobarn, was instrumental in persuading the Design Review Board that our client's project fully conformed with the history and architectural character of the town… requiring just twenty minutes of public meeting discussion to grant approval.
The resulting project is two Geobarns in one: a three-story carriage house with a connector to the home. The connector provides a generous mud and coat room below and additional closet space above, accessed via a staircase. The upper floor of the connector communicates with the home and the second floor of the carriage house.
The carriage house contains a three-bay car garage on the ground floor, entertainment space and home office on the second floor, and a loft above the office for a billiards room. The entertainment space has plenty of room for a ping-pong table, movie theatre, and a baby grand piano. The office space can be closed off with rolling barn door partitions hand-built by Geobarns. A sweeping open staircase leads to the billiards loft and overlooking balcony. Geobarns even managed to tuck in an additional full bath along with numerous cupboards and closets.