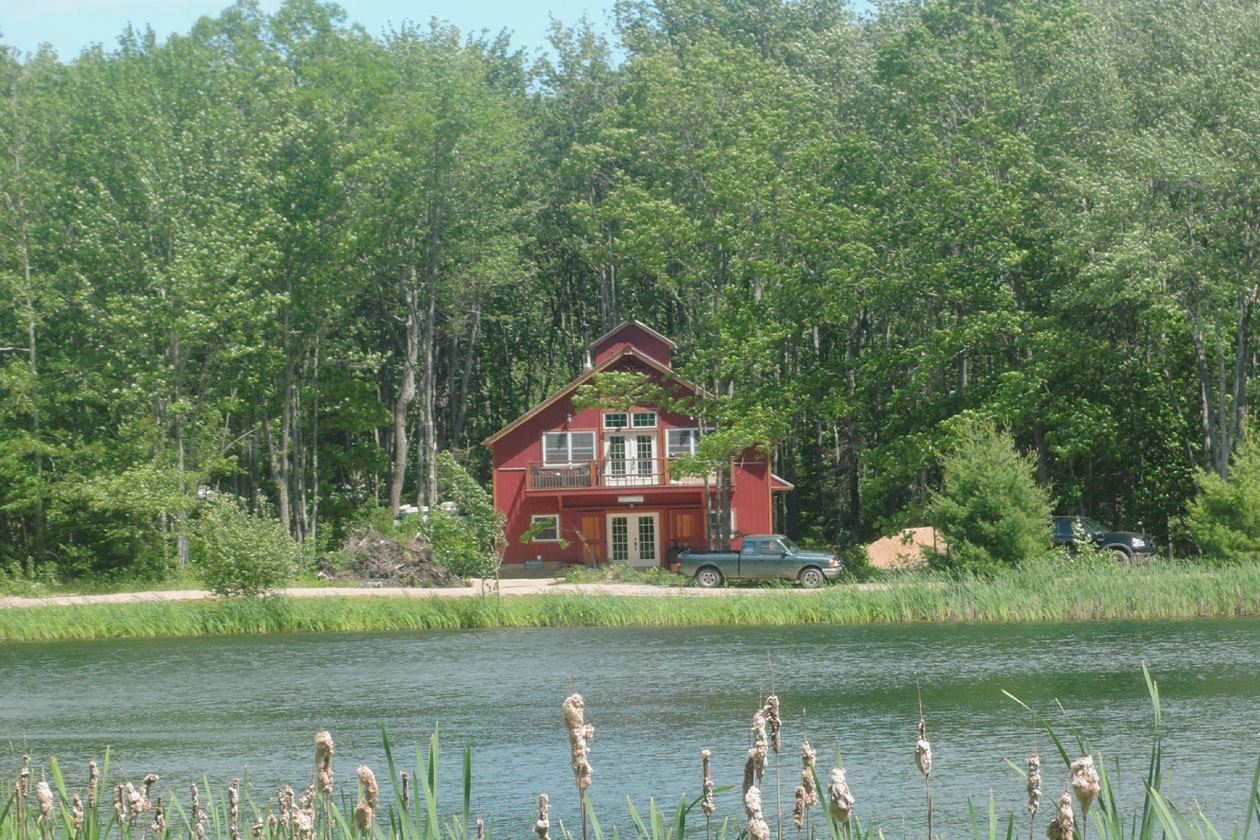 Maine Coast Barn
A Conversion from Dream Garage to Home in Mid-Construction
Plans change. While flexibility has always been a hallmark of Geobarns design and durable open span construction, this coastal Maine project set a new standard. Originally conceived as the ultimate mechanic's workshop for the owner's pair of vintage mustangs, our client soon discovered as the barn was constructed that his wife was taking a substantial interest in the quality of space and light.
Fortunately, this Geobarn had been originally conceived as a dream garage with a guest apartment above, so the requisite plumbing, septic, and electric runs had been installed in the foundation. Overhead storage was converted to expanded living space, and our team worked with the clients to manage the impact of the upgrade on the construction budget. Additional plumbing and electric rough-ins were installed, and the HVAC system was expanded to cover the additional living space.
Six months after moving in, the pony cars were relegated to a quarter of the barn's lower level, and the rest had been converted mid-project into the family home. The residence includes custom-built cabinets by Dennis DeMayer, cantilevered decks, an unusual master bedroom with sliding barn doors that open it to a view through the entire house to the fog-shrouded pond.
The finished Geobarn (nearly finished in our photos below) features an expanded kitchen, full master suite, and ample living space, with all the features you'd expect in this Geobarn if it had been planned as a primary residence from the beginning. While we don't recommend such a major change mid-construction (many things had to be in place to make that work), it is a testament to the flexibility of the Geobarns shell and our close collaboration with our clients that we were able to do so.
The final structure combines everything our clients hoped to achieve with two buildings in one: a year-round home on a lovely property in Maine with a dream garage to pursue their passions.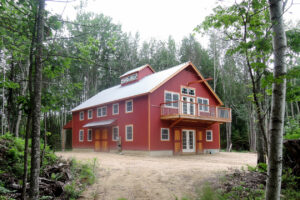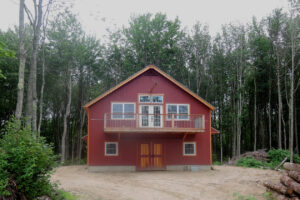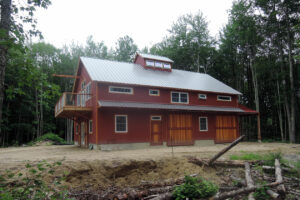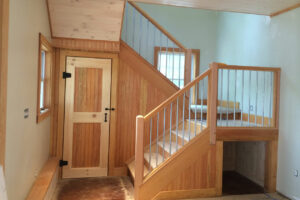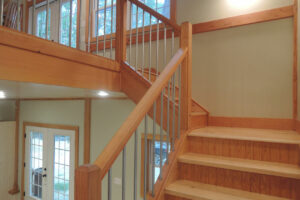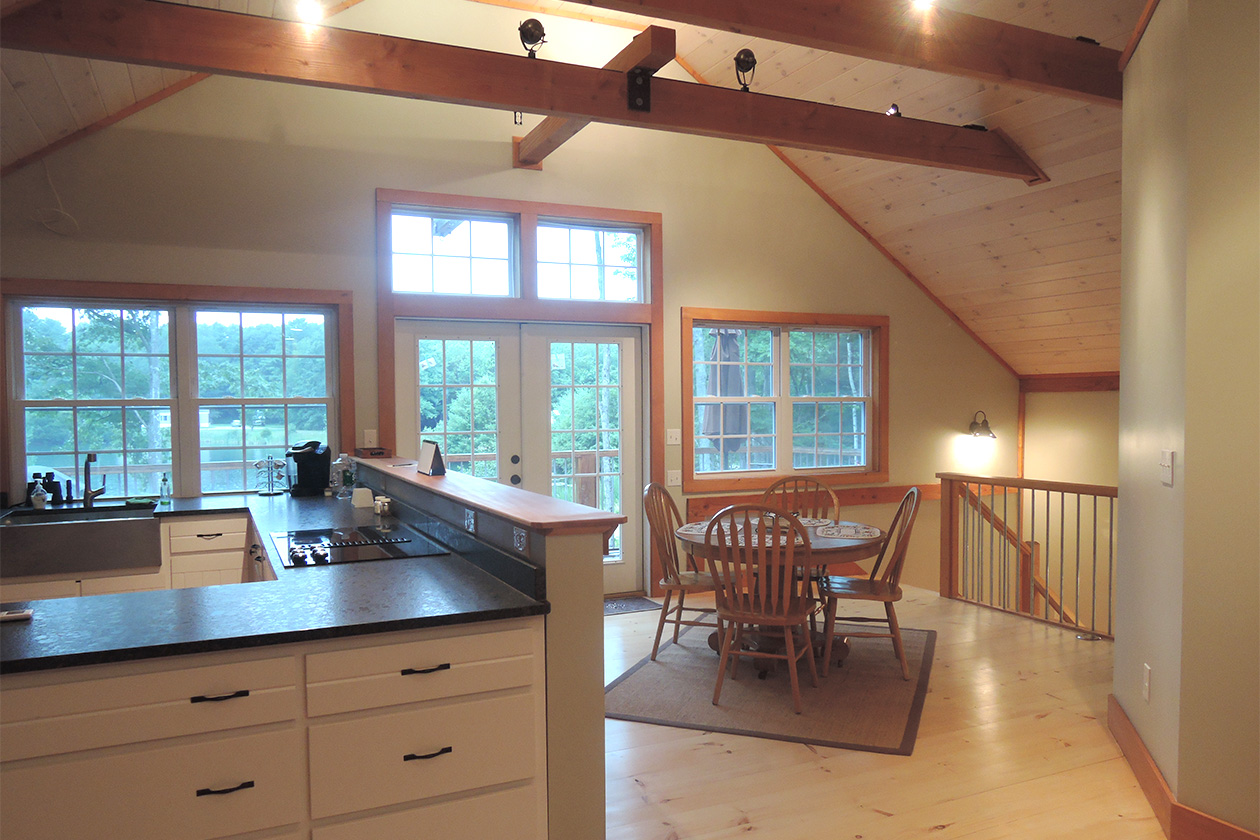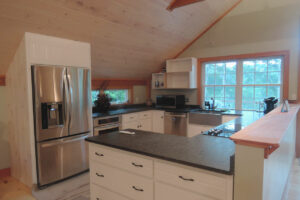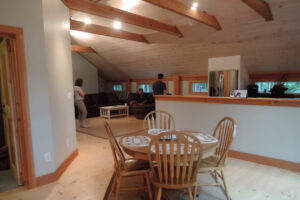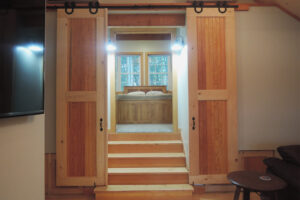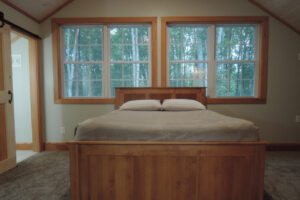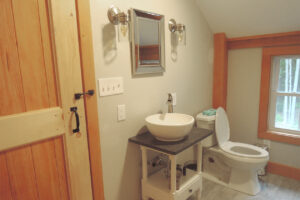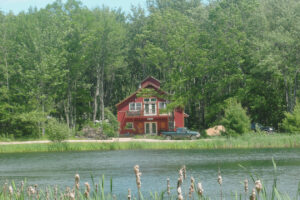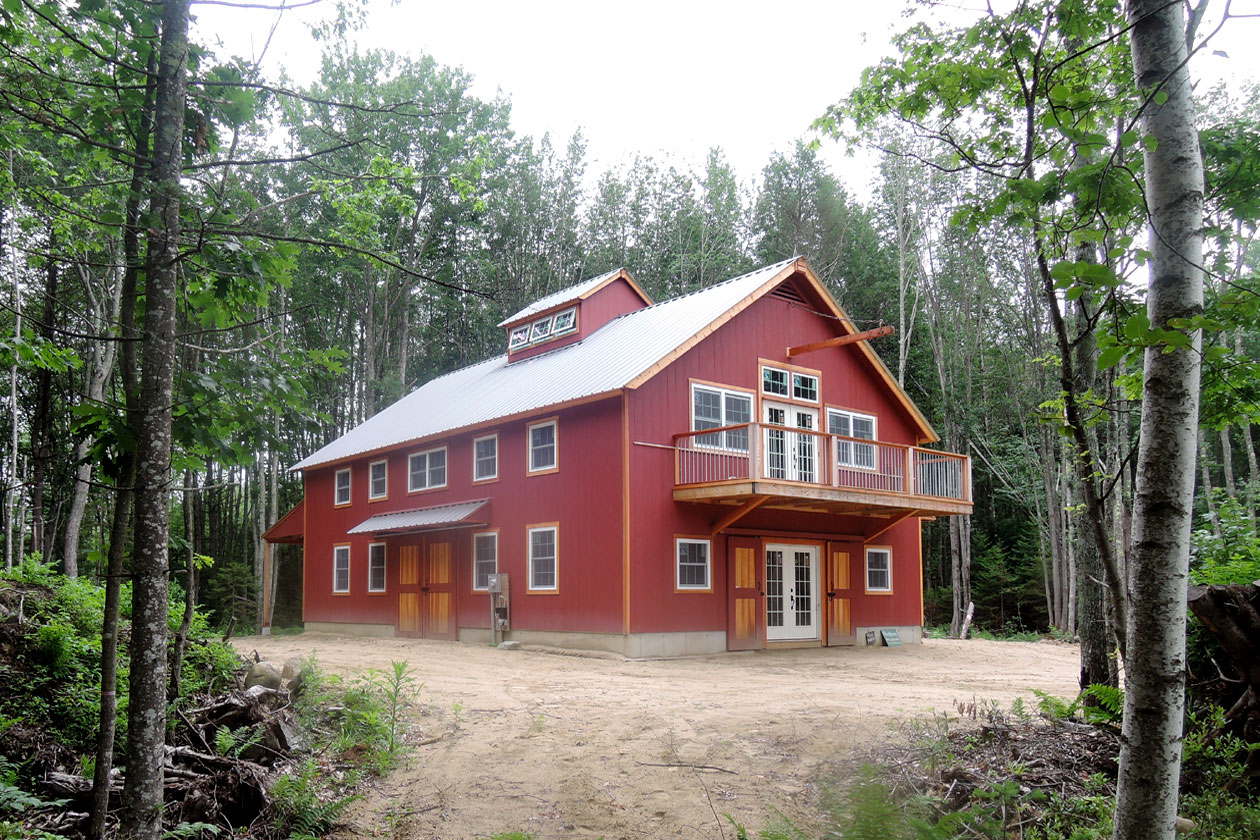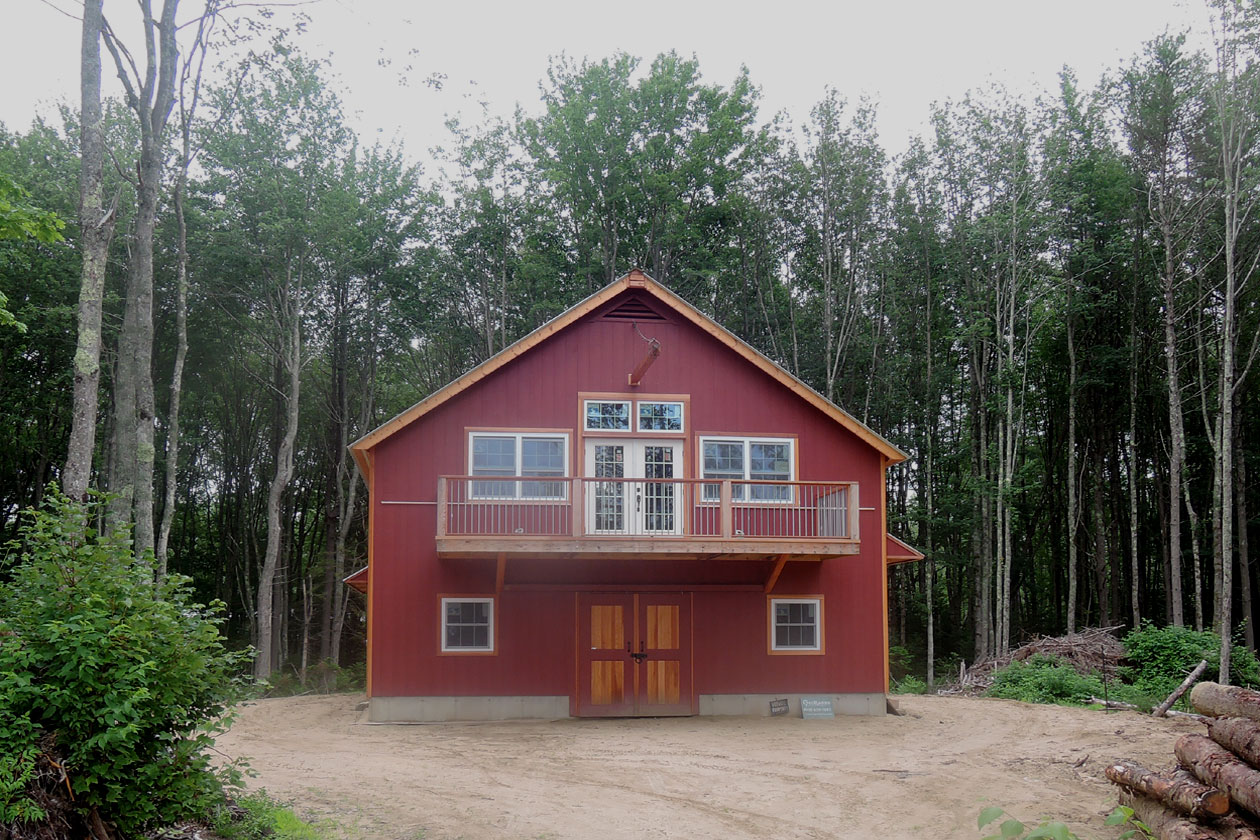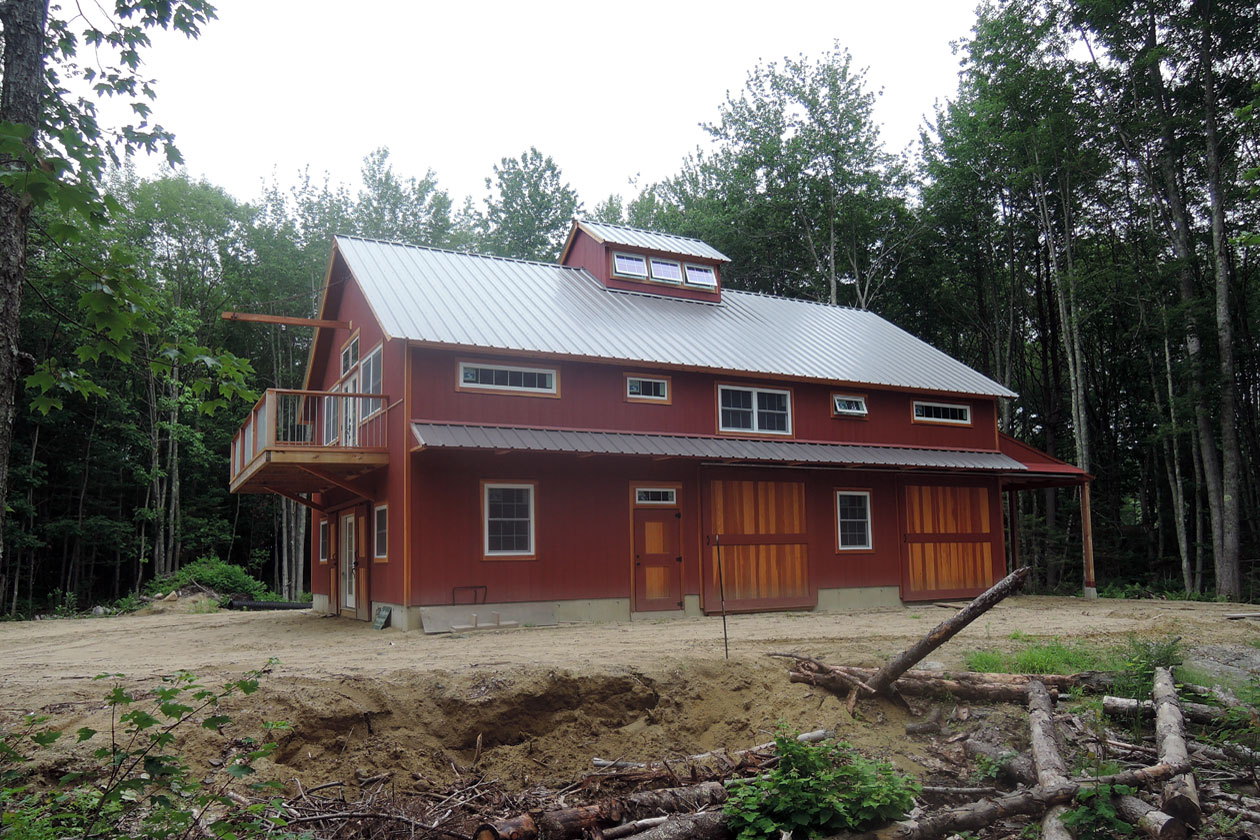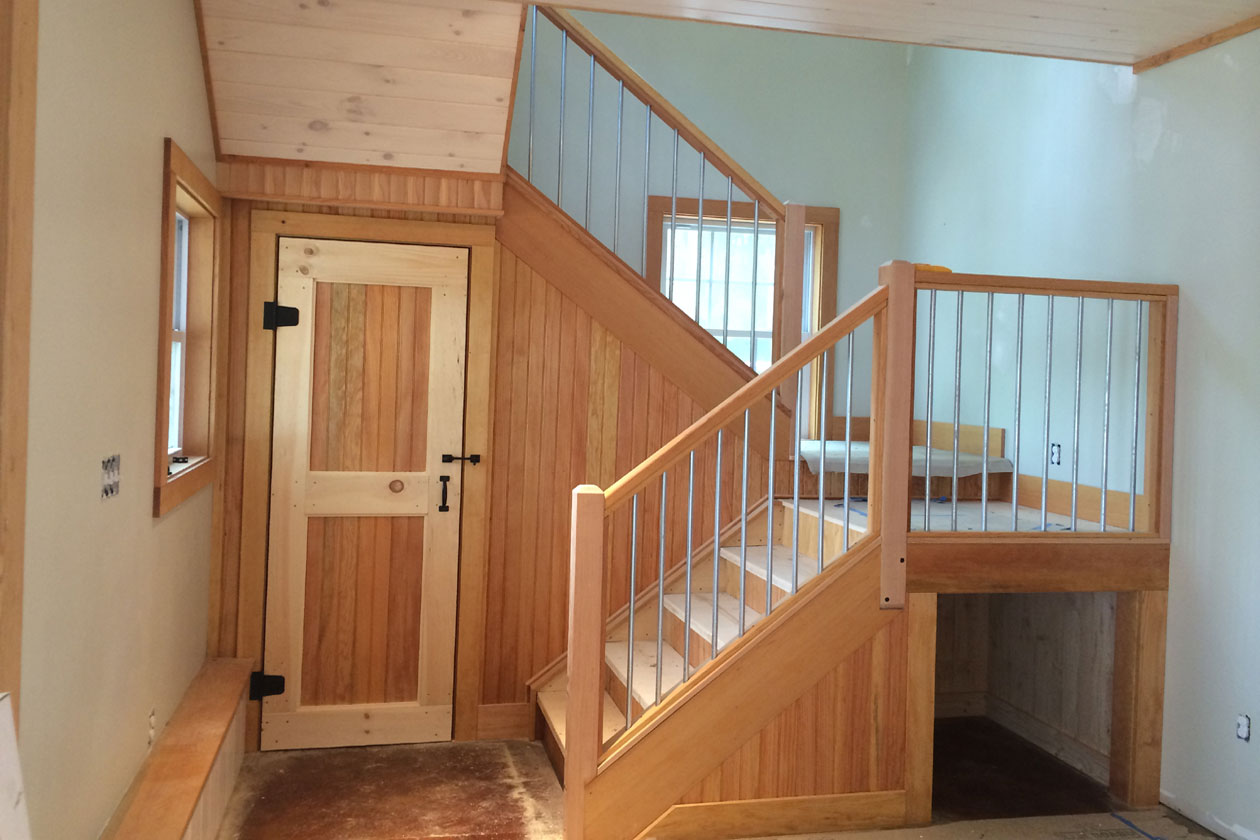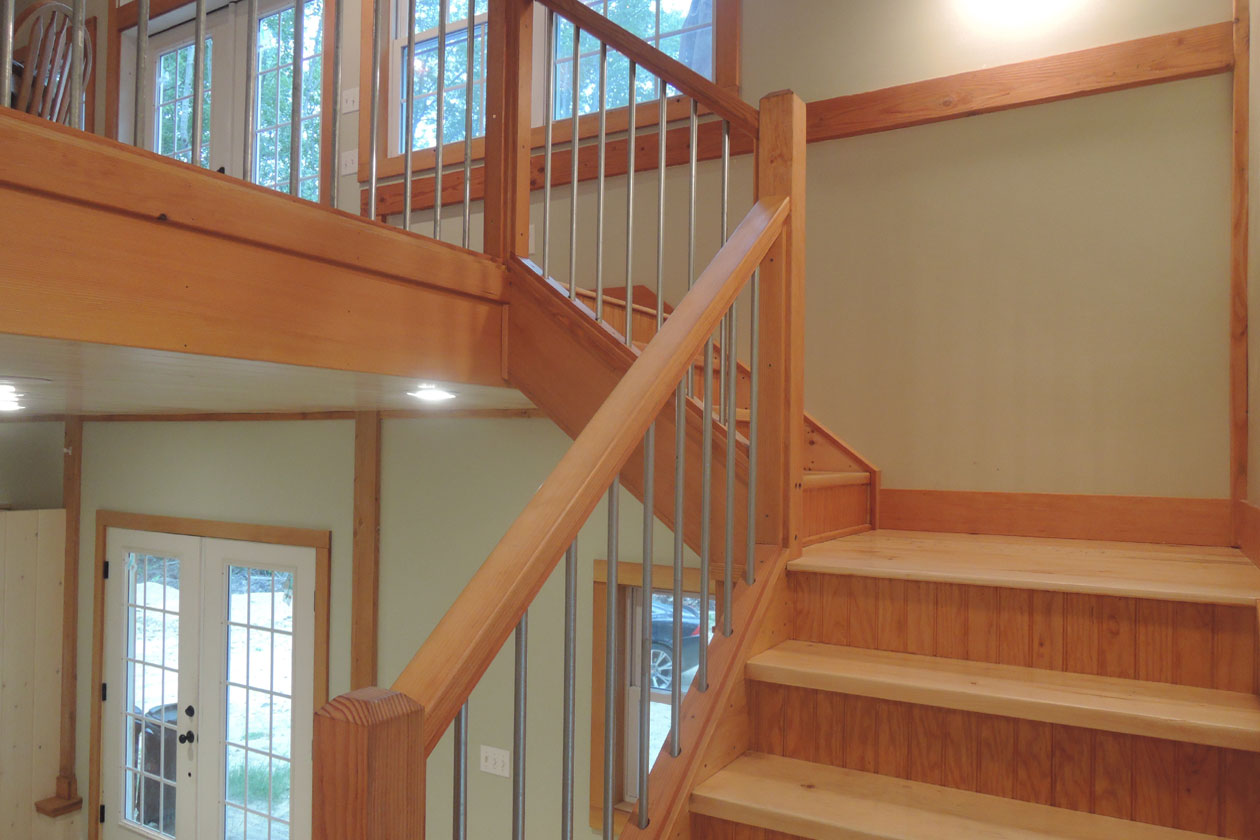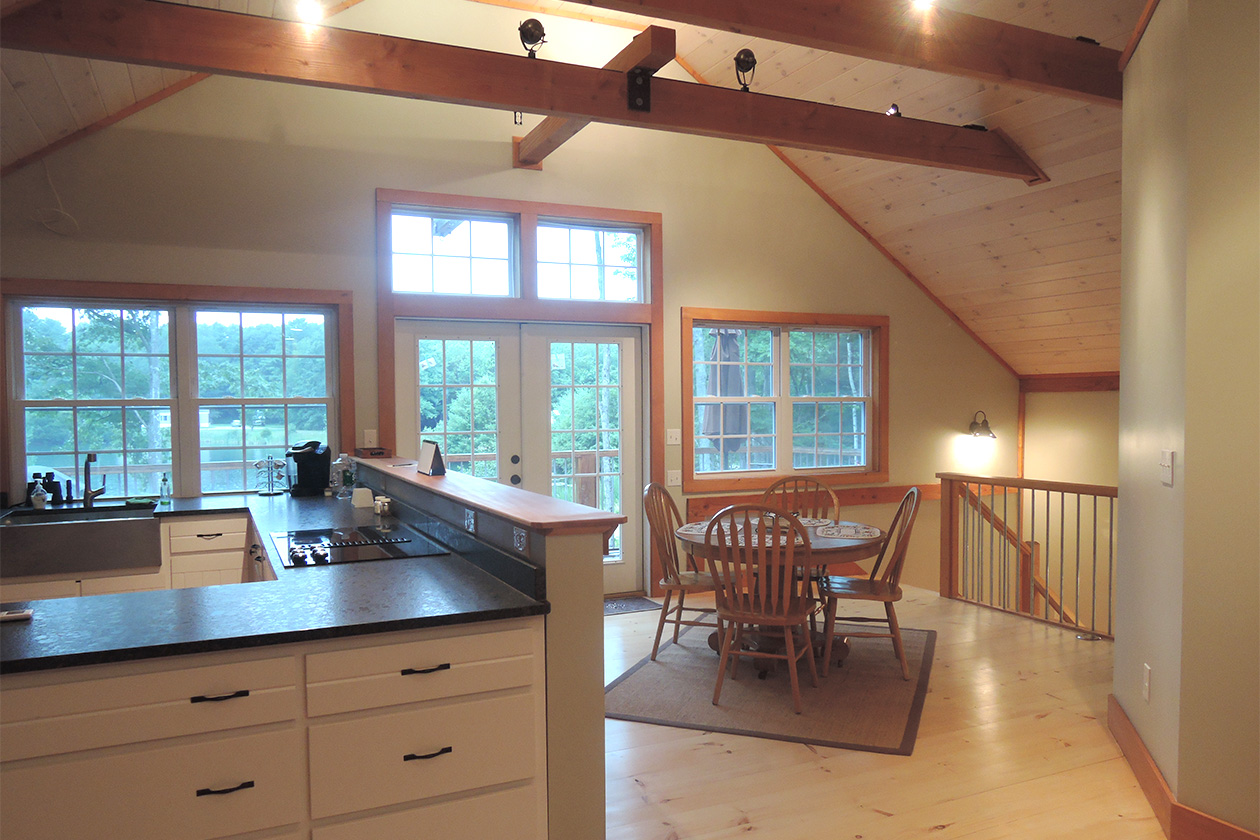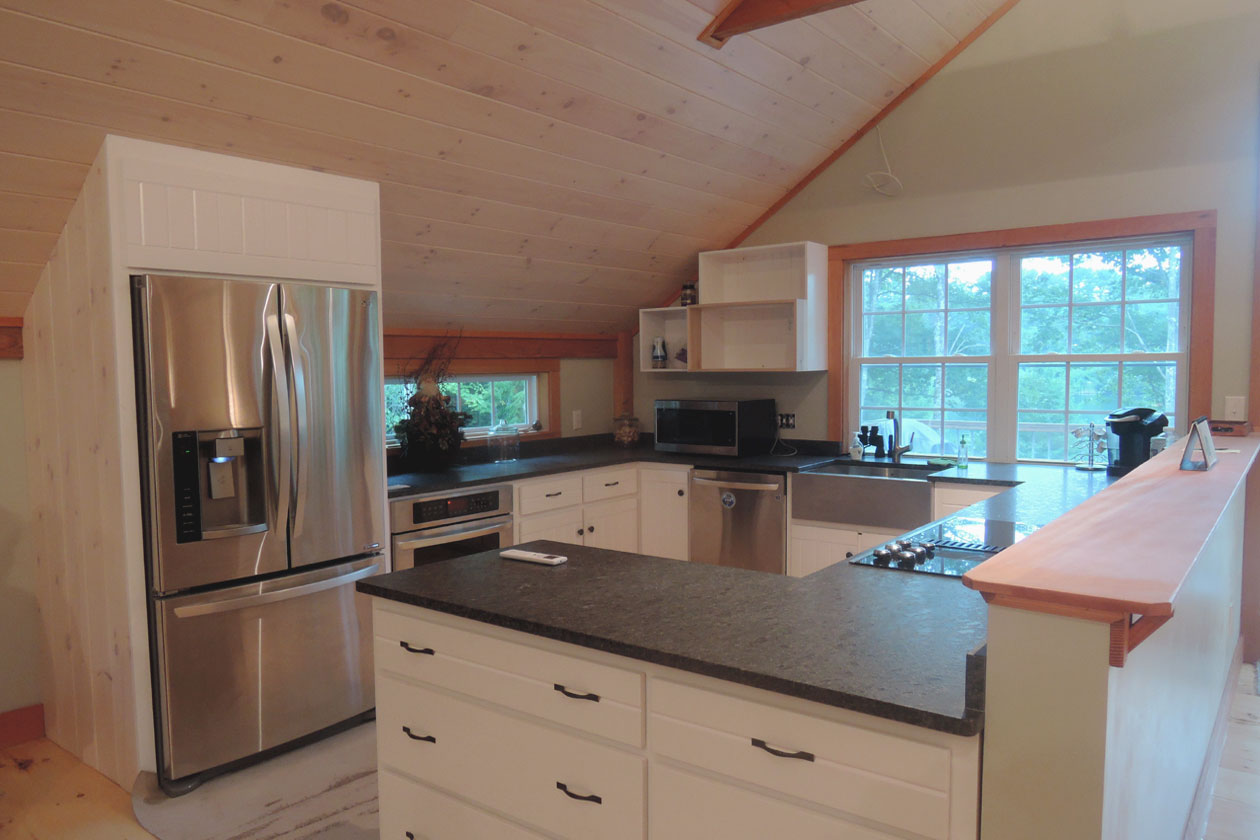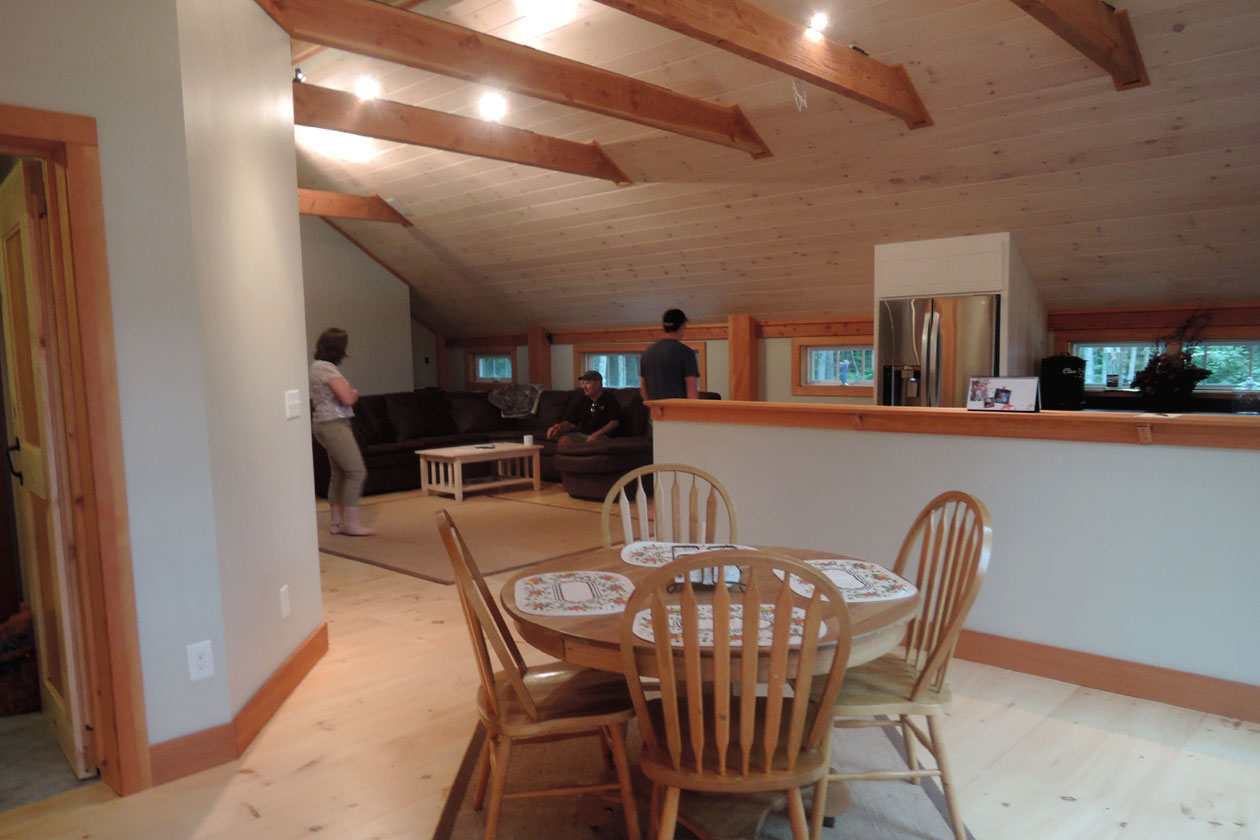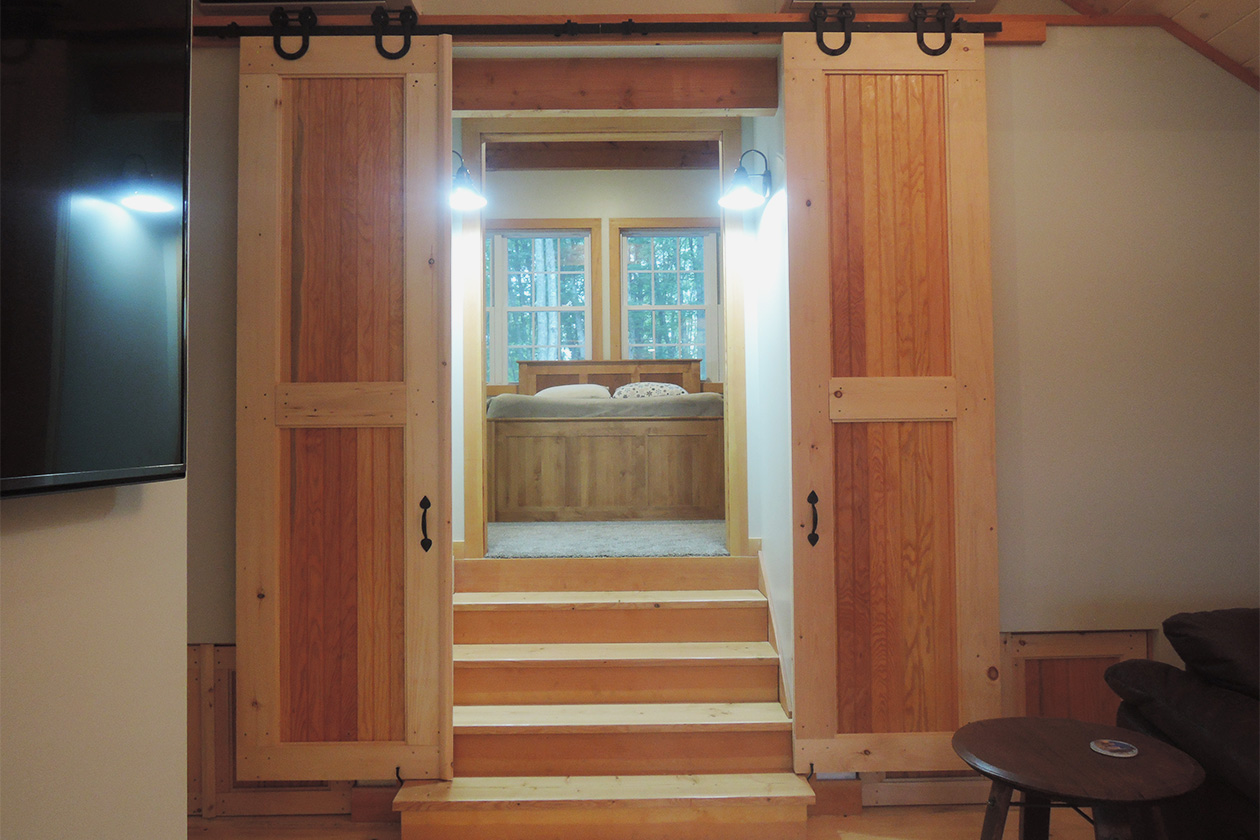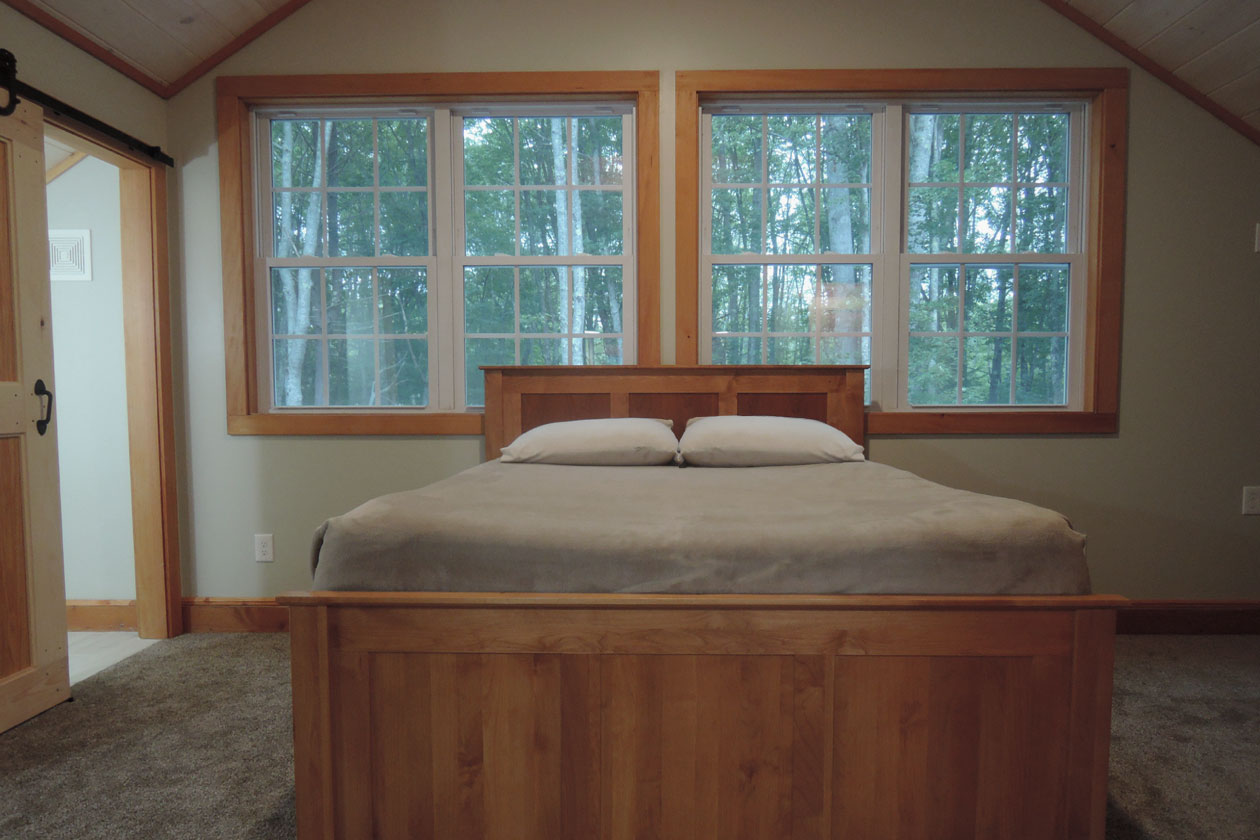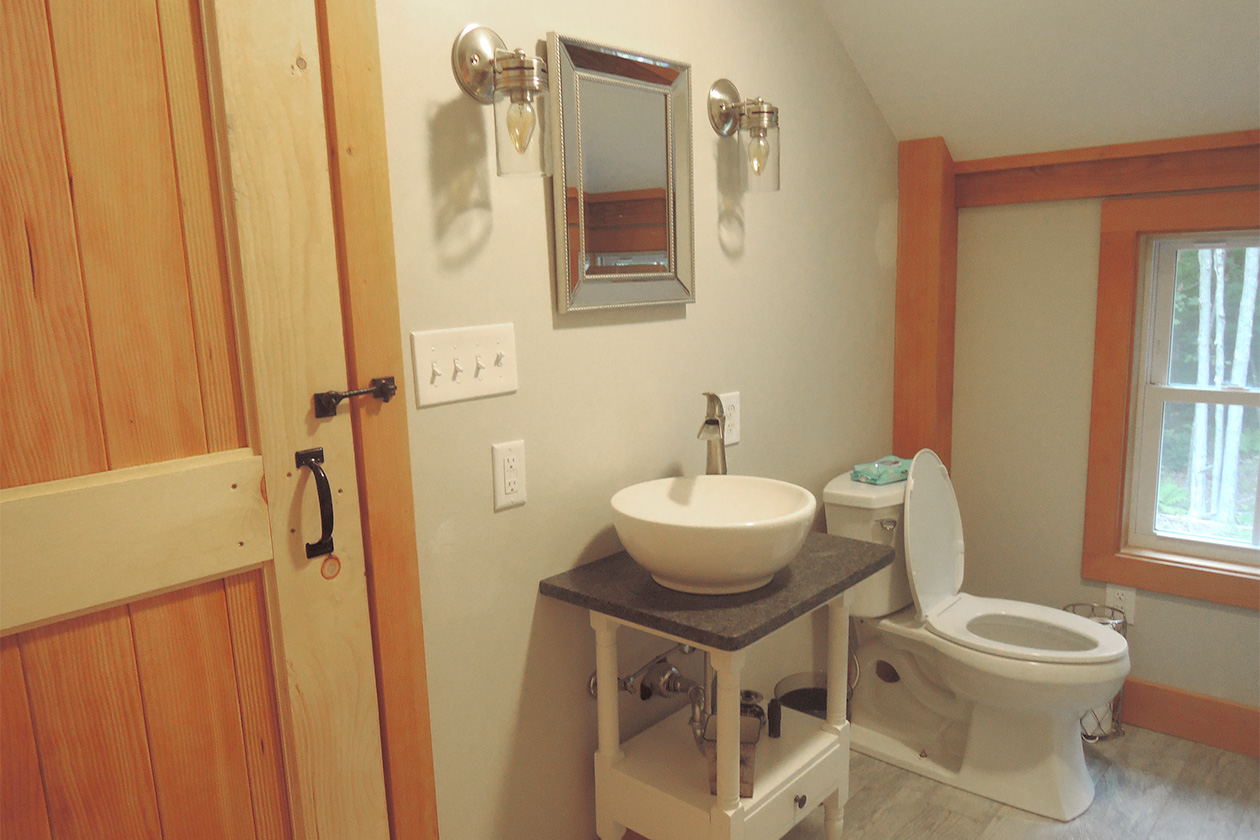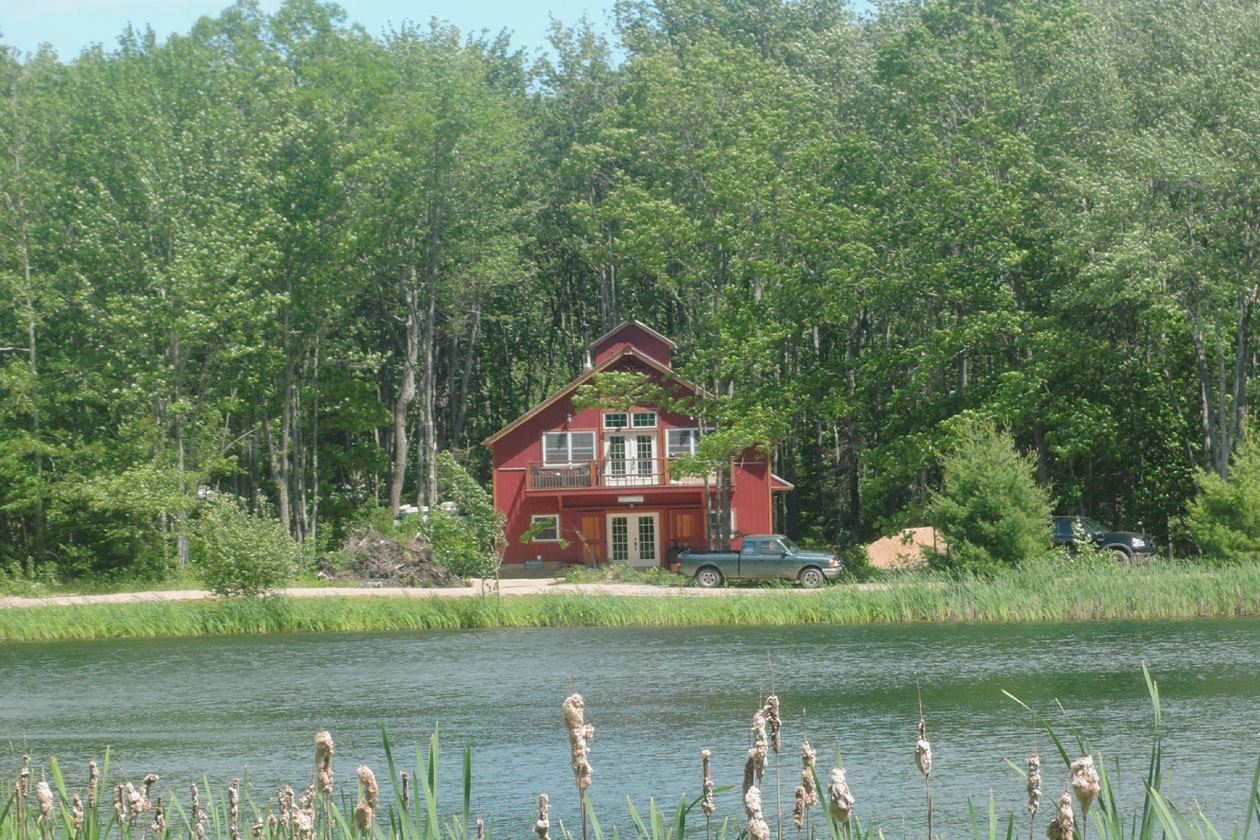 Dear George,
The beginning of our Geobarn story began one morning as my wife arrived at work to find a newspaper article on GeoBarns sitting on her desk left by one of her co-workers. Our commute home that evening was focused on the article about a wooden post and beam structure that had been built in Virginia by a company out of Vermont. We continued the discussion through dinner. I sent an email to George Abbetti requesting more information and sharing a little background on our family dream.
Much to my surprise George called me later that evening to begin gathering and sharing information on our wants and sharing information on GeoBarns. This was the beginning of several information gathering/design sessions. We were impressed that the cost estimates were so reasonable for a hand crafted building. Prior to talking with George I had researched pole barn builders that would build in Maine, thinking that a wooden structure would be out of our budget range. However the pole barn results were disappointing, either the price was too high or we had substantially scale the functionality of the building back to meet the price tag.
Our initial vision for this building was guest quarters, workshop and classic car storage, as well as a living area for us while we built a separate home on the land. Working closely with George we fine tuned the details of the barn shell along with the cost estimate, a time schedule and the crew to begin the build. George's building experience along with access to pictures of specific aspects of previous GeoBarns made this process painless and very insightful.
After design was complete, we were ready to begin the start of our building. George's assembled a building crew that displayed the type of craftsmanship that would typically be seen when someone is building their own personal building. George's crew, consistently demonstrating high standards and very skilled carpentry techniques during the build. What we saw on a daily basis was the equivalent of ants on an ant hill with each person knowing what needed to be completed and with the efficiency of a well oiled machine.
We had many local neighbors that stopped by to "inspect" the building during and after construction, It was great to watch their faces as the viewed the workmanship and techniques used to build our building. For me it was like watching history in the making, similar to stories shared by my grandfather when he came over from Norway to work as a carpenter. Our building inspector shared that he looked forward to each inspection often commenting that the building design and quality of materials used and workmanship was outstanding. The building estimate George had provided, including materials and labor and adjusted for minor changes we requested during building, were spot on.
Once the building shell was complete we met with George at our building site to finalize the interior plans we had initially discussed. During our design walk thru of the building, George shared potential design options that could be done using the empty canvas of the buildings interior and highlighting the views from our second floor. Our game plan was changing, my wife was ready and willing to give up a separate house structure and I was willing to compromise sharing my workshop space and car storage. We were making our GeoBarn our dream home!
Working with George and his project manager provided incredible knowledge speeding up the final design to finish the interior and side stepping potential pit falls, and their knowledge on the building codes were a great help in the design. George also shared the name of an excellent affordable cabinet builder giving my wife the custom kitchen she wanted.
George developed the cost proposal for trimming out the building interior including materials, labor and a time line. Part of the proposal included an offer for me to work as part of the finish crew. George and crew nailed the estimate again and other than ceiling material being delayed from the manufacturer, the project stayed on schedule delivering an outstanding finished project as designed. The final building inspection held no surprises, with continued positive comments from the building inspector on a beautiful building.
In conclusion, George and the Geobarn family provided us with the opportunity to complete what was initially just a dream of ours, one that we wanted to be able to pass on to our children and their children. One of the incredible parts of this experience is becoming part of the Geobarn family and the pride that we have in sharing our experience.
Many thanks to George and the Geobarn family, you've made our dream come true!
Paul & Doreen