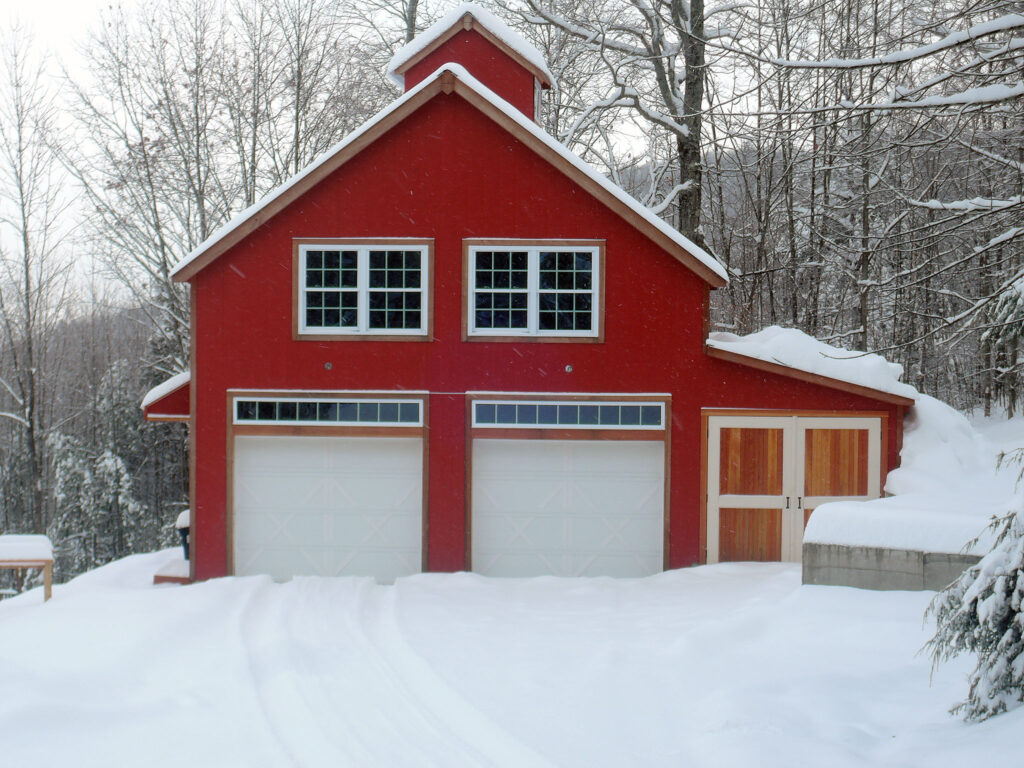 Our Office Barn
Our office combines our favorite Geobarns features in a compact hillside footprint
After many years of taking ever-greater portions of our founder's home, Geobarns desperately needed an office and easily-accessible tool storage for our hard-working crews. Luckily, we had a rental property just a short walk down the road that was in need of a garage. So we did what many of our clients do: built a Geobarn to serve multiple purposes.
Our office barn takes the shape of a classic New England barn, right down to the historic barn-red finish. The two-car garage space below provides ample storage for heavy equipment and materials yet is ready to serve as a garage should we ever sell the rental property. A full-length shed addition on the side is perfect for housing our massive tool collection (is there such a thing as 'too many tools'?) in neatly organized shelving and bins.
The upper floor is home to our company office, with a conference/work room, a reading/meeting lounge, and a full bath. Our main conference area houses a farm-kitchen table for work and meetings, with plenty of space for work desks and a snack bar. The secondary lounge area, with comfortable seating for client meetings, can be closed off with rolling barn-door partitions. Barn-board flooring with shiplap walls and ceiling showcase a popular interior finish for many Geobarns, and the cupola above admits lots of natural light. We rarely need to turn on the lights (except at night, of course).
Our office barn demonstrates the Geobarns solution for many of our clients who need a hybrid outbuilding that does double duty as garage/workshop and office/apartment. And there is a serendipitous bonus: the hillside location comes with a stunning Vermont view of the Connecticut river valley. It's not only a comfortable and efficient work space, it also inspires our creativity.