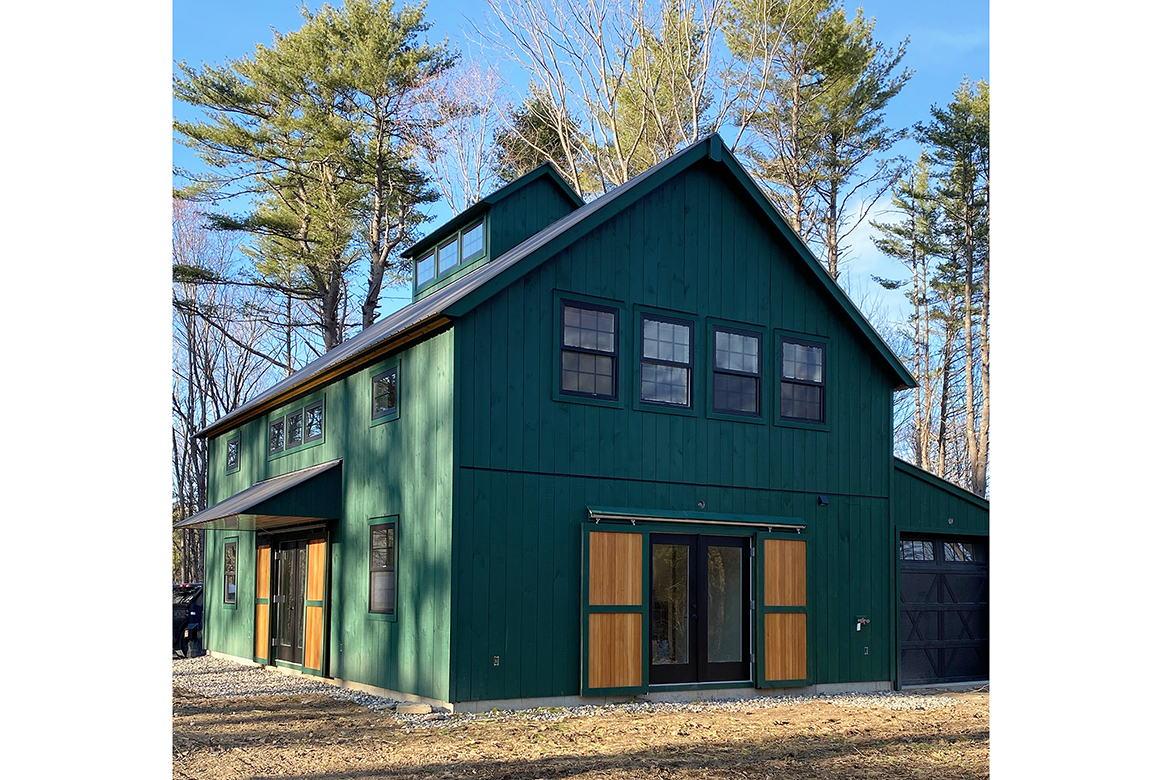 Sciobol Barn Retreat
Geobarns Versatility Delivers a Multipurpose Family Retreat
This elegant Geobarn demonstrates the versatility that can be achieved through close collaboration between the clients and the Geobarns design team. Our clients had several requirements: they needed an outbuilding for their residence that would combine spaces for a home office, guest quarters, entertainment, room for family gatherings, and equipment storage. Taking advantage of the open interiors of the Geobarns post-and-beam framing system, a single, two-story Geobarn combined all of these needs together in a highly efficient structure.
The ground floor features a wide open floorplan with entertainment area, mini-kitchen, full bath, and a home office alcove that can be closed off with rolling barn door partitions. Upstairs are two guest rooms with interior barn-style windows overlooking the mezzanine and ground floor. A Geobarns signature cupola above the mezzanine, along with clerestory windows, flood the interior with natural light, even on an overcast day. A shed wing at the rear of this Geobarn has plenty of room to store property maintenance equipment.
The interior climate is maintained by a high-efficiency heat pump from Mistubishi, individual HVAC units for the guest rooms, and a Braun home air filtration and exchange system that supplies a steady flow of fresh air with minimal heat loss. All of these systems are centrally controlled by a dedicated microprocessor that can be remotely managed by the owners via cell phone.
The exterior is finished in a lovely, deep jewel green to complement the forested property. Both the main entry and side entry feature rolling barn door shutters, and the main entry has a broad, suspended weather awning that is cleverly engineered to omit the need for support posts.
In the end, our clients achieved everything they wanted in creating their An Scioból Tearmainn – Irish for a barn that serves as a sanctuary or a retreat for meditation – in a flexible Geobarn that will provide decades of service for work, relaxation, and family gatherings, surrounded by the natural beauty of a Vermont mountain forest. Sláinte!