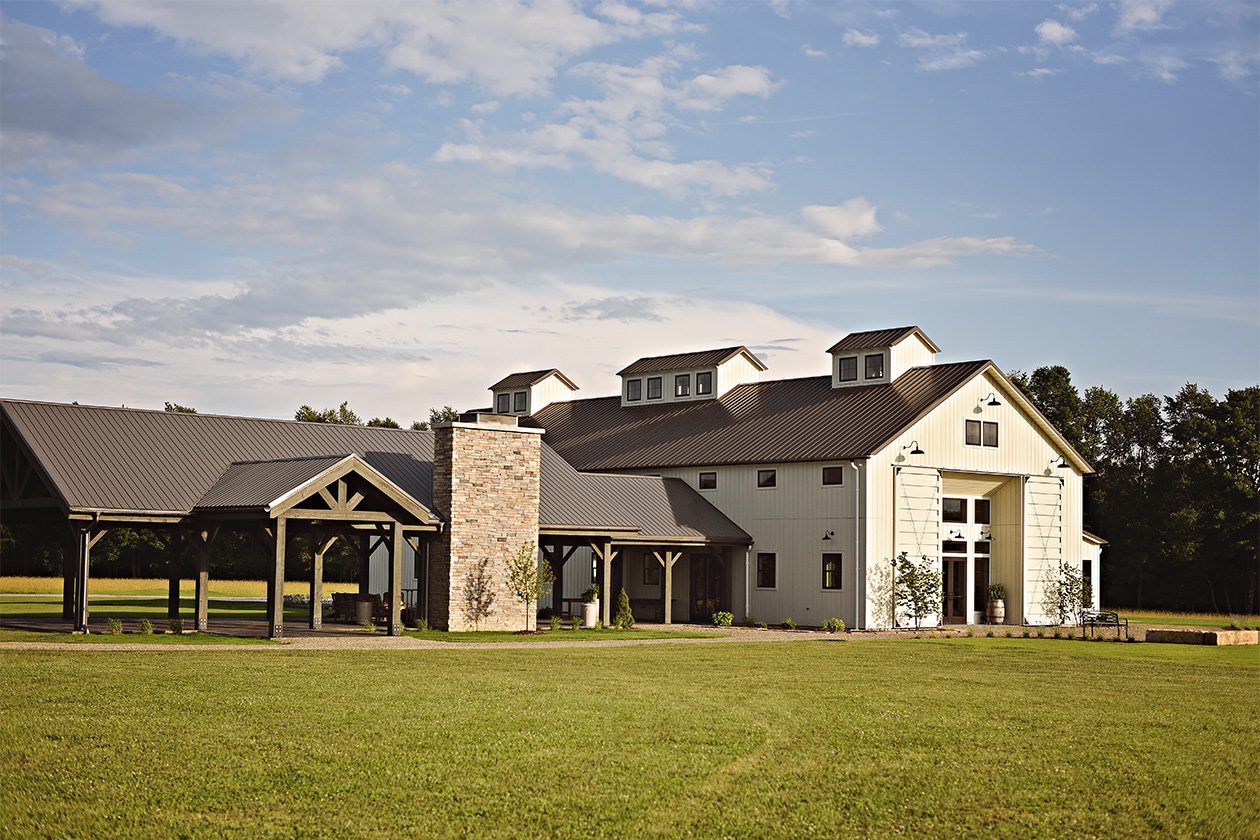 Tuck'd Inn Farm
An Elegant Pennsylvania Wedding Barn
Just outside Cook Forest State Park in northwest Pennsylvania, our clients were fortunate to acquire a secluded 140-acre farm from long-time friends. Their original intent was to use the farm as a vacation retreat for family and friends, but they were encouraged to pursue their dream of a creating a wedding and event destination.
In close collaboration with our clients, Geobarns designed and constructed a modern interpretation of a classic Pennsylvania barn to serve as a wedding hall. The open interior soars nearly three stories to a series of three monitor cupolas above, providing seating for up to 200 guests, ample natural light, and unbroken sight lines for guests and photography. Outside, an extensive timber frame pavilion with a fieldstone fireplace extends the guest and dining space and has become a favorite for evening receptions and events.
At one end of the barn, Geobarns created a commercial kitchen and storage area for catering. Above the kitchen, accessed by a dedicated staircase, a bridal suite enables wedding parties to prepare in privacy, with private bathrooms, multiple makeup stations for bridesmaids, and even room for private dining. The bridal suite has its own private balcony overlooking the wedding hall that can be screened by hand-built rolling barn doors. The original farmhouse was remodeled to serve as guest quarters.
Our clients chose a minimalist decor scheme: whitewashed shiplap siding inside with vertical siding on the exterior, accented by dark stained framing elements and farm-inspired fixtures in blacksmith black. The minimalist design breathes elegance without competing with whatever decor a wedding party may choose for their big day. The end result is a "modern farmhouse" interpretation of a wedding barn located in one of Pennsylvania's favorite outdoor destinations.
Photography courtesy of Tuck'd Inn Farm and Courtney Katherine Photography