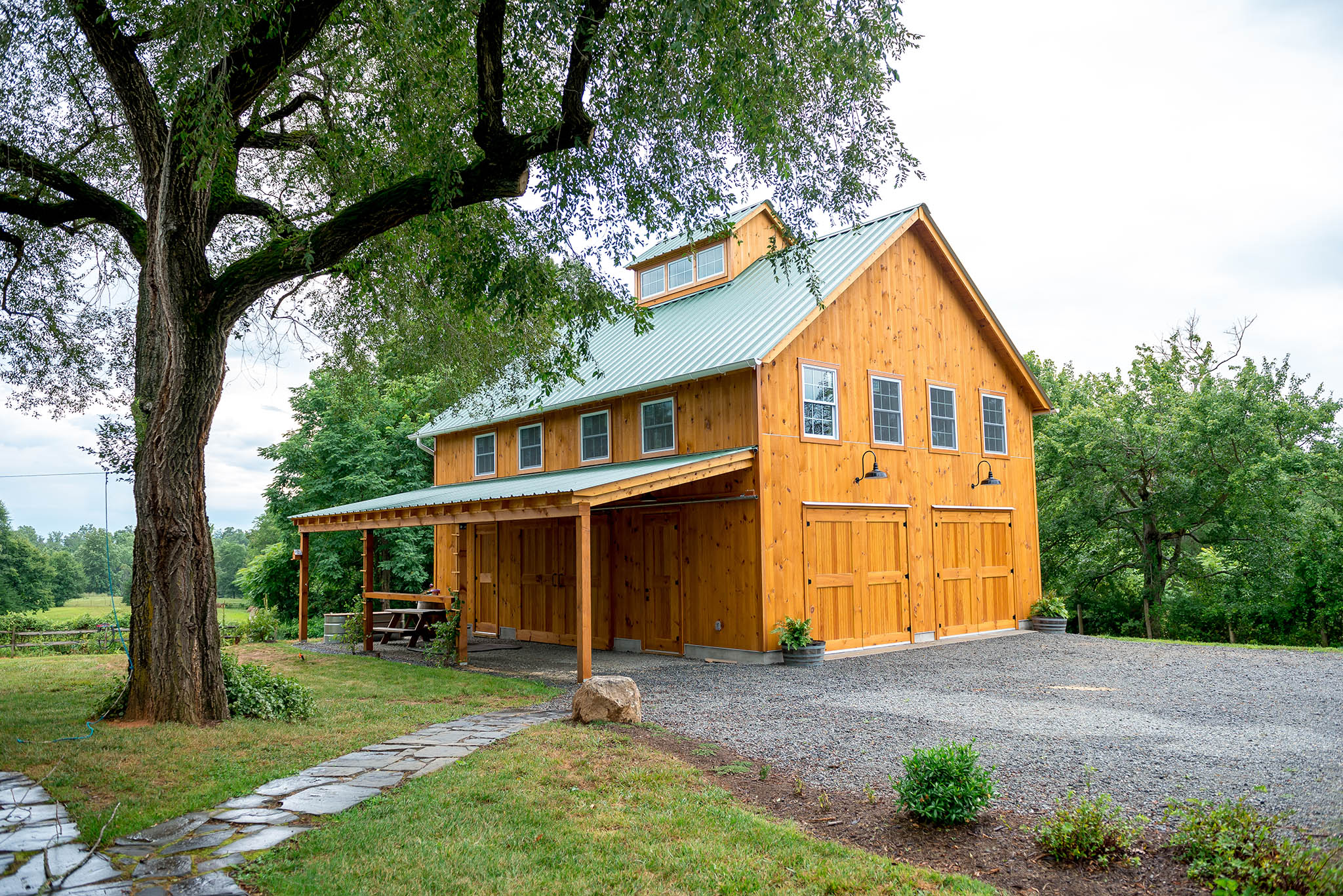 Virginia Homestead Barn
A garage with studio loft blends naturally with this historic Virginia homestead
Our clients, owners of an historic homestead in Virginia, needed garage and equipment space that would blend naturally with the existing home and property. Following the Southern agrarian tradition of separate, dedicated outbuildings, Geobarns designed and built two structures: a two-story garage and a small equipment shed for the garden. Site conservation was a critical first step in planning. Several mature trees, perhaps as old as the home itself, lined the driveway and proposed location of the garage barn. Geobarns not only preserved the trees, but actually designed the garage barn to tuck neatly under a lovely shade tree, creating the impression that the barn came first and the tree grew over the barn.
While simple in concept, the garage barn features numerous details that evoke the style of farm buildings built in the nineteenth century. Plank siding and standing-seam metal roofs match the period of the home. Structural fittings and light fixtures in "blacksmith black" are reminiscent of handmade fittings from the forge. Rolling barn doors on the side verandah slide past recessed pull-latches for the standard entries. Inside, the upstairs studio features richly-stained barn-board flooring and shiplap walls and ceiling. A Geobarns signature cupola finishes the look and admits ample natural light. The garden shed is a smaller version of the garage barn in form and finish, down to a matching standing seam roof and side verandah.
The crowning touch to this project is Geobarns' restorative landscaping, which minimizes the impact on the existing local ecology during construction and enhances it after completion. Native plants were added with an eye towards improving flora and fauna biodiversity on the micro-habitat level, including trellises for climbing ivy, flowering shrubs and young shade trees, and even a birdhouse, to ensure local species would thrive. To water the garden, a rain collection and cistern system was installed. The end result is a finished project that looks like "it has always been there" amidst a healthy, evolving ecology.