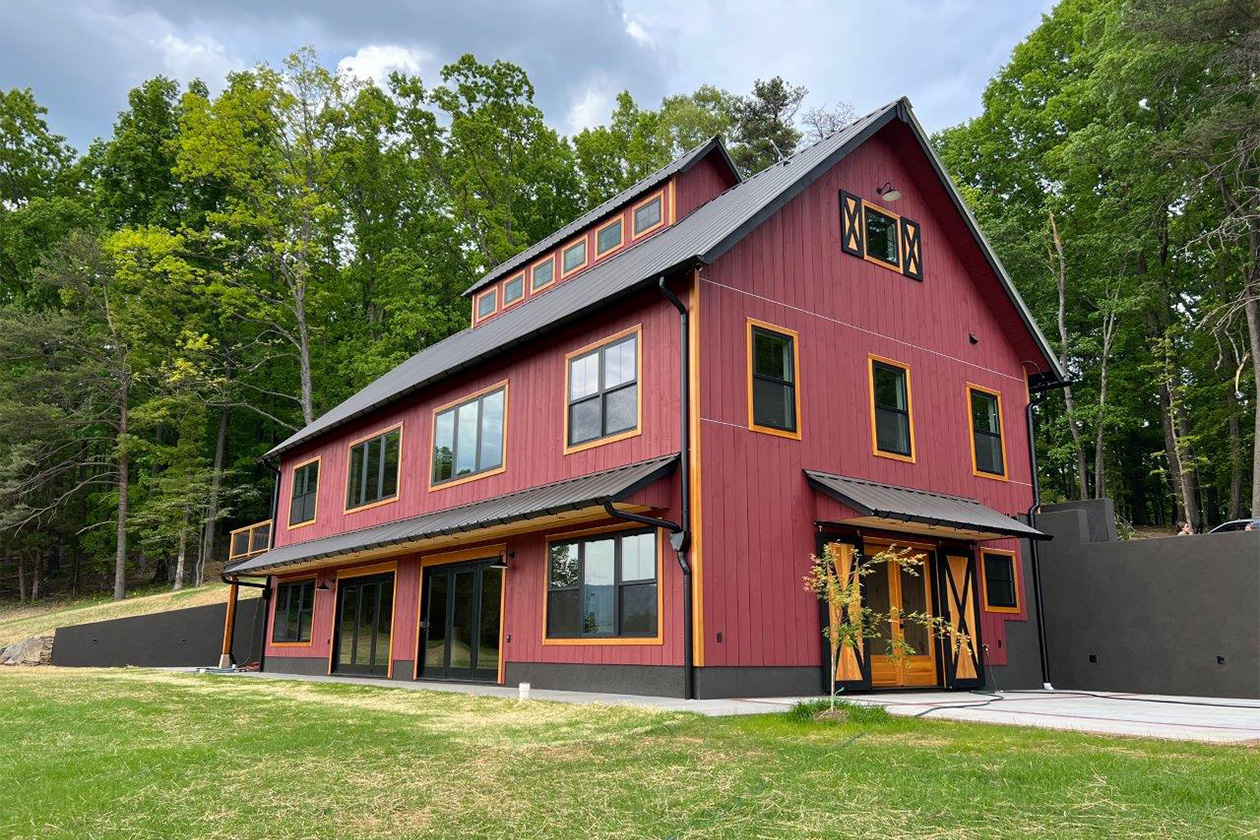 Virginia Wine Country Barn
A Stunning Recreation Barn for a Multi-generational Family
As our clients were nearing retirement, they sought a unique place to gather with their grown children (and hoped-for future grandchildren) for years to come. Everyone in the family loves roller skating, so it was important that the first floor have the versatility of serving not only as a gathering space for large parties, but also as a roller rink for family recreation. This unusual key requirement found the perfect solution with Geobarns, as our modified post-and-beam construction system could deliver a strong, versatile structure free from internal load-bearing walls and supports… just right for a roller rink.
The building site couldn't be better. Our clients purchased a gently-sloping meadow that draped over the limb of a prominent hill just outside Charlottesville, in the heart of Virginia's wine country. It's easily accessed from the airport and nearby freeways for family members arriving from afar, yet it is secluded as if it were miles away from the nearest settlement. The building is tucked along the edge of the treeline to optimize views of the mountain ranges in the distance and preserve the open pastureland in the foreground.
The building includes a large bar, a catering kitchen on the first floor, and a full kitchen on the second floor. The second floor also includes two lofts connected by a mezzanine walkway. One loft can be enclosed to serve as a bedroom with a private bath until the clients complete construction of their primary dwelling nearby, or a private office or art studio down the road. The second loft provides a dining area off the kitchen with access to an upper outdoor deck for grilling or just taking in the views. The lower floor features a pair of wide glass doors that fold rather than slide… creating an unobstructed connection with the meadow outside.
This project was completed in partnership with ARKE Design-Build and Three Notch'd Construction, among our closest friends and locally licensed General Contractors. ARKE designed the sculptural retaining wall, patio, and interior finishes, while Three Notch'd handled the framing and general construction. Together our partners demonstrated that precision carpentry is not a lost art. A vivid barn-red exterior with trim and fittings in natural Douglas fir and blacksmith black make this Geobarn a stunner.