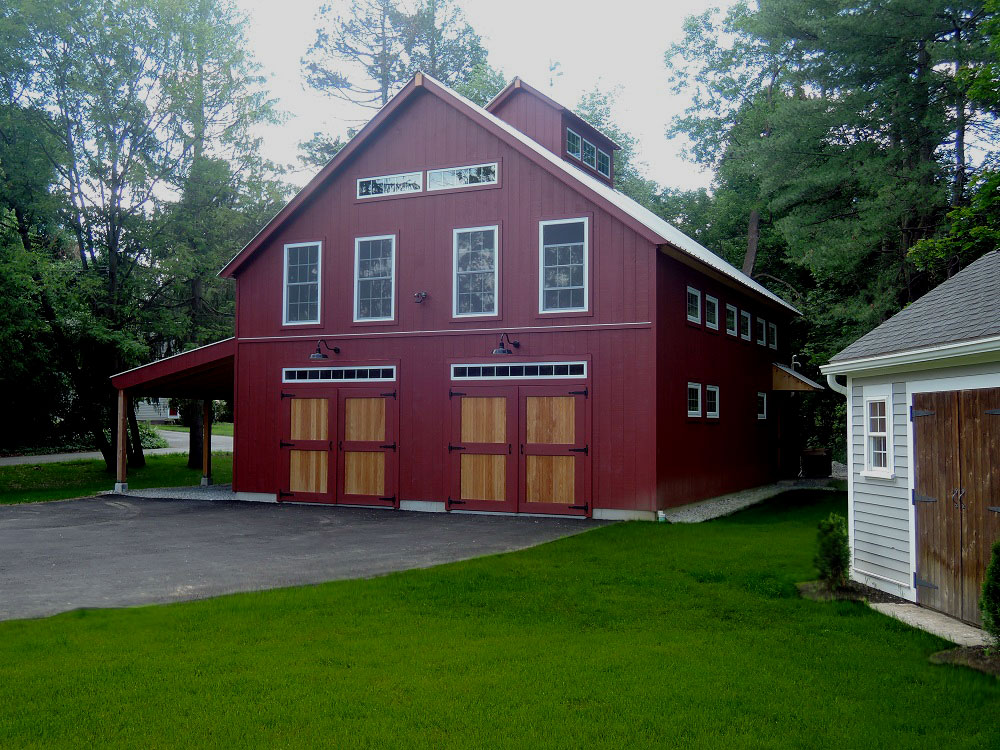 Westborough Auto Barn
A Dream Garage for a Chevy Enthusiast
This well-proportioned red barn outside Boston complements its landscape and conceals a Chevy enthusiast's dream garage.
Geobarns has a long history with car nuts, because our company is led by one. The capability of this commercial-grade shop is surprising to visitors lulled by its contextual appearance. The barn contains bays for storage and maintenance of multiple projects, as well as general shop space along the perimeter. Hydraulic lifts required clearances that add interest to the stepped upper floor loft. The barn's scale is disguised by the flanking cantilevered porch roof and "bump-out" shed volume, creating the appearance of a barn that has grown over time in this site.
While the outside may appear to be a tractor barn for a 'gentleman's farm', inside is an immaculate car garage that would please any racing team. Polished floor, brilliant lighting, and ample space show off our client's collection and make working on them a pleasure. It's the kind of garage where you invite friends over on a warm Saturday afternoon for relaxation and to admire performance Chevrolets.
There's plenty of storage space overhead, even with the increased ceiling height for the hydraulic lift, which can be outfitted later as additional recreation space or office. The rear bump-out shed provides space for lawn and garden equipment without cluttering up the garage. Lastly, this Geobarn was carefully constructed to preserve the mature trees surrounding the build site, further enhancing the impression that this Geobarn has stood here for years… long enough for trees to grow up around it.
It's a testament to the versatility of the Geobarns system: flexible spaces in a strong structure that looks like it belongs to the building site.