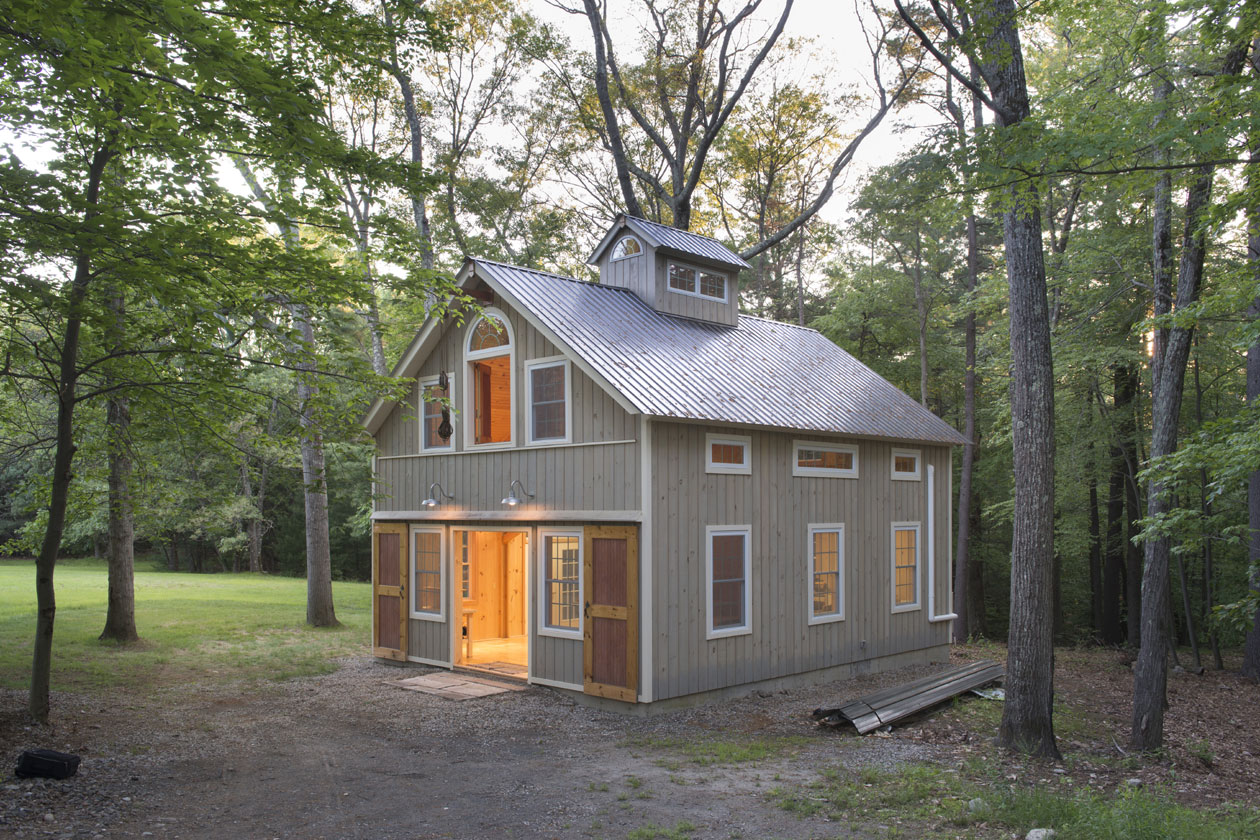 Woodworking Temple
An Elegant Woodworking Shop and Art Studio in the Woods
This modest Geobarn in the woods reveals a temple to the craft of woodworking with an art studio sanctuary above.
Geobarns was engaged by a landowner retiring from his career to concentrate on fine woodworking. The substantial cantilevered shed roof shelters outdoor storage, keeping a clear open plan inside to house nearly every possible woodworking tool and setup for the beautiful turned wood bowls and vessels our client produces. The stain, roof and dark trim create an unusual and woodsy look for this immaculate Geobarn.
The ground floor is dedicated to a well-equipped woodworking shop with french doors on one side and rolling barn door shutters on one end for easy removal of finished works. A staircase leads to an art studio on the second floor, separated from the woodworking space by a mezzanine catwalk. The art studio features several clerestory windows and a monitor cupola overhead for plenty of natural light. At one end of the shop, an upper level hayloft door and boom hoist was built.
Careful construction and site stewardship enabled construction of this Geobarn without disturbing the surrounding mature trees, resulting in a Zen-like structure of quiet tranquility.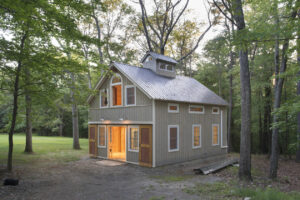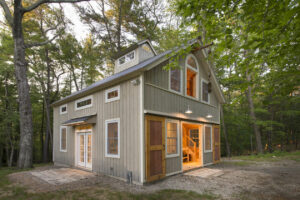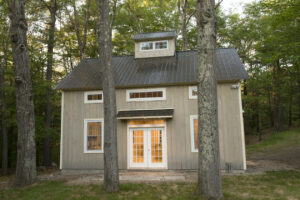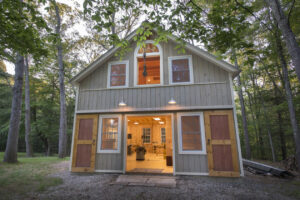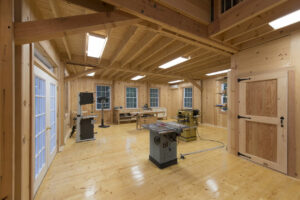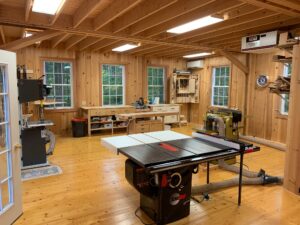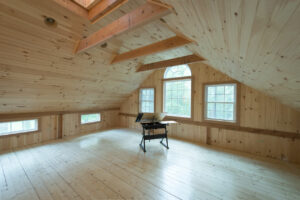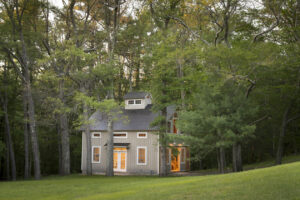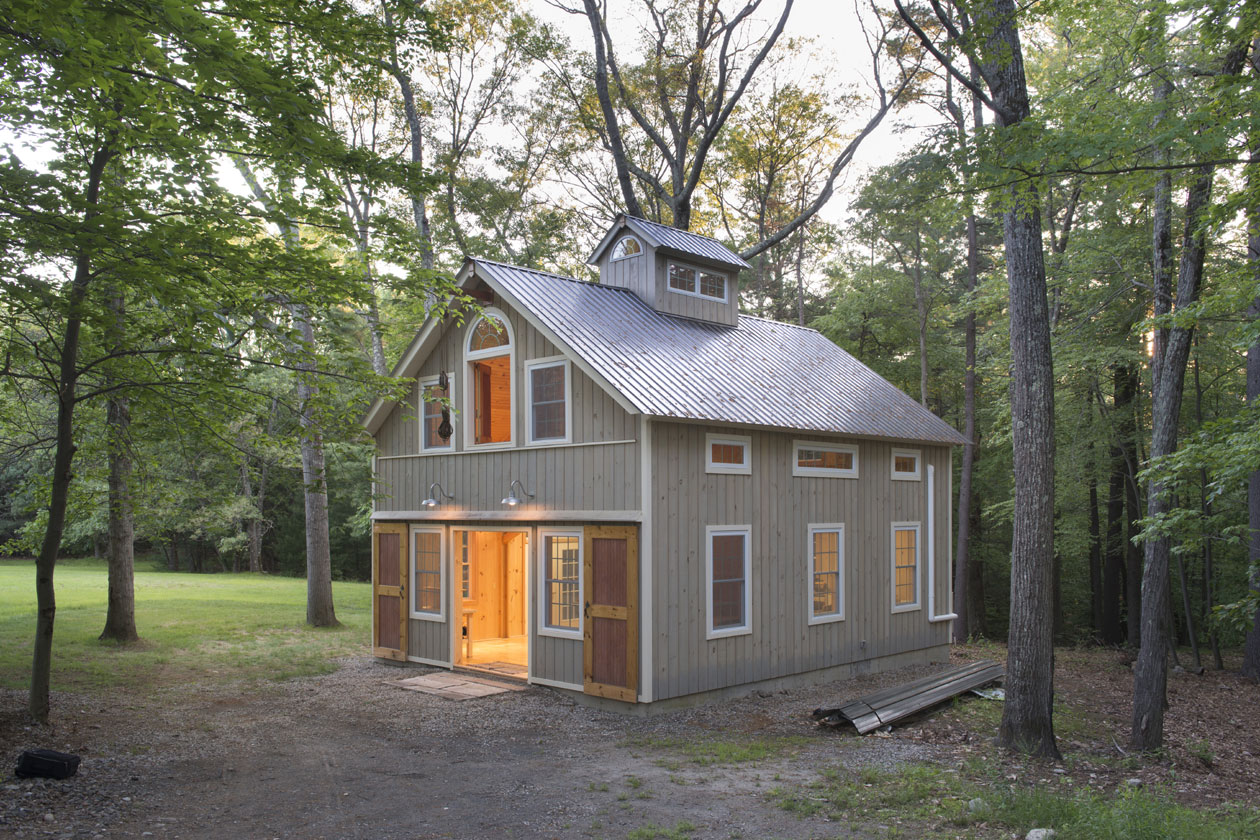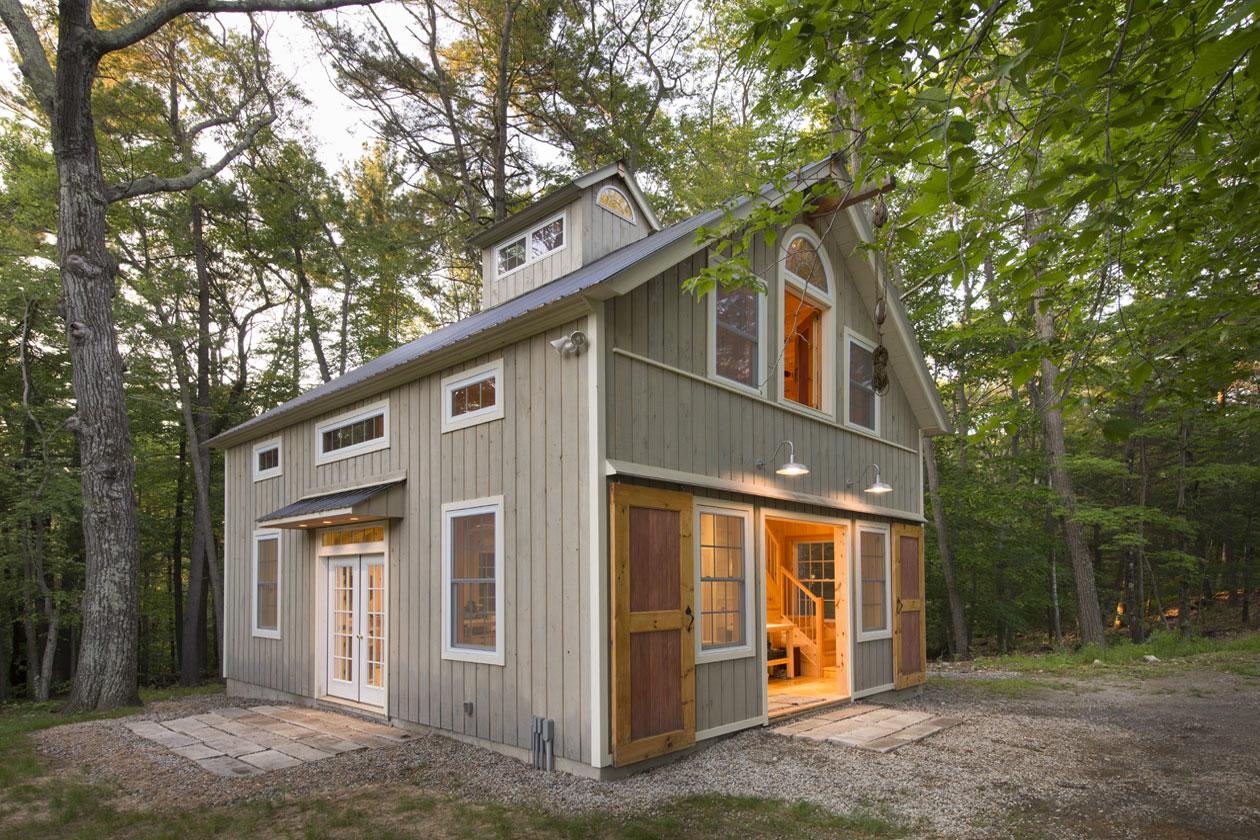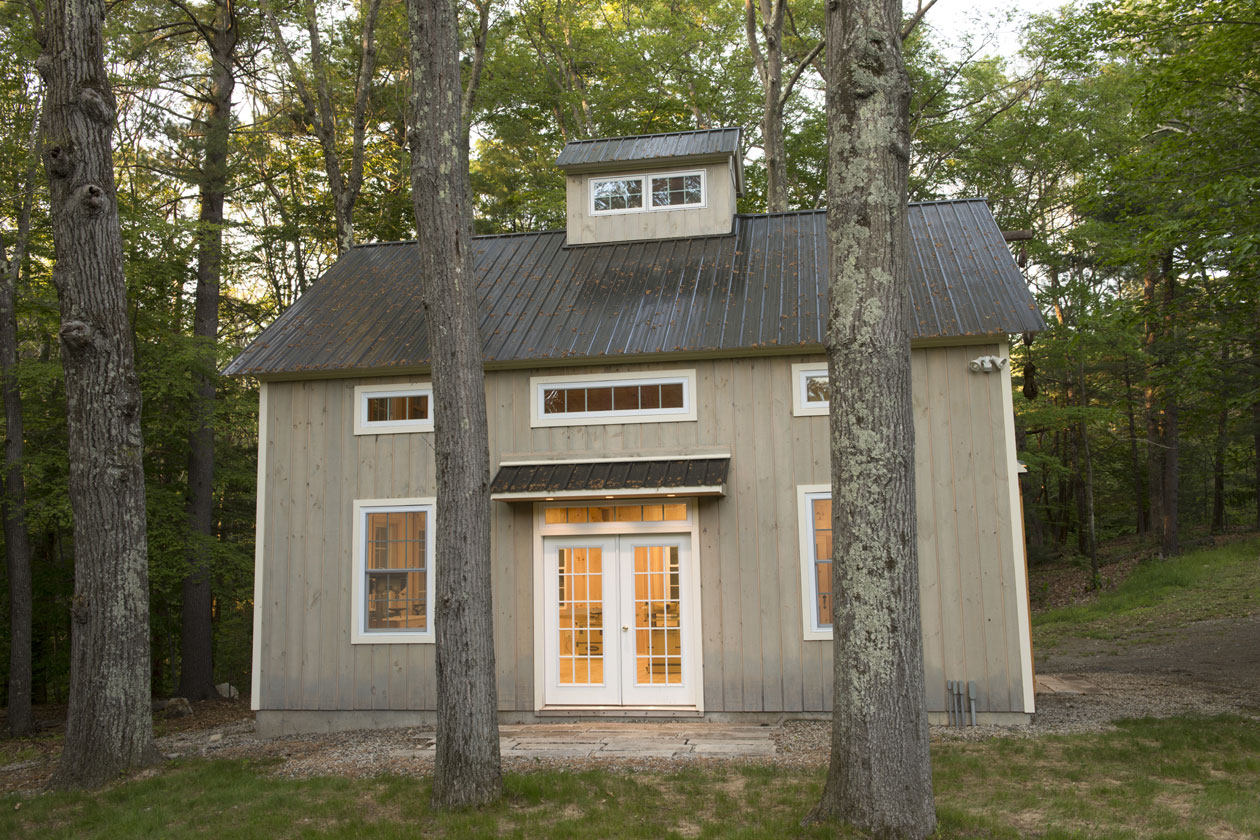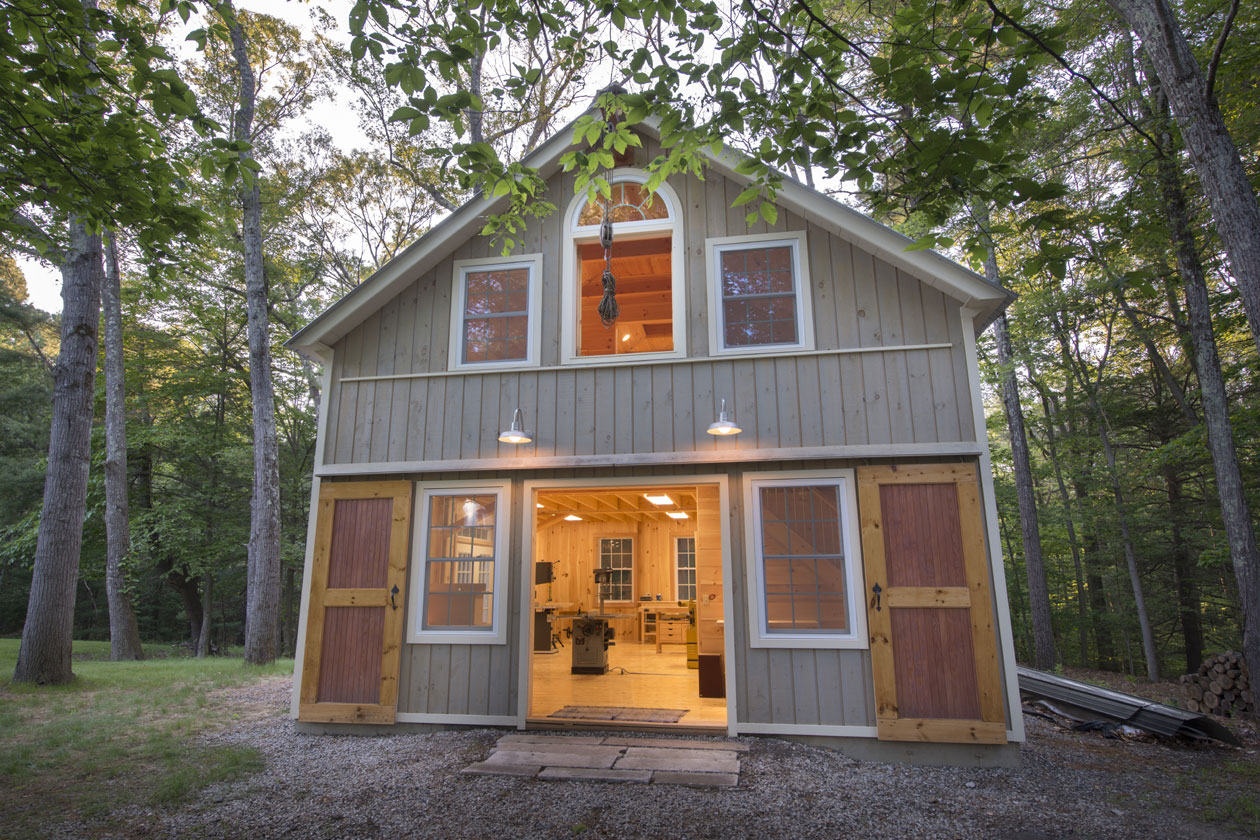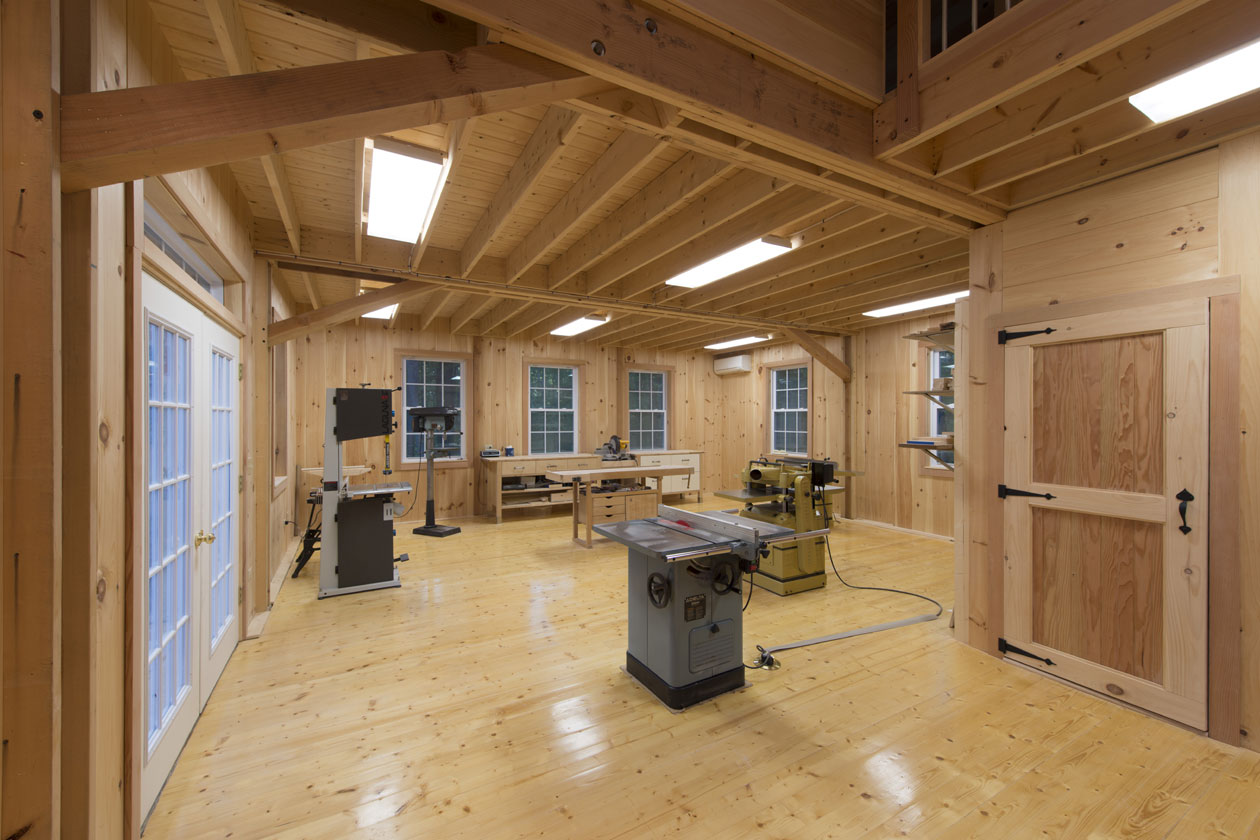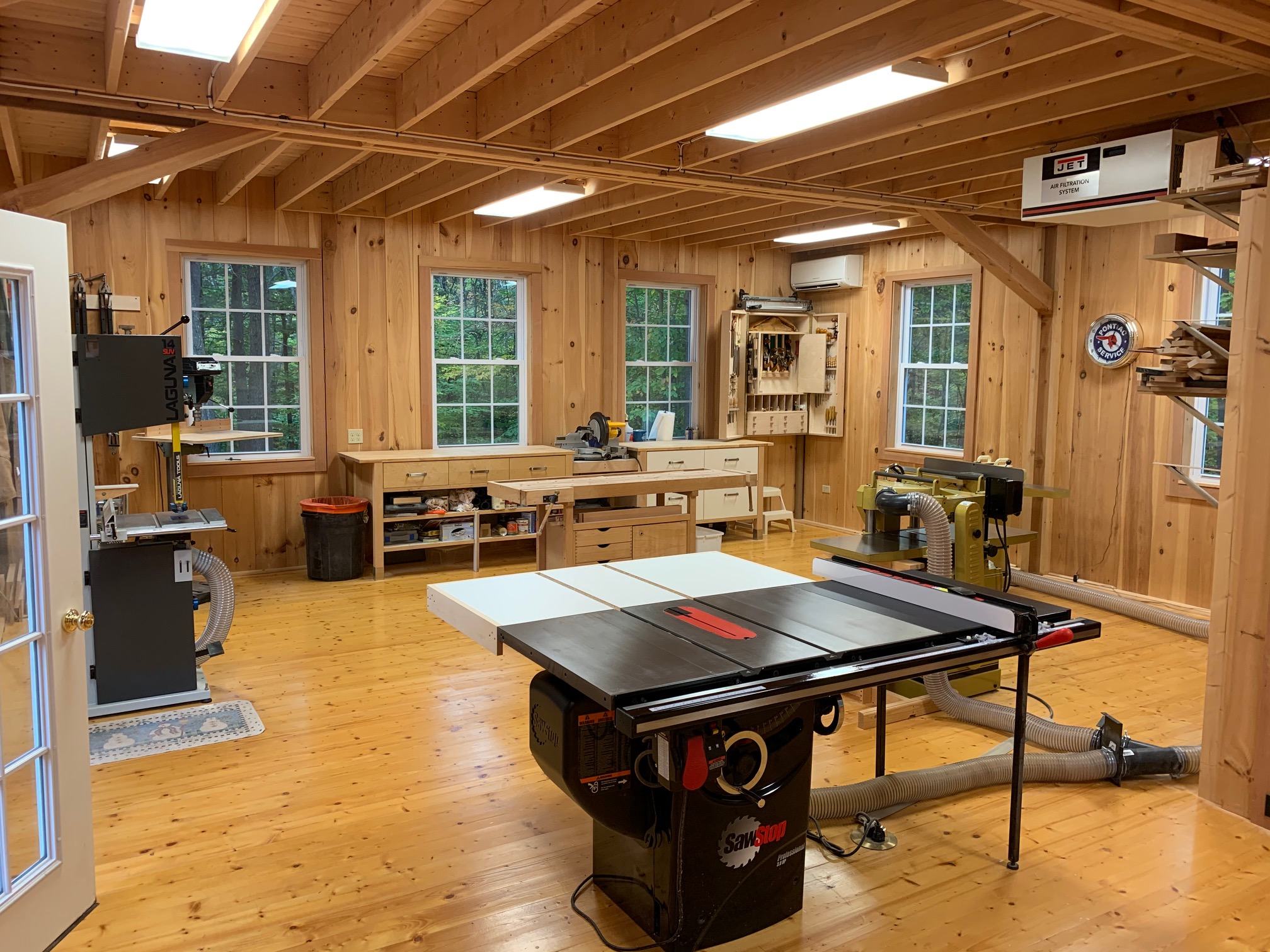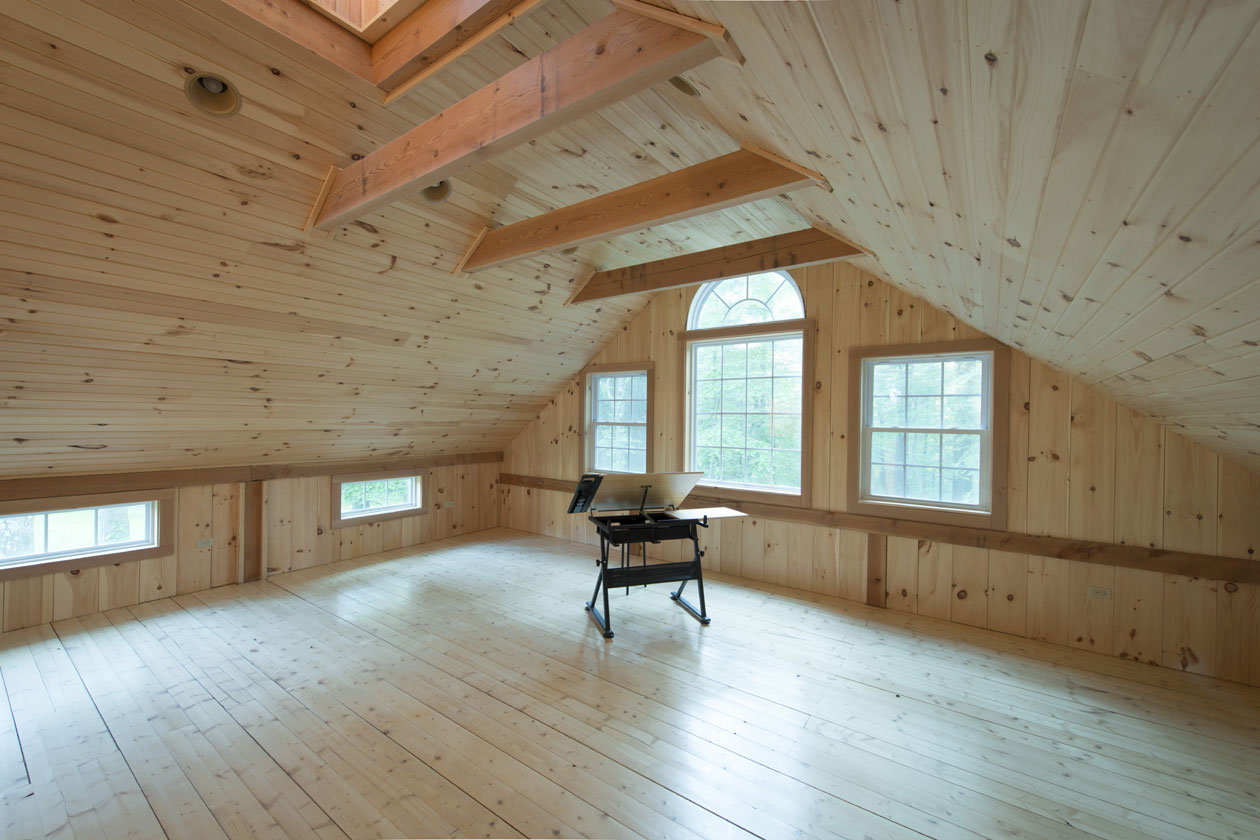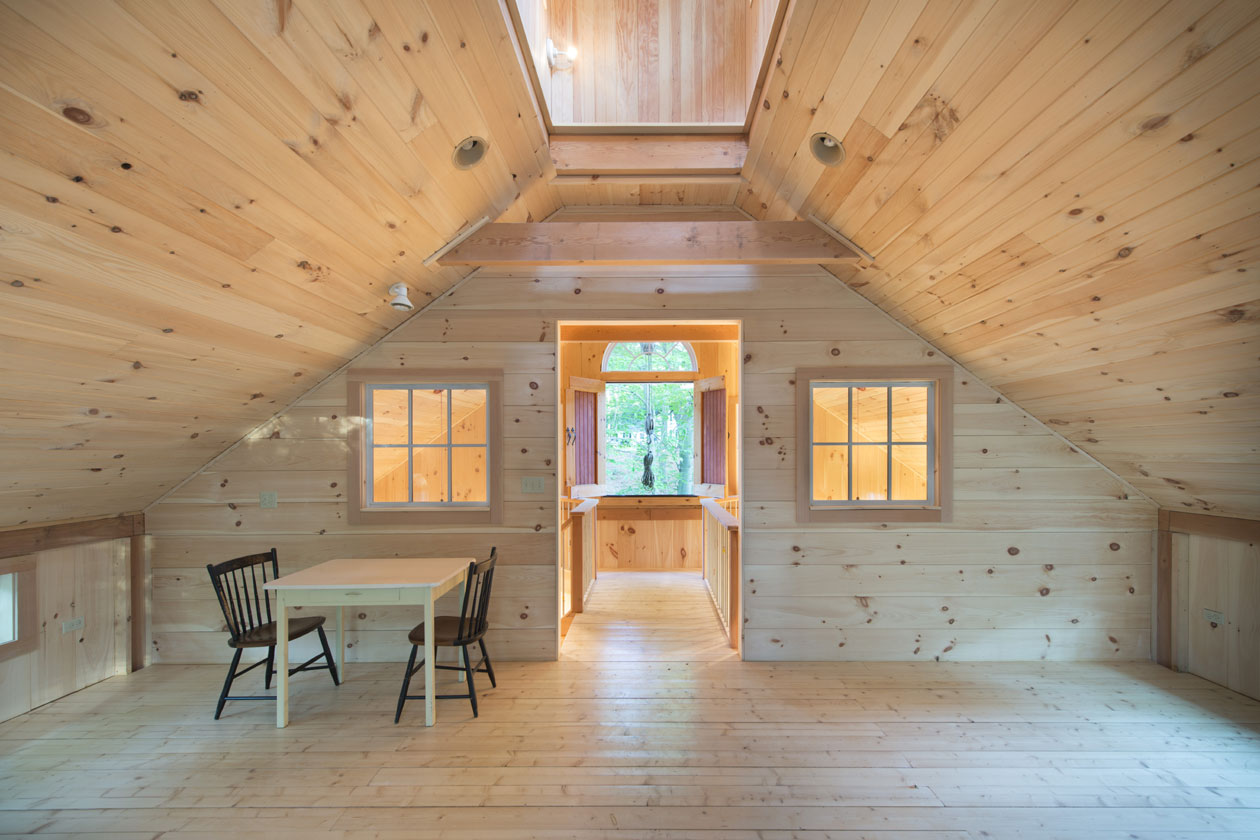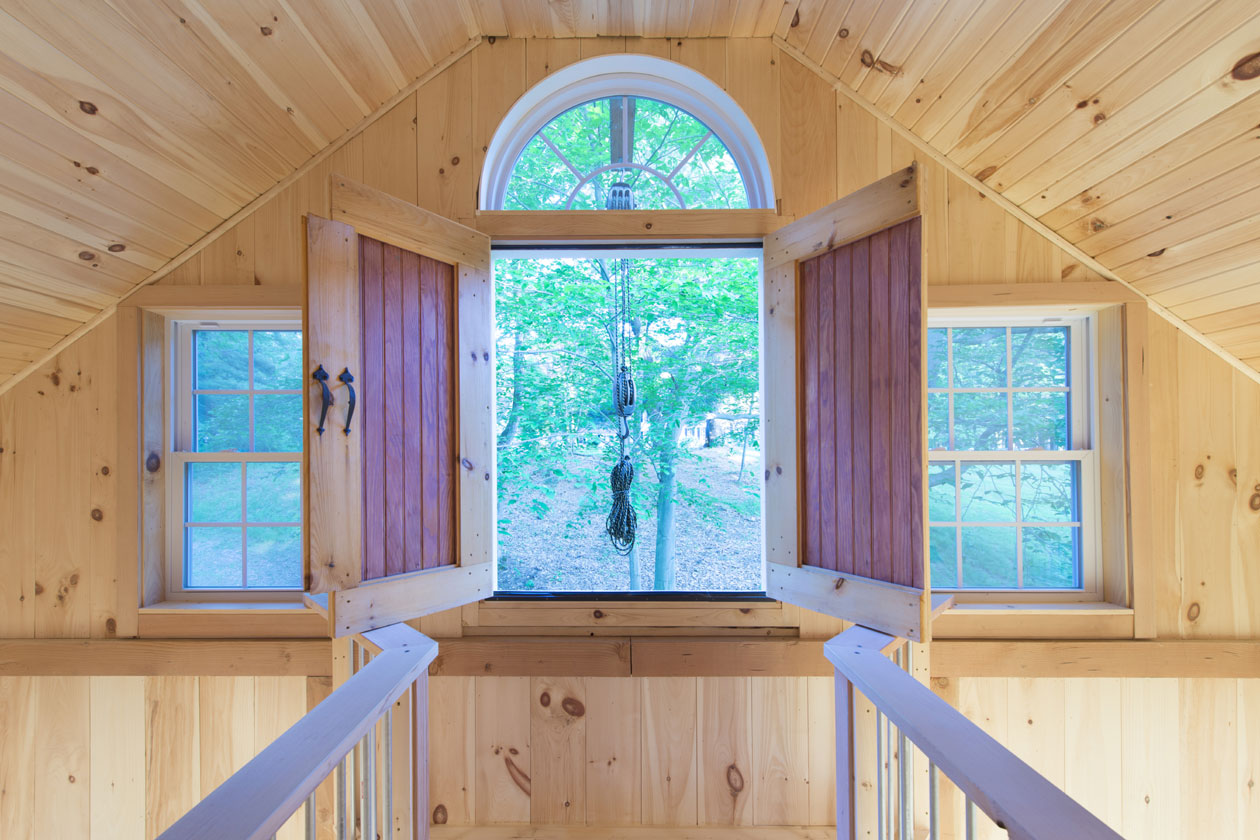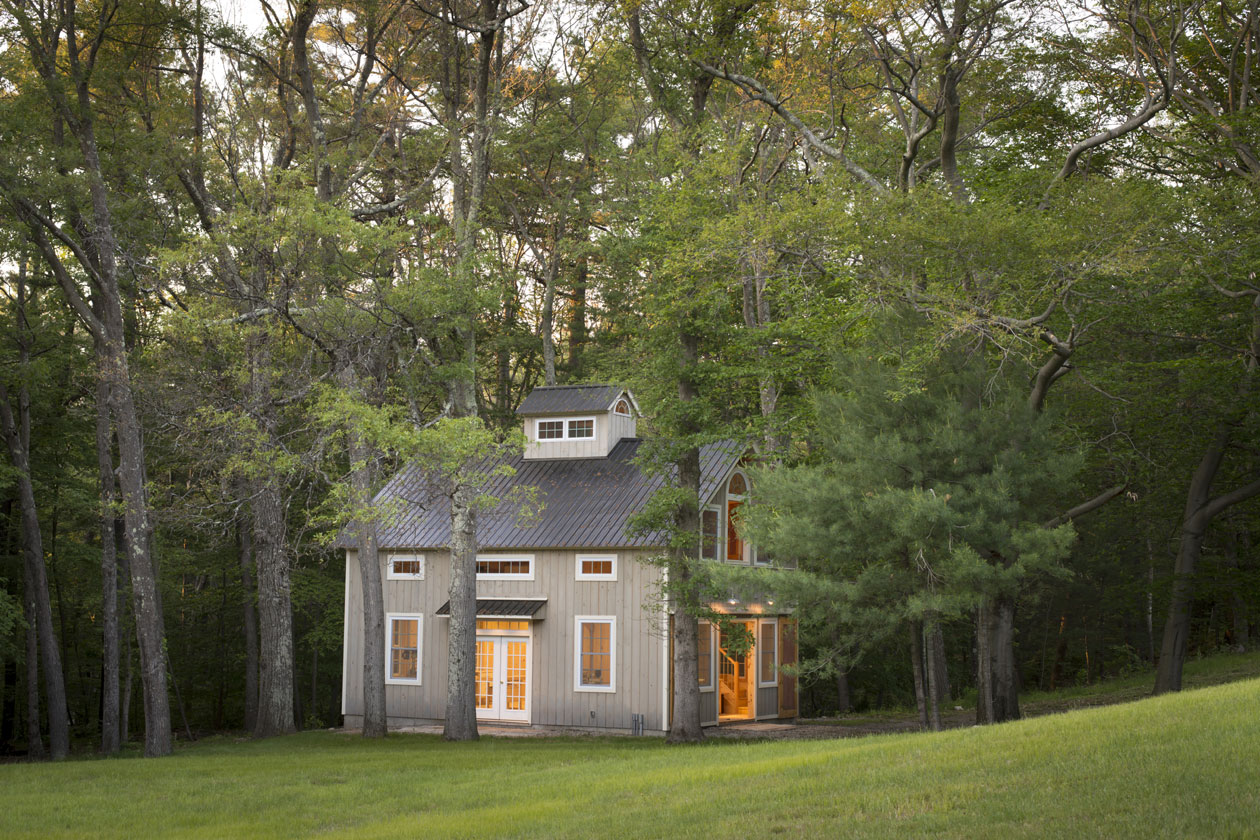 George,
About a year ago, when we started the process to replace an old stable with a woodshop and art studio, I was full of hope and excitement, but how little I knew of the joy and appreciation that would fill my heart for this little barn. Carol had spied a Geobarn a few miles from us, and immediately the lines resonated with my sense of what a proper barn should look like. We met soon thereafter and the design process began. What a delight, as you translated my crude design ideas into the Geobarn language of post and beam.
We talked at length about all the windows I envisioned, and I know you were a little apprehensive. But woodworking and painting require lots of light, so we pushed forward. With the foundation in place, you and your team arrived with a truck load of lumber.
My first inkling of just how wonderful this project would be was seeing how beautiful the first quality timbers and douglas fir beams were coming off that truck. It was amazing to see how quickly the team progressed through the stages of construction that you have perfected. Each stage was an awesome realization of what we had pictured.
But the best part of the entire process was getting to know you, Dennis and Evan. You have an amazing ability to find talented individuals who have never worked together before, and knit them into a marvelous blending of skills – each learning from the other, and the project benefiting from the diversity of their experience. As the barn rose from the earth, our friendship grew in even greater measure. Dinners together, planning sessions for the next stages, talking over choices and laughing about the challenges of the day made close friends out of co-workers.
At the end, I think we were all sad to see the project come to an end, because it marked a transition point in our friendship. I've had my share of home improvement projects over the years, but none comes close to the total delight we feel for your work, your team, and your continuing friendship. This barn is everything you proposed. We ended up on schedule and on budget, but way ahead in satisfaction.
As we complete the subsystems and prepare to finish the interior, we frequently have other contractors and even town inspectors visiting us. Uniformly their reaction to the barn is one of appreciation for the quality of the work and the aesthetic appearance of the result. The most common reaction is a simple "wow!" Now we look forward to spending time together to complete the interior, bringing your high quality standards and attention to detail to the finish work. But mostly, we look forward to the joy of having our friend visiting us again.
Our best wishes for your continued success.
Bob and Carol