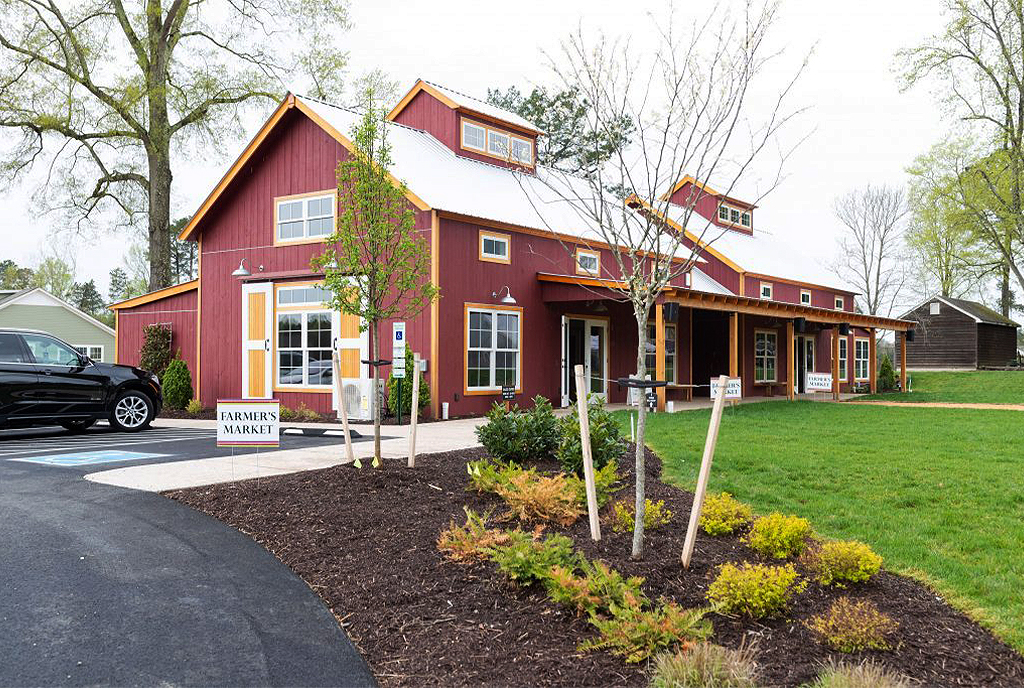 The Farm at Chickahominy Falls
A Place to Gather in a Farm-Centered Community
Chickahominy Falls is an innovative community in Richmond, Virginia, built around farming and food as a neighborhood amenity. Residents aspire to a life of connection with the outdoors and with the agrarian landscape, which required the team to reconsider the well-worn models of community amenities.
In this community, the sales center, clubhouse, pool and fitness buildings are all being reconceived in agrarian form, in a partnership with Geobarns. The first building, which will be the center of the farm and neighborhood, must fulfill all the functions of a sales center, but also serve administrative and public functions for the farm and public events, all while communicating the values of this new community.
Two adjacent barn volumes house the sales/admin functions on one side, and public event and dining space on the other. The two barns are connected by a broad porch and dogtrot, offering access to outdoor event spaces, and view over the expansive cutting-edge farm operation. Furnishings and interiors have been designed to allow multifunction flexibility, while communicating the rustic elegance of the developer's vision for this new kind of agricultural neighborhood…. an Agrihood. The clubhouse, pool, and fitness center, known as The Farmhouse, were completed in 2022.
This Geobarn helped our client win Virginia's Community of the Year in 2020. More importantly, it's become the centerpiece for Community Supported Agriculture, a partnership with local farms to bring fresh produce to the tables of homes in Chickahominy Falls and throughout the community.
It's not just a neighborhood… it's an "agri-hood"… a community where friendships are forged around a love for nature, farm-to-table food, and living well together.
Photography courtesy of Cornerstone Homes