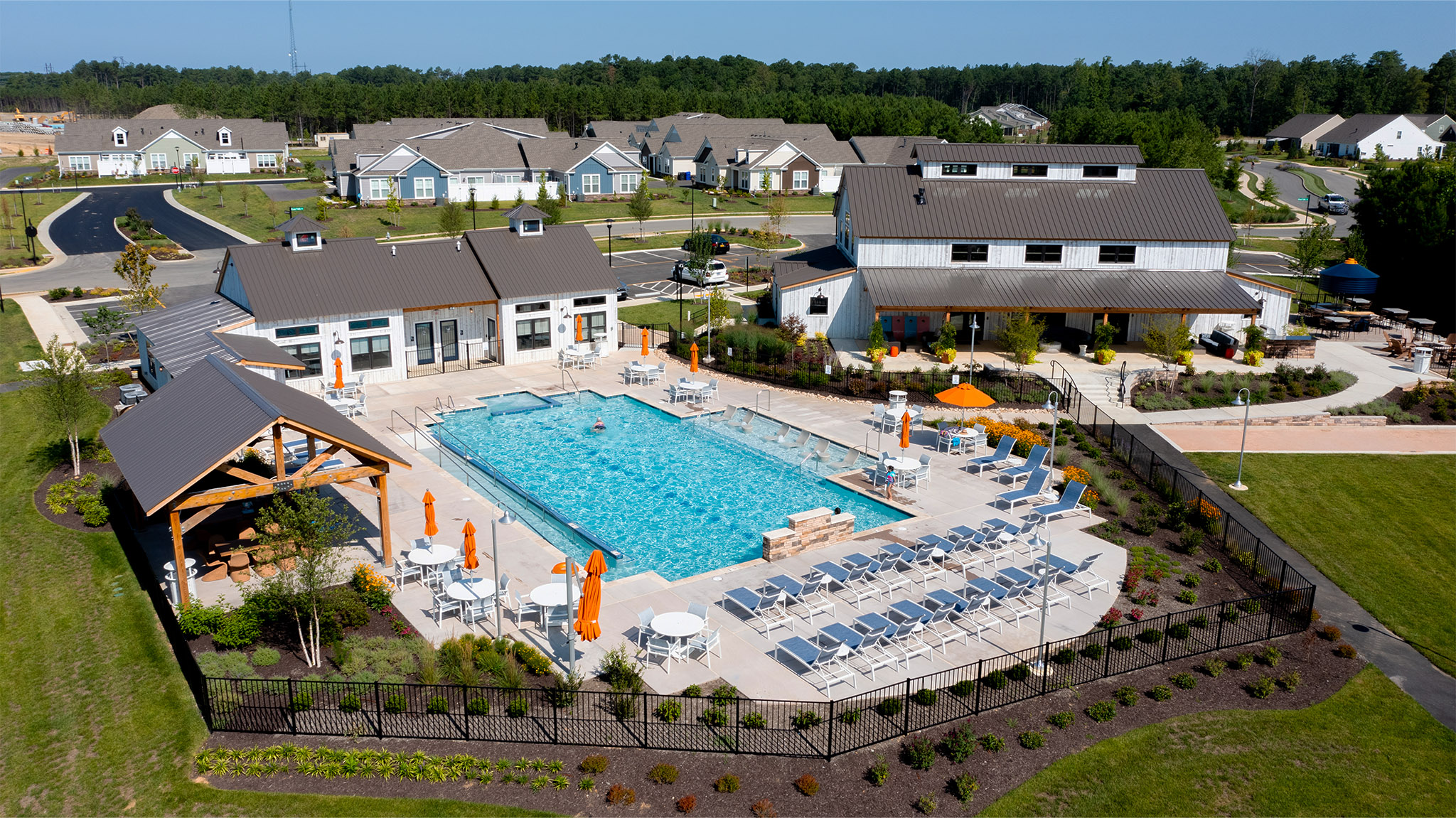 The Farmhouse Community Center
A Place to Gather in a Farm-Centered Community
Along the banks of the Chickahominy River just north of Richmond, Virginia, Chickahominy Falls redefines modern community development by creating a neighborhood centered around farming and healthy, active lifestyles. The heart of the neighborhood is a 10-acre, four-season communal farm and a commitment to Community Supported Agriculture via partnerships with local farms.
These two Geobarns provide residents with gathering space and a fitness center housed within architecture rooted in the design traditions of American farming. The Farmhouse soars two and a half stories to a monitor cupola, taking full advantage of Geobarns engineering to eliminate the need for internal supports or dividers. The resulting open space is filled with natural light, and the exposed framing and mechanicals celebrate the agrarian heritage that inspired the community design. Ingenious interior decor within the open interior creates numerous intimate seating areas that welcome events large and small. A minimalist open kitchen at one end of The Farmhouse permits residents to host parties with produce from the communal farm, just like home on a farm.
The adjacent Fitness Center unifies twin smaller Geobarns with a connector, providing space for exercise equipment and a wood-floored studio suitable for yoga and fitness classes. The Farmhouse and the Fitness Center surround an extensive pool amenity with plenty of space for sunbathing and pool parties as well as a Geobarns pavilion constructed with just the minimal framing elements of a barn. An outdoor firepit and beverage station – designed like a silo – are perfect for afternoon barbeques or evening events. There's even a well-stocked fishing pond designed with natural wetland plants and features that does triple-duty for run-off collection, filtration and wildlife habitat.
The Farmhouse complex are the second and third Geobarns we've built in this community, along with the Agrihood Sales Center and community kitchen at the communal farm, which helped our client win Virginia's Community of the Year award in 2020.
It's not just a neighborhood… it's an "agri-hood"… a community where friendships are forged around a love for nature, farm-to-table food, and living well together.
Photography courtesy of Cornerstone Homes