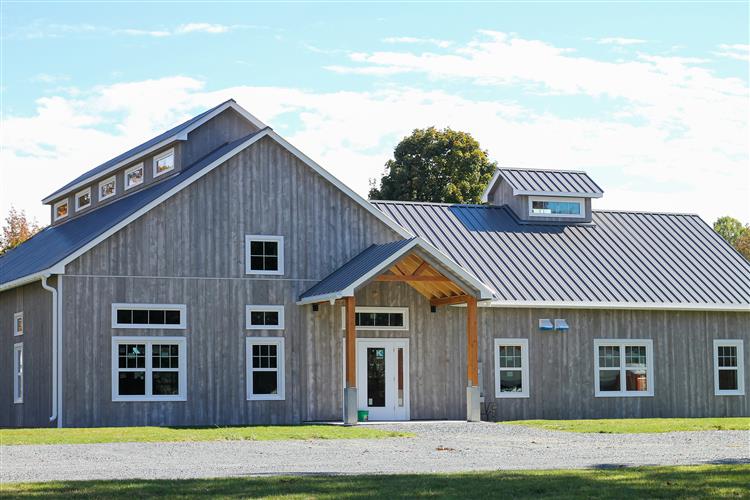 April 10, 2023:
Geobarns has completed a new public library in Meriden, New Hampshire, replacing a smaller structure that had become woefully inadequate for the community's needs.
Here are some highlights of the new Meriden Library building:
The new building will be on the site of the current library. It will be single-story, positioned on a slight rise above street level, with walkways leading to entries at grade level.
The scale of the new building is appropriate for a public building in a rural New England village, with the aesthetic that GeoBarns is known for.
A new multipurpose room will see regular use for library-sponsored activities. It is also designed so that it can be used for activities outside of library hours.
The library building itself will provide a welcoming, comfortable experience for patrons. It will be well-lit using natural and (controlled) mechanical light. It will be heated, cooled, and ventilated with equipment that is extremely energy efficient and more easily and cheaply maintained, using heat pumps and energy-recovery ventilators.
The new building will include familiar materials and colors for siding, roofing, and interior finishes that will be selected for their aesthetics, durability, and ease of maintenance.
The new building is sized to accommodate all of the existing functions of the current library and incorporates the necessary features to make the building safe, accessible to all, and compliant with all applicable building codes.
The building includes spaces tailored to the needs of children, teens, and adults, and takes advantage of the beautiful outdoor area, as well.
The entry lobby includes bathrooms and a kitchenette that allow for independent use without disturbing functions in either the library proper or the multipurpose room.
Parking will be expanded to provide 18 parking spaces along the western side of the building, including ADA compliant parking spaces.
To improve safety for pedestrians and vehicles, curbing and sidewalks will separate cars and people, and new sidewalks will lead from the street and parking areas to the main entrance.
Energy-efficient exterior lighting will allow drivers and pedestrians to safely navigate parking areas and walkways.
Valley News – Residents making use of recently opened library in Meriden (vnews.com)