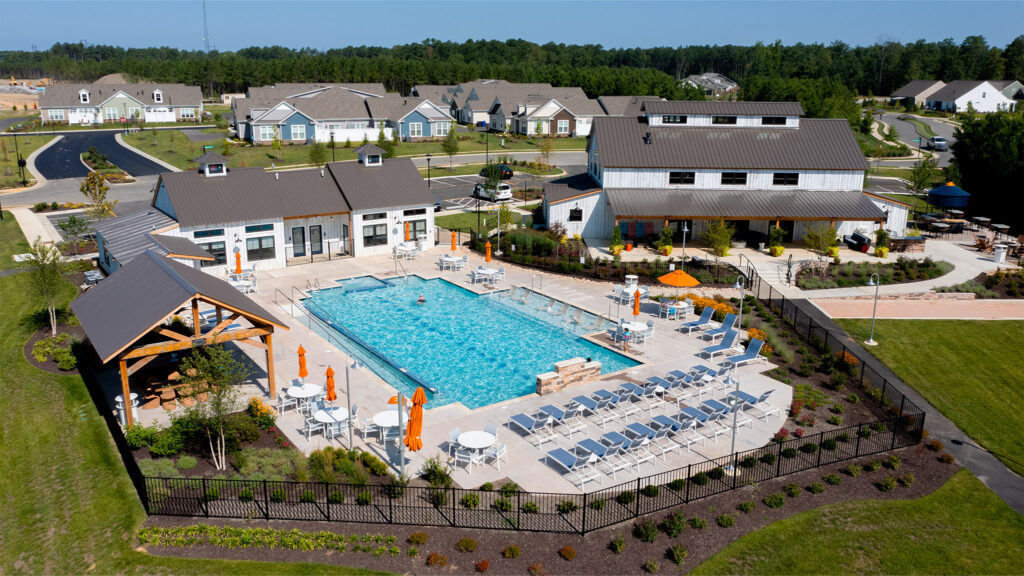 The Farmhouse project, completed last year at Chickahominy Falls in Virginia, has been awarded Best Community Amenity for 2023 by the Home Builders Association of Virginia. The Farmhouse comprises three structures serving as the community centerpiece: a gathering house, a fitness center, and a pavilion, all surrounding the community pool. Chickahominy Falls is a unique community built around healthy living and farm-to-table lifestyle, with a working farm and partnerships with local farms.
From Cornerstone Homes:
Exciting news! We're thrilled to announce that The Farmhouse at Chickahominy Falls just won Best Amenity by the Homebuilders Association of Virginia (HBAV)!
Recognized for its effectiveness, function, creativity, and design. It's a testament to our commitment to delivering exceptional living experiences. We're pleased to be able to keep exceeding expectations. Thank you to our partners Randy Blitz of VHB, George Abetti of Geobarns, Kristina Moser of KMM Design Services, Megan Fry of Model Home Interiors, and The Crescent Group!
This is the second project we've completed for Cornerstone Homes at Chickahominy Falls, and it demonstrates what can be accomplished when diverse people with a shared passion for responsible development come together. This isn't just a pool house and gym… building site, structure, and design were carefully planned to bring neighbors together for all sorts of community and private events and celebrations. The Farmhouse is the town square, so to speak, for an intimate community of friends… built by a team of friends.
Learn more:
Our project page for The Farmhouse at Chickahominy Falls