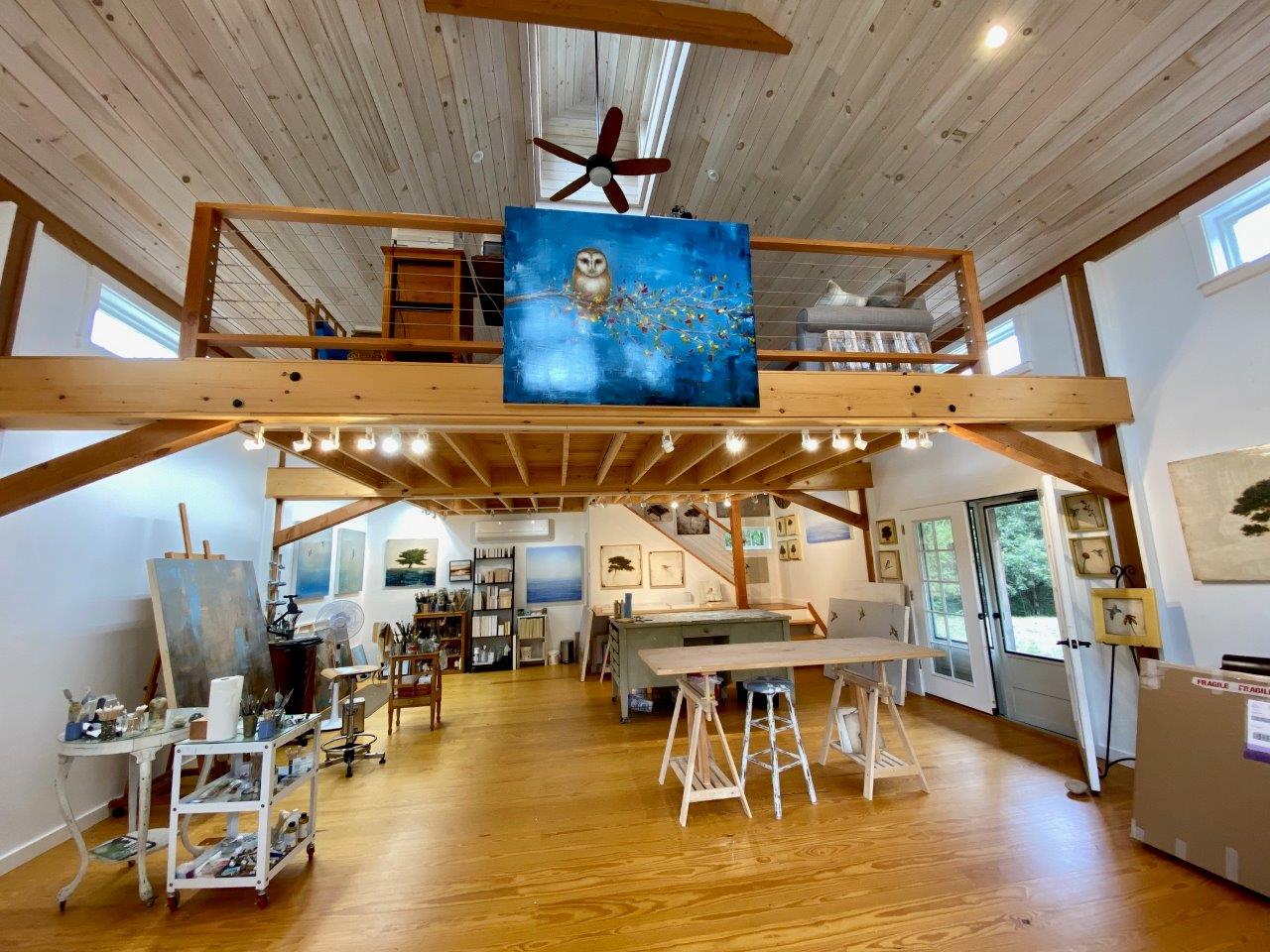 Building a Studio Workshop
There is something special about building an art studio or a workshop, about creating spaces for artists and artisans to create beautiful things. It is, without hyperbole, simply a good thing for a builder to do. We've built dozens of them over the years, each as unique as the artist. But while no two Geobarns are alike, there are a few fundamentals common to all. If you're thinking about building a customized, light-filled workshop for your craft, then this post is for you.
Geobarns started out building barns and utility buildings in the early 1990's. We've taken the heritage of New England barn building – frugal, durable, and strong – and developed our own system of innovations in construction techniques that make a Geobarn eminently suitable for custom art and workshop studios. We combine the best of both worlds: the efficiency of timber frame construction with the flexibility of true custom design.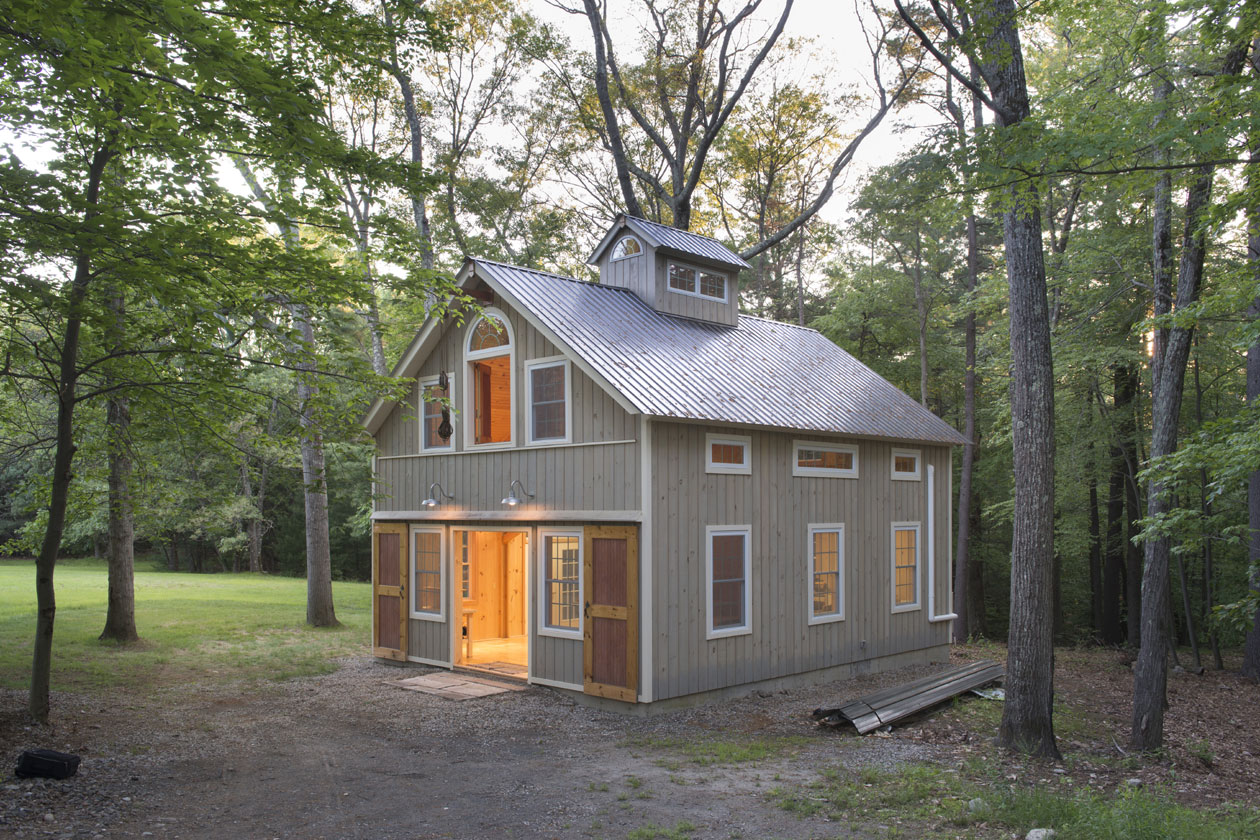 What Makes a Great Studio
In its simplest form, an art studio or artisan workshop should be a well-lit, comfortable place to work. Equipment and furnishings should be laid out for best convenience, so the interior must be open and free from obstructions. The best studios are weather-tight and climate controlled, for comfort and to protect the contents. Lastly, and perhaps most importantly, your studio should be pleasing to the eye, to encourage creativity.
Natural Light:
It is an old adage that artists need good light, and a Geobarns studio delivers that light in abundance. There are several ways we make that happen that an ordinary structure just can't match.
Firstly, a Geobarns workshop has a large interior volume for the footprint, which means plenty of space for windows. Secondly, we include historic barn features, such as clerestory windows and our signature shed cupola. These features admit more light, but still insulate your Geobarn during peak daytime heating. Lastly, we carefully plan locations for interior lighting for maximum effect and minimal power consumption.
Geobarns delivers a truly unique ambient light experience. Natural sunlight filters throughout the building, like a cathedral of light. Interior surfaces are warm and inviting. The light is mostly indirect, protecting photosensitive art. It's perfect for art studios and for workshops.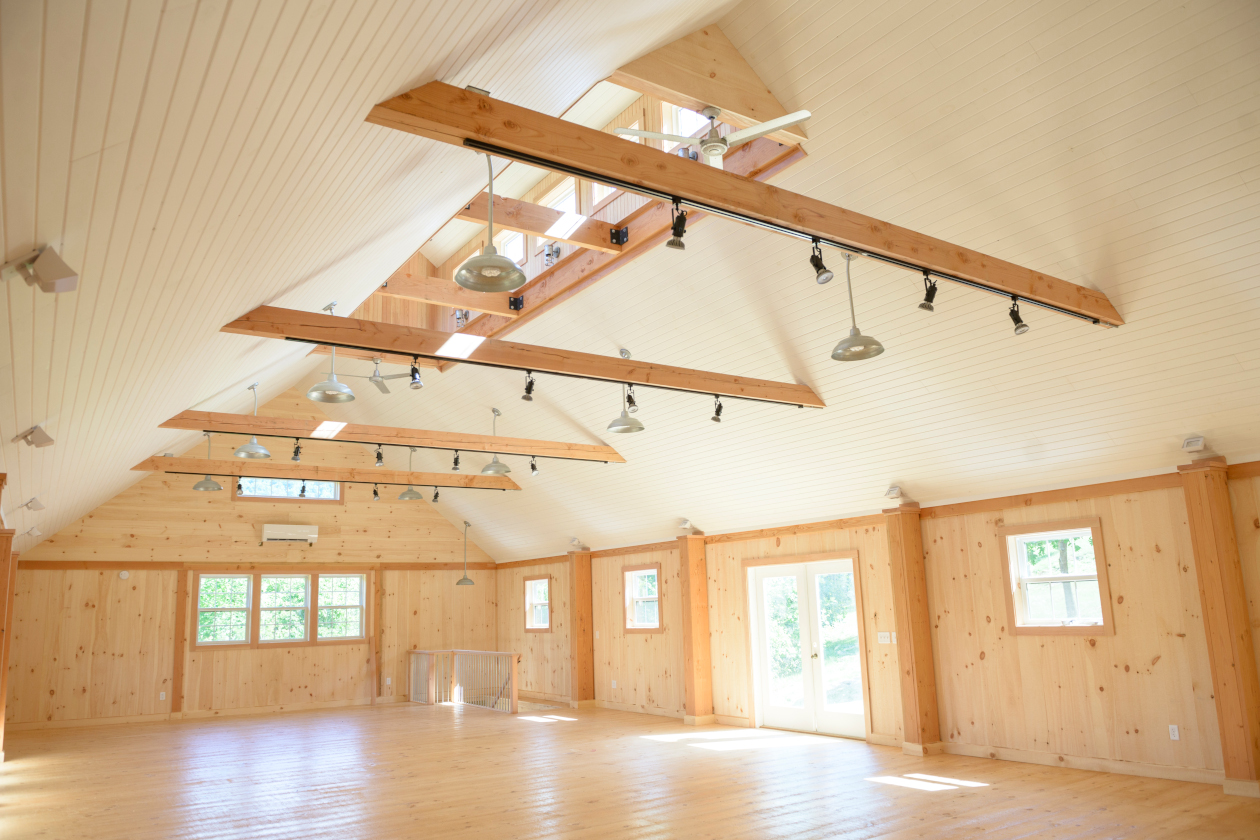 Interior Space:
A well-designed studio or workshop has unobstructed interior space. Geobarns' proprietary building techniques create interior spaces that are free from internal supports or load bearing walls, because the strength of a Geobarn is concentrated in our post-and-beam exterior shell. We create a workshop floor space that can house equipment and furnishings in any configuration for specialized production needs.
A Geobarns interior is open not only horizontally, but also vertically, soaring from ground floor to cupola above. A clear vertical space provides ample wall space for gallery display, provides headroom for multistory equipment, and provides for maximum efficiency in managing internal climate and air flow.
Our modified post-and-beam framing system permits great flexibility in designing upper floors. Your Geobarns studio can easily accommodate mezzanine galleries, floating loft space, catwalks, and other customized configurations. Those upper floors don't have to be opaque, either… some of our more daring Geobarns feature clear Lexan floor panels. Just imagine what you could do with that.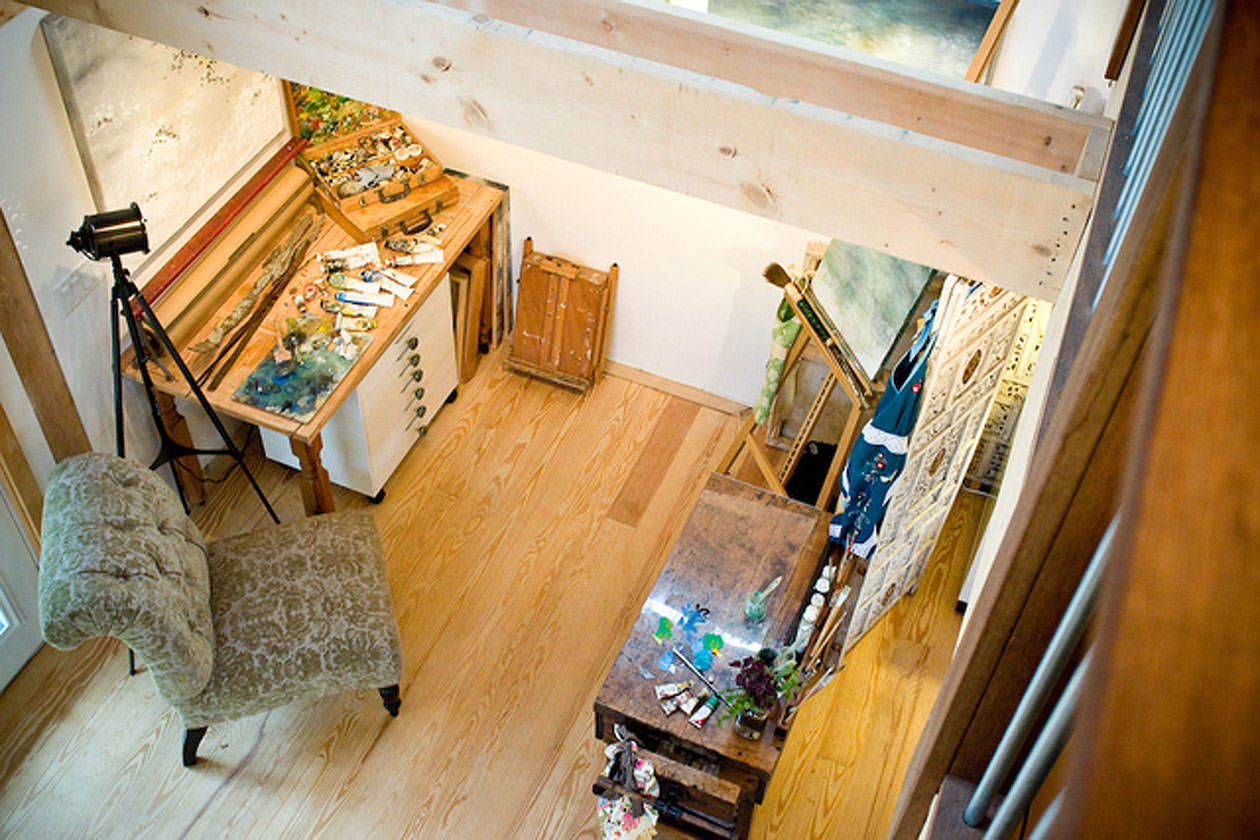 Flexible Design:
Large or small, one story or multistory, a Geobarns studio can easily accommodate specialized layout requirements. Just as a blank canvas is ready for whatever the artist may conceive, a Geobarns studio is a blank exterior shell ready for whatever floorplan and configuration you wish to create inside. With decades of experience in studio design and construction, Geobarns can help with ideas and innovations to create that perfect studio.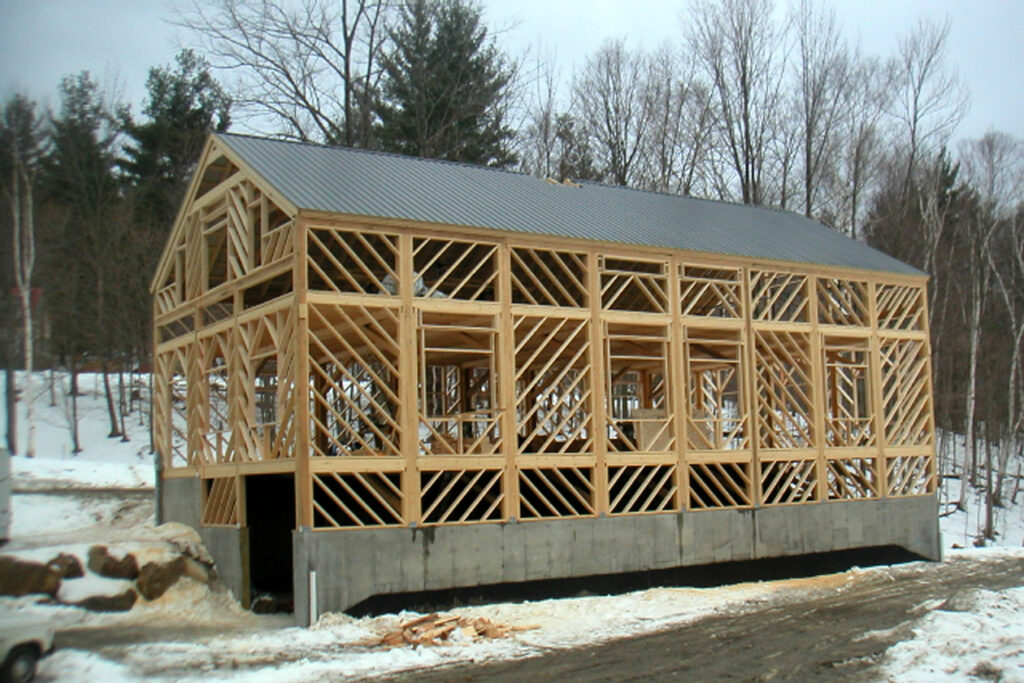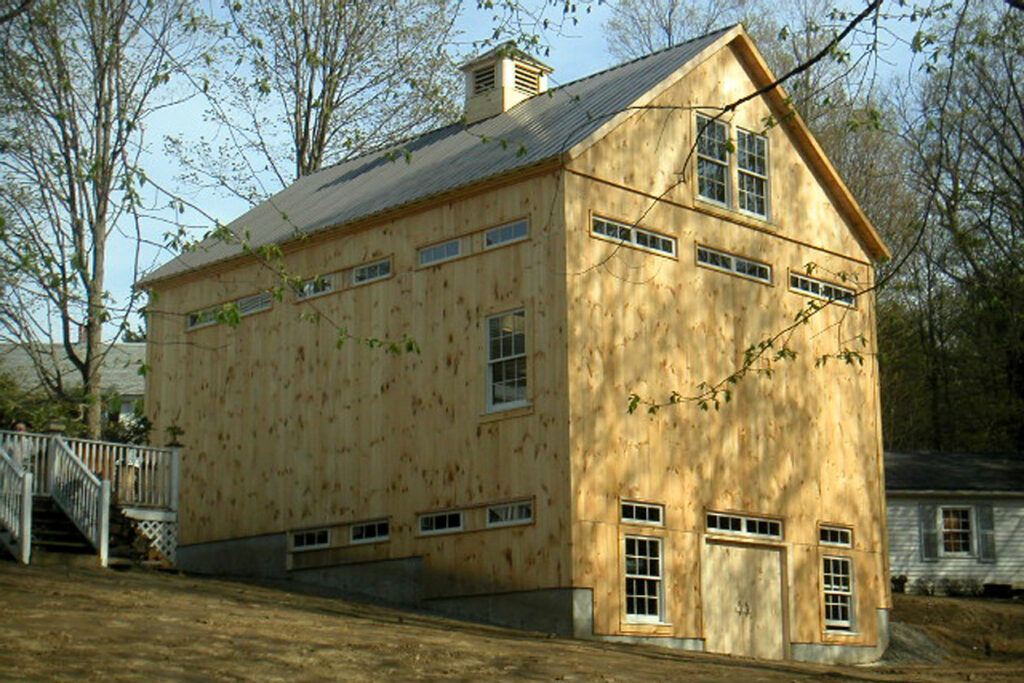 Geobarns are also incredibly sturdy and strong. Our hand-built truss assemblies, married to our modified post-and-beam framing, are designed to carry heavy loads over wide spans. We've built workshop studios that support massive upper floor loads for equipment and vehicle access, as much as 272,000 pounds total calculated capacity.
Specialized Features:
A Geobarns studio can be easily customized to support anything from fine art to fine woodworking. Our modified post-and-beam structural frame, combined with the superior rigidity of our signature diagonal framing, makes it possible to create features that other structural systems cannot easily make possible.
Need oversized doorways? Our rolling barn door systems can run up to 20 feet tall, while easily moved by hand. Need hoists, or have heavy machinery? Our hand-built truss assemblies support very heavy loads and are structurally rigid, strong enough to support trucks and farm equipment. Concerned about heat from kilns? Our open vertical space and computer-controlled air exchange systems safely evacuate excess heat and fumes. Need odd-shaped storage space? A Geobarns studio has plenty of spaces for cleverly designed storage.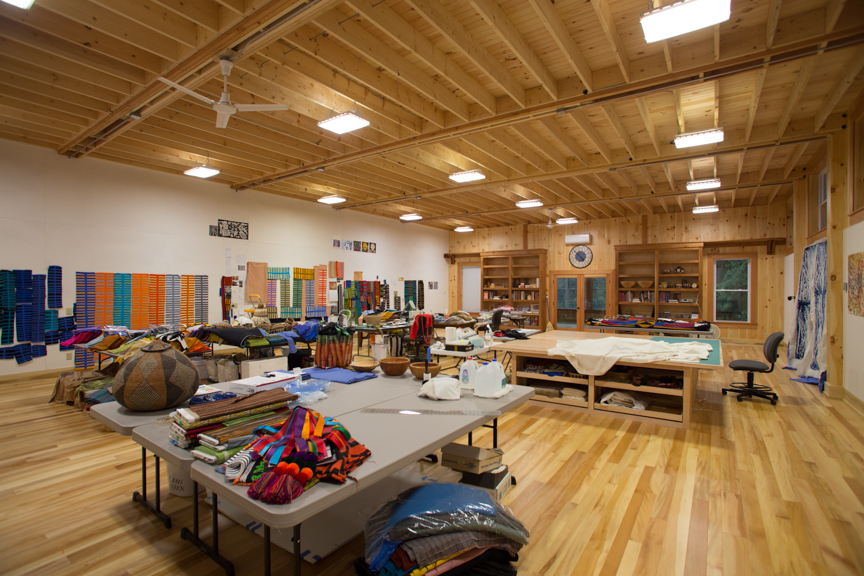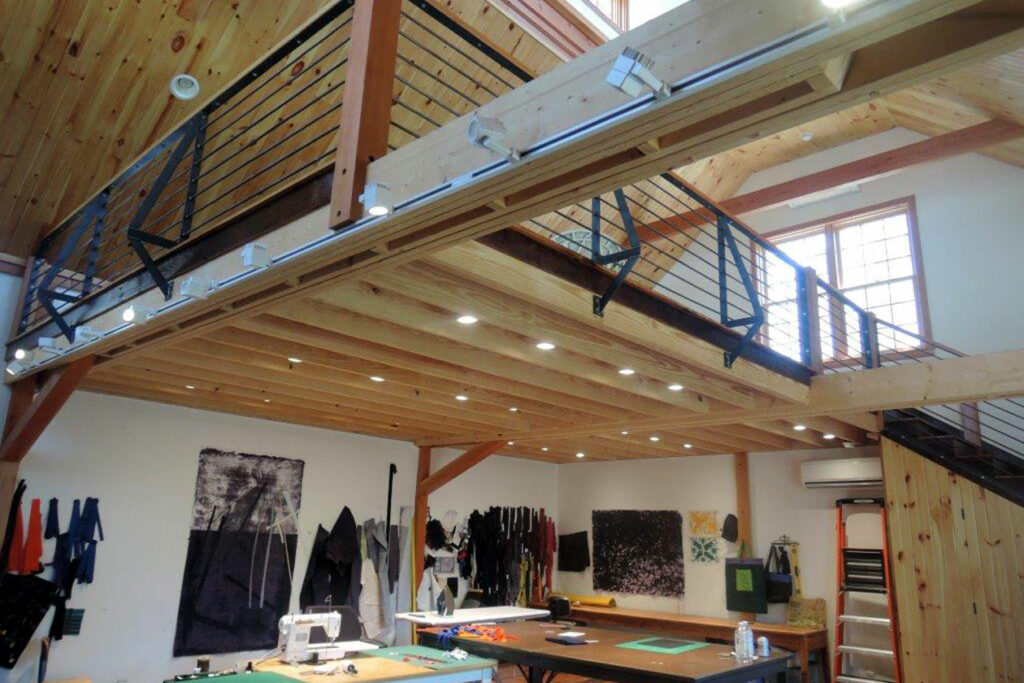 While this is by no means an exhaustive list of special features your Geobarns studio may need, we hope this point is clear: we know – and expect – that you will have special requirements that are out of the ordinary. In some respects, special features are what make a Geobarns studio a studio, and not a utility building or a garage. Our experience in building studios and workshops means special features are an ordinary, expected part of the design. And our collaborative approach means we get them just right for you.
Climate Control:
Your workshop or studio doesn't have to be a drafty, hot/cold, damp utility building. In fact, it should not be any of those things. Just like a home or business venue, a studio needs insulation, moisture protection, and temperature control… not only for the comfort of the artist, but also to protect the valuable art, equipment, and materials housed inside.
The high thermal efficiency and weather-tight shell of a Geobarns studio means that adding climate control features to your studio need not be a luxury. It's a smart design element that improves productivity while minimizing waste. Furthermore, our centralized, 'smart' HVAC and air exchange equipment are managed by software for maximum efficiency and can be monitored remotely from your cell phone.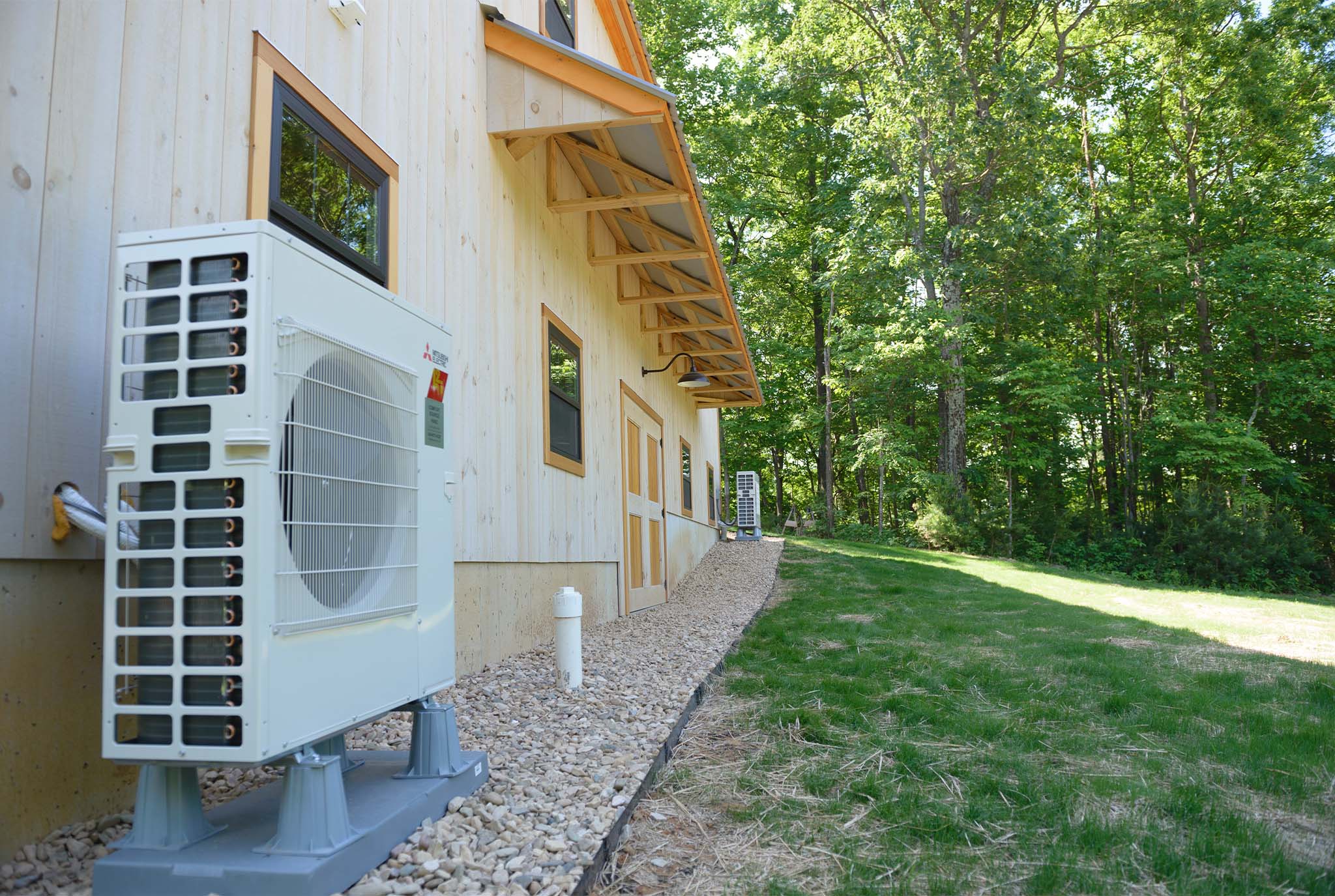 Utilities:
A well-designed workshop or studio has carefully planned utility locations. For most studios and workshops, special accommodation must be made for lighting and electric feeds. Art galleries need particular lighting to spotlight paintings and sculptures. Joinery equipment, such as lathes and planers, may require precisely located floor power. Kilns and ovens need dedicated power circuits. Some studios and workshops require specialized plumbing. And HVAC, air exchange, and any dust collection systems must be planned, too.
But once the locations for electric, water, HVAC, and networking are laid out on the blueprints, how can you be sure the planning decisions are right? Will there be enough walk-around space for the wood planer? Will the power feed for the kiln reach the outlet? Are the spotlights for gallery art in the best locations? We read blueprints for a living. But we don't expect you to have the same expertise as we do.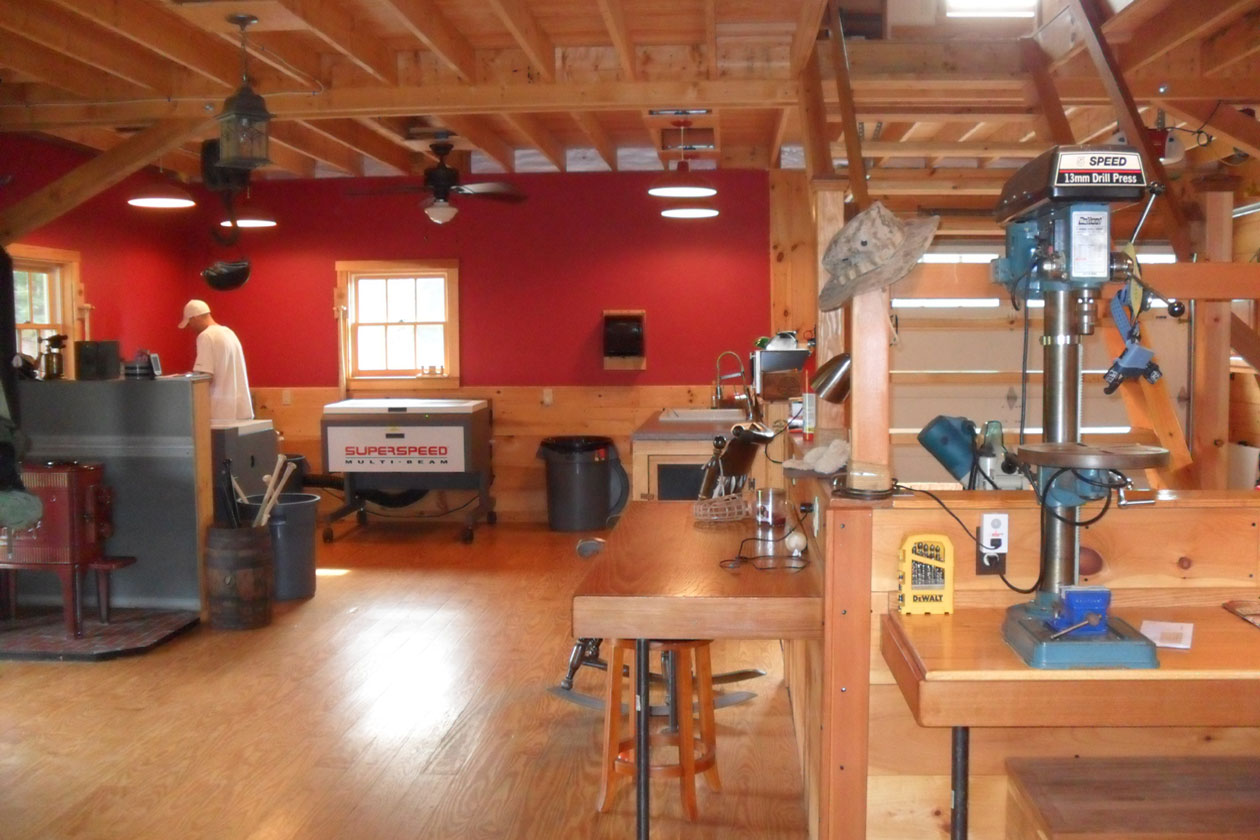 We believe the best way to be sure is the Geobarns 'Blue Tape Walk-Through'. Once the exterior shell is built, and after any permanent interior partitions are installed, the Geobarns crew will mark every light, power, water, and network location with blue tape. You can literally walk through your Geobarns workshop to make sure everything is in the optimal location.
We can lay out the footprint for the wood planer to make sure there's plenty of room. We'll mark the planned kiln location to measure the distance to electric source. Gallery lights will be marked to envision just how they will spotlight future locations for art. If any adjustments need to be made, we can do it then… before the electricians and plumbers complete the installations. It's just the best way to be sure it's right.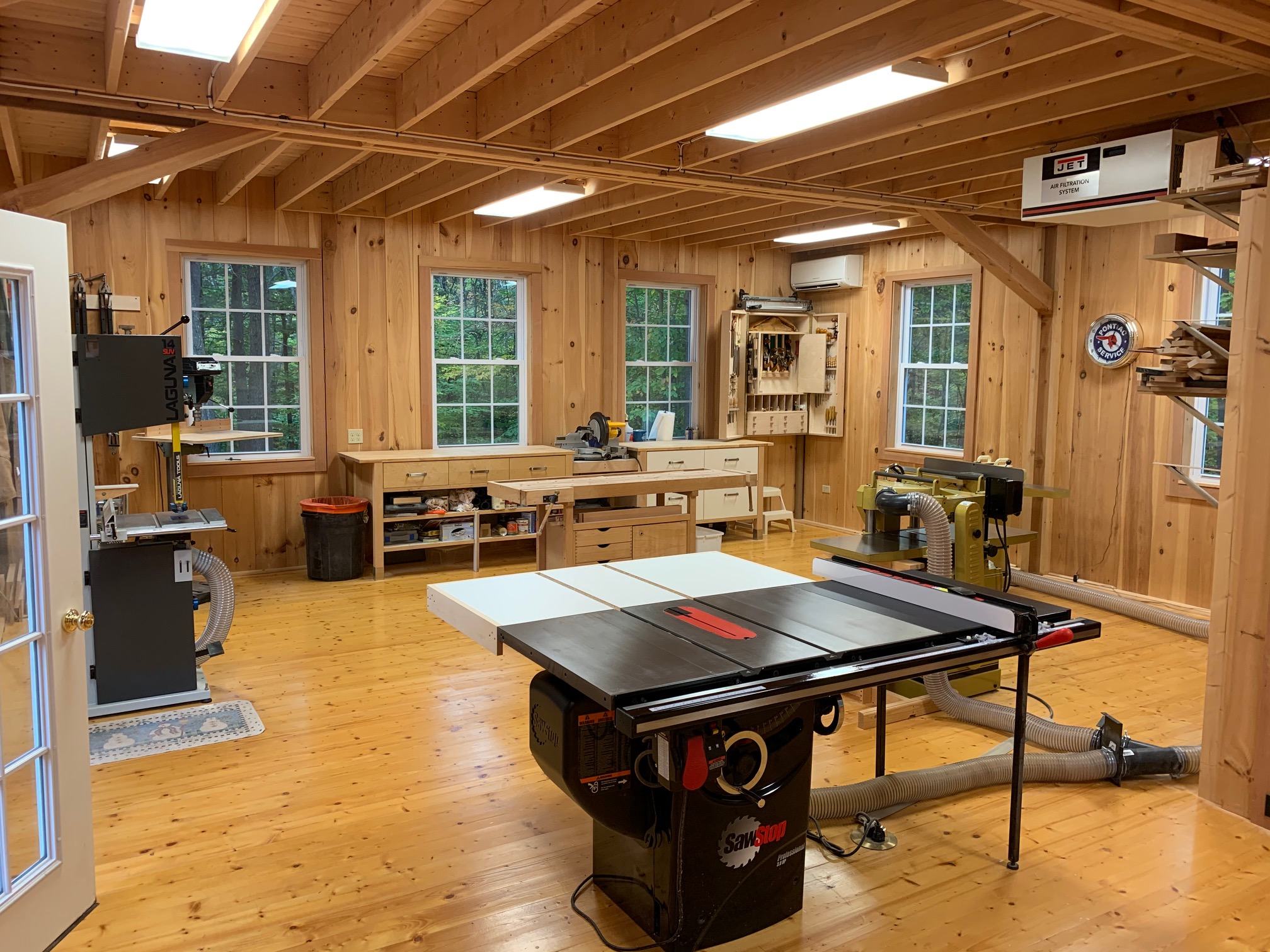 Good Stewardship:
We're Vermonters. We have a deep love for untouched forests and pristine landscapes, and we're very concerned with the impact of human activity on our planet. We know you are, too. While we're a small building company, that love and concern guides us in every detail of designing and building a Geobarn. And we'll do this for you and your Geobarns workshop.
Our proprietary building system is incredibly efficient, with framing waste coefficients as low as 1%. We select lumber sourced from sustainable forestry practices. We minimize building materials which require destruction of wildlife habitats to extract, such as cementitious and mineral products. We design our buildings to be frugal with energy requirements to reduce carbon footprint as low as possible. We believe it is our duty to be good stewards of our planet's resources in everything we do.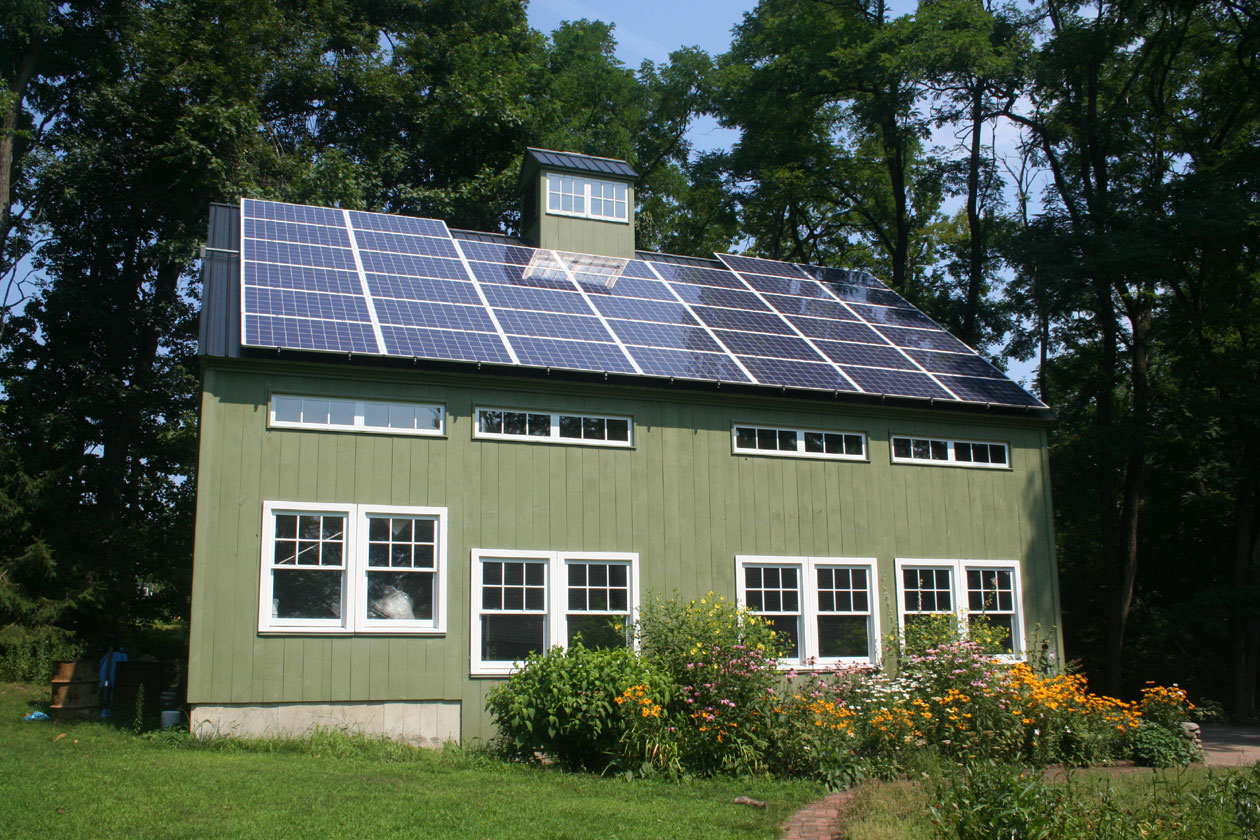 Aesthetics:
This last item is unique to the individual artist, but it is perhaps the most important. Your studio should be a space which inspires your creative muse. It should be a relaxing, comfortable, welcoming space, because you will spend countless hours there creating art. We believe a properly designed studio should nurture the soul of the artist, not exhaust it.
Unlike utilitarian warehouses or garage conversions, the rustic timbers and natural materials of a Geobarn create that nurturing space. It is a rugged structure of beautiful woods and quiet simplicity. A Geobarn evokes an artisan heritage and connection to the land and nature. It is designed and built by skilled crews who care deeply about the beauty of the Geobarns they create, just as artists care deeply for their art. We are of the same aesthetic mind as you on this key point.
These aesthetics – comfort, nurture, simplicity – are the foundation concepts for a studio design upon which all other decisions are built, from floorplan to finishing touches.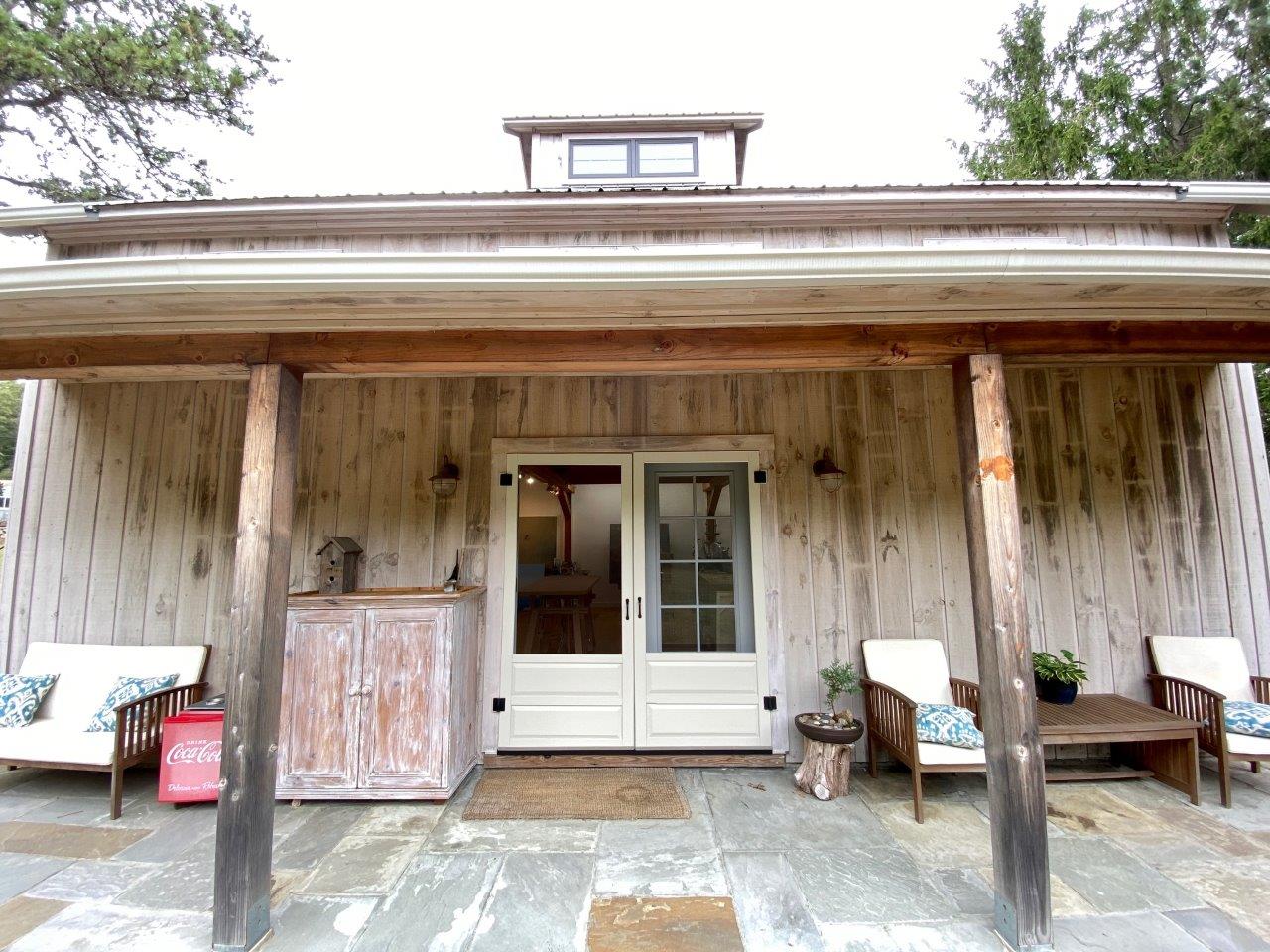 Let's Create Together:
If you've read this far, thank you. Art and workshop studios are such uniquely individual structures that it is difficult to convey all of the potential features and benefits that Geobarns can deliver for you. But we hope one thing is clear: we understand the challenge in finding a builder who can design and build the studio you want and need. Too often, artists and artisans must either teach a builder the nuances of workshop design, or must settle on trying to adapt another type of structure, such as a garage or warehouse. We think a studio should be a studio, whether small or large, and the most important element in the design is the artist herself.
Your Geobarns studio will be a space where you will enjoy working, simply because of the deep care we take to understand – and create – your dream studio.
---
Artists and Artisans featured in this article
Robin Luciano Beaty
Bruce Blanchette
Robert Castle
Julie Cook
Nancy Crow
Robert Gasperetti
Judy Kirpich
Jessica Pisano
Ed Sabol
---